Elon Musk has tweeted criticism of top Twitter lawyer Vijaya Gadde, raising further questions about her future at the company.
Gadde is the platform's head of legal, policy and trust and her teams are tasked with deciding how to moderate content. That has made her a target of criticism from the right, including after Twitter limited the reach of a New York Post article about President Joe Biden's son, Hunter Biden, in 2020.
"Suspending the Twitter account of a major news organization for publishing a truthful story was obviously incredibly inappropriate," Musk tweeted on Monday.
His comment came in response to a tweet that included a screenshot from a Politico article that reported Gadde had cried during a meeting with the teams she oversees, shortly after Musk reached an agreement to buy Twitter for about $44 billion on Monday.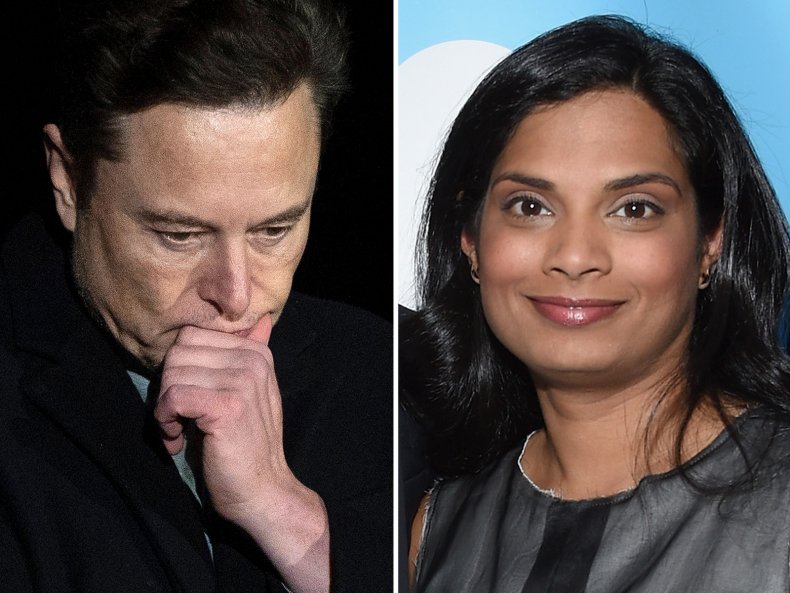 During the meeting with employees, she expressed concerns about how things could change at Twitter under Musk's ownership, according to Politico. She also praised the work her teams have done and urged employees to continue working to do good at the company.
Gadde had played an instrumental role in negotiating the deal between Twitter and Musk, according to Politico. Her role at Twitter has seen her involved in major decisions, including the ban of all political advertising on the site and the banning of former president Donald Trump after the attack on the U.S. Capitol on January 6, 2021.
But Musk, the world's richest man and a self-proclaimed free speech absolutist, has indicated that he would loosen the platform's content moderation policies and only remove content if it is required by law.
"By 'free speech', I simply mean that which matches the law," he wrote in a tweet on Tuesday. "I am against censorship that goes far beyond the law."
The more relaxed approach that Musk is proposing has raised concerns that it could lead to disinformation, hate speech and bullying running rampant on the platform. Gadde has advocated for ensuring Twitter's policies protect users while preserving free speech.
"Freedom of expression means little as our underlying philosophy if we continue to allow voices to be silenced because they are afraid to speak up. We need to do a better job combating abuse without chilling or silencing speech," she wrote in an op-ed for The Washington Post in 2015.
"I'm often inspired by the vigorous debates on controversial issues that occur on Twitter, but I've also been seriously troubled by the plight of some of our users who are completely overwhelmed by those who are trying to silence healthy discourse in the name of free expression," she continued.
"At times, this takes the form of hateful speech in tweets directed at women or minority groups; at others, it takes the form of threats aimed to intimidate those who take a stand on issues."
Newsweek reached out to Vijaya Gadde, Twitter and Elon Musk for comment.