Elon Musk's Twitter Takeover Sparks Frenzied Speculation About Donald Trump
Elon Musk's $44 billion takeover of Twitter has sparked frenzied speculation about Donald Trump getting his account reinstated after the former U.S. president was permanently banned from the platform following the January 6 insurrection last year.
The CEO of Tesla and SpaceX announced a bid to buy Twitter on April 14 after he purchased a 9 percent stake in the company in March. On Monday, Twitter announced that it will be sold to Musk for roughly $44 billion.
In a TED interview shortly after announcing his bid, Musk said that Twitter needs to be "an inclusive arena for free speech", prompting speculation that he might reverse the Twitter bans of some conservative figures, such as former President Donald Trump.
Musk has not said whether he would reverse Trump's permanent ban from the platform in the wake of the January 6 Capitol riot in Washington, D.C.
However, Musk's purchase of the social media platform has whipped up speculation online that Trump may return to the platform.
For example, one Twitter post — which has not been substantiated — claims that Musk would support Trump's ban being lifted.
The tweet by Frank Aiken, who claims to be a Trump supporter, read: "Elon Musk demands Trump's reinstatement to twitter in letter to board." Accompanying the statement, Aiken posted a photo of Musk in a room with Trump.
That post was retweeted more than 15,000 times and was liked more than 101,000 times.
Phil Rizzo, who is running in the Republican primary for Congress to represent New Jersey's 7th Congressional District, tweeted on April 18, when Musk announced his intention to buy Twitter: "RT if you want Elon Musk to reinstate TRUMP on Twitter!"
That post received more than 13,000 retweets and 30,000 likes.
On April 26, Rizzo reiterated his support for reinstating Trump's Twitter account, tweeting "bring back @realDonaldTrump @elonmusk."
Newsweek has reached out to Twitter for comment.
Trump himself has said that he won't return to Twitter if his count is reinstated.
Shortly after news of Musk's takeover on Monday evening, Trump told Fox News: "I am not going on Twitter, I am going to stay on Truth."
"I hope Elon buys Twitter because he'll make improvements to it and he is a good man, but I am going to be staying on Truth," Trump added. "The bottom line is, no, I am not going back to Twitter."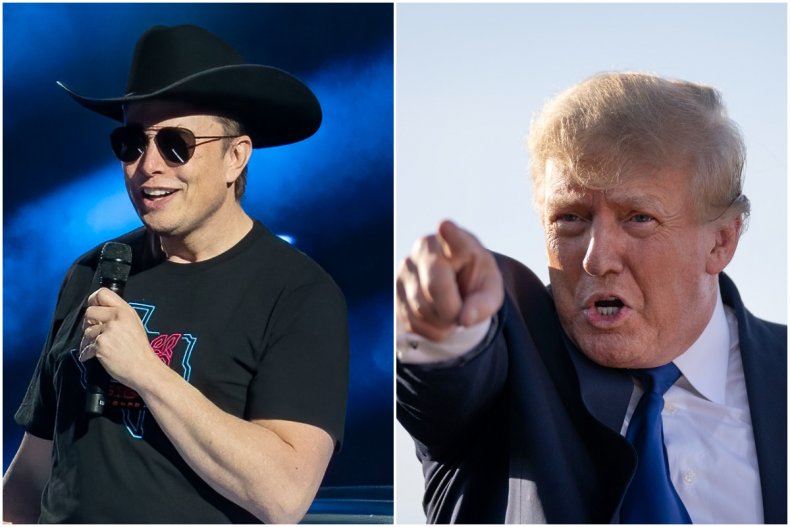 "Truth Social" is Trump's own social media platform he set up after losing access to Twitter and complaining that big social media companies are cracking down on freedom of speech, especially amongst conservatives.
Trump was permanently banned from Twitter on January 6, 2021 for allegedly inciting violence in his tweets.
Other right-wing figures such as former Trump advisor Steve Bannon, InfoWars conspiracy theorist Alex Jones, and Georgia GOP Congresswoman Marjorie Taylor Greene have also been banned from the platform. In Greene's case, her personal account has been permanently suspended, her official congressional account remains active.
Musk's deal represents the second-largest buyout in history, as the chart by Statista shows below.