These 15 People Banned From Twitter Could Be Brought Back by Elon Musk
Questions have been raised about what direction Elon Musk will take Twitter after the Tesla and SpaceX CEO purchased the social media site for $44 billion.
Musk, the world's richest man and frequent user of Twitter, spoke about his desire for the platform to become a "digital town square" where free speech is not restricted in a statement confirming the takeover.
There have been concerns about whether this means that Musk will cut back on content moderation policies currently in place on Twitter and turn the site into a more controversial "free speech" social media platform like Parler or Gab—and that fewer restrictions could pave a way for those who have been banned from Twitter to return.
Below, Newsweek has compiled a list of figures who have had their accounts permanently suspended by Twitter for violating their terms and conditions who may be offered a return to the site under Musk's ownership.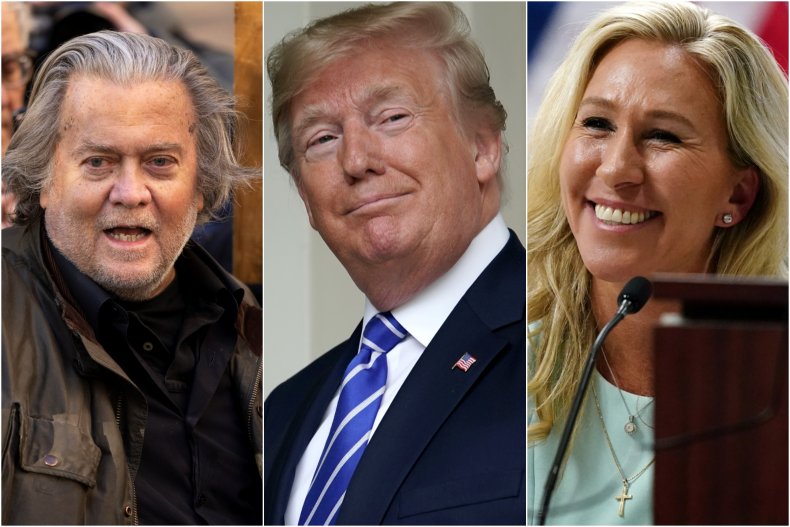 Donald Trump
Trump was permanently banned from Twitter on January 8, 2021, two days after the riot at the U.S. Capitol, over concerns he would use the platform to incite further violence.
Trump tweeted that the 75 million people who voted for him in the 2020 presidential election, which he falsely claimed was rigged, would "not be disrespected or treated unfairly in any way, shape or form!!!"
Trump then tweeted that he would not be attending the inauguration ceremony of President Joe Biden on January 20, 2021. Twitter said that the second tweet from Trump could be seen as "encouragement to those potentially considering violent acts that the Inauguration would be a safe target, as he will not be attending."
Twitter said the two tweets would likely "inspire others to replicate the violent acts that took place on January 6, 2021" and banned Trump from the platform.
Marjorie Taylor Greene
The Georgia congresswoman's personal Twitter account was permanently suspended on January 2 for "repeated violations" of its COVID misinformation policy.
Greene had posted numerous false statements regarding vaccines and the pandemic, including wrongly claiming that there had been "extremely high amounts of Covid vaccine deaths."
Greene's official Congressional account, @RepMTG, was not suspended and remains active.
Steve Bannon
The former White House adviser under Trump had his @WarRoomPandemic account removed from Twitter in November 2020 for violating the site's ban on "the glorification of violence."
In a live stream of his War Room show that he shared on Twitter, Bannon suggested White House chief medical advisor Dr. Anthony Fauci and FBI Director Christopher Wray should be beheaded.
"I'd put the heads on pikes. Right. I'd put them at the two corners of the White House. As a warning to federal bureaucrats: Either get with the program or you're gone," Bannon said.
Alex Jones
The conspiracy theorist had his personal account and that of his InfoWars show permanently suspended in September 2018 for a number of tweets that violated Twitter's abusive behavior policy.
The ban arrived after Jones posted a series of videos of him harassing Facebook COO Sheryl Sandberg and Twitter CEO Jack Dorsey as they testified in front of the Senate. Around the same time, Jones was also banned from other sites such as Spotify, Facebook and YouTube for violating their hate speech policies.
David Duke
The white supremacist and former leader of the Ku Klux Klan (KKK) was banned from Twitter for multiple violations of the company's hateful conduct policy in July 2020.
Roger Stone
The longtime Trump ally was banned from Twitter permanently in October 2017 over a series of tweets in which he threatened CNN reporters, including telling Jake Tapper that he must be "held accountable for his lies and very severely punished."
Mike Lindell
The MyPillow CEO and frequent pusher of the false claims that Trump lost the 2020 election due to widespread voter fraud had his account banned in January 2021 due to "repeated violations" of its civic integrity policy. Lindell's ban arrived as Twitter moved to combat misinformation spreading on the site.
Lin Wood
The pro-Trump lawyer turned QAnon supporter and conspiracy theorist had his account temporarily suspended last January 6 for allegedly inciting violence and calling for Mike Pence to be executed amid the attack on the Capitol.
Wood had two of his permanent accounts permanently suspended the following day after he said he would avert the ban by posting elsewhere. Twitter said Wood was in violation of the platform's rule on "ban evasion."
Michael Flynn/Sidney Powell
Two more members of Trump's inner circles who are advocates of the radical QAnon movement had their accounts removed on January 8, 2021, after Twitter vowed to permanently suspend accounts that are "solely dedicated to sharing QAnon content."
Milo Yiannopoulos
The alt-right personality was banned from Twitter in July 2016 for helping to orchestrate mass racist online attacks against Ghostbusters star and Saturday Night Live comedian Leslie Jones.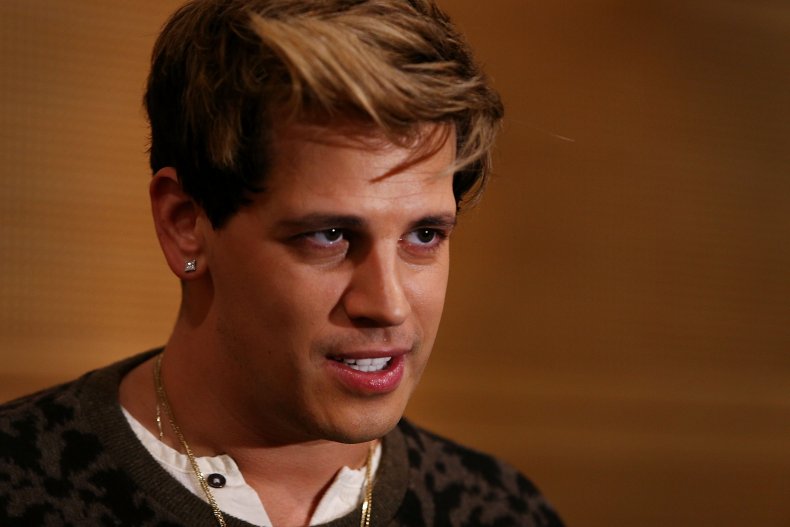 Aubrey Huff
The baseball star had his account removed in October 2021 for repeated violations of its COVID-19 misleading information policy. In the past, Huff also made other inflammatory comments on Twitter, including threatening violence if Senator Bernie Sanders was elected president and suggesting people should kidnap Iranian women.
James O'Keefe
The founder of the conservative group Project Veritas was banned from Twitter in April 2021 for using multiple fake accounts to "artificially amplify or disrupt conversations" in violation of the platform's rules against manipulation and spam.
Jacob Wohl
The right-wing conspiracy theorist was permanently suspended from Twitter in October 2019 creating and operating several fake accounts.
Laura Loomer
The far-right activist was banned in November 2018 for breaking Twitter's rules against hateful conduct after sending tweets to Minnesota Representative Ilhan Omar about the Muslim congresswoman's faith.