Jan. 6 Was a 'Terrible Day' Because Trump's Twitter Account Was Suspended: Ex-Trump Aide
Richard Grenell, the former Acting Director of National Intelligence, said on Thursday that January 6 was "terrible" because former president Donald Trump was permanently banned from Twitter.
"January 6 was a terrible day because it's the day big tech and the media kicked [former] president Trump off Twitter and silenced his voice. That was a day that was an attack on our democracy," Grenell said during a TV appearance on Newsmax on the anniversary of the Capitol attack.
The former president was actually banned from Twitter on January 8, two days after the riot, according to a statement from the social media giant.
Twitter permanently suspended Trump's account after he sent two inflammatory tweets. He first tweeted: "The 75,000,000 great American Patriots who voted for me, AMERICA FIRST, and MAKE AMERICA GREAT AGAIN, will have a GIANT VOICE long into the future. They will not be disrespected or treated unfairly in any way, shape or form!!!"
Shortly afterward, the former president tweeted that he would not be attending President Joe Biden's inauguration on January 20.
"These two Tweets must be read in the context of broader events in the country and the ways in which the President's statements can be mobilized by different audiences, including to incite violence, as well as in the context of the pattern of behavior from this account in recent weeks," Twitter said in their statement announcing the ban.
During his interview, Grenell accused Biden of not treating other riots or acts of violence in the country equal to the January 6 event.
"If you really cared about riots and vandals, you would have started in Seattle and Portland, and Minneapolis, but they [Biden Administration] didn't do that," he said.
"They don't talk about the anniversary of when a Democrat tried to shoot Republicans in Washington, D.C. on the baseball field. That was an attack on our democracy," Grenell added in an apparent reference to a gunman shooting and wounding former House Majority Whip Steve Scalise at a congressional baseball practice in 2017.
"They don't talk about that. There's no anniversary for that," Grenell said.
The former Trump aide also claimed that Biden and Democrats are "afraid" of Trump.
"This guy Joe Biden and the Democrats in Washington are so afraid of Donald Trump coming back because Donald Trump doesn't play by the rules of Washington, D.C.," he said.
"He (Trump) doesn't do this drama in the lead-up and then sucker punch you at the end to say 'now you got to go along with me on the bridge to equality, otherwise you're a racist if you don't want our legislation.' This is shameful what's happening in Washington D.C.," Grenell added.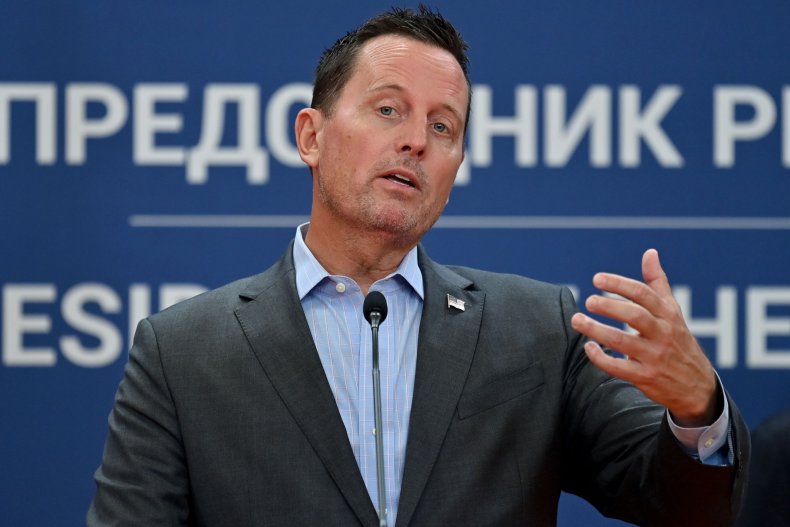 On the one-year anniversary of the Capitol riot, Biden and Vice President Kamala Harris addressed the nation and called the January 6 violence a "test."
"What the extremists who roamed these halls targeted was not only the lives of elected leaders," Harris said. "What they sought to degrade and destroy was not only a building, hallowed as it is. What they were assaulting were the institutions, the values, the ideals that generations of Americans picketed and shed blood to establish and defend."
Biden recalled the January 6 events during his speech and called out Trump's baseless claims about voter fraud in the 2020 election.
"Here's the truth: A former President of the United States of America has created and spread a web of lies about the 2020 election," Biden said in his speech.
"He's done so because he values power over principle. Because he sees his own interest as more important than his country's interest, and America's interest. And because his bruised ego matters more to him than our democracy or our Constitution," the president added.