Project Veritas Founder James O'Keefe Says He'll Sue Twitter for Accusing Him of Having Fake Accounts
Project Veritas founder James O'Keefe plans to sue Twitter on Monday after the social media platform banned him for allegedly "operating fake accounts."
O'Keefe vowed to file a defamation lawsuit against Twitter and make the company "pay" for accusing him of "operating fake accounts" or using "multiple accounts." Twitter said that O'Keefe's account was suspended for allegedly violating rules against "platform manipulation and spam," which include both specific charges.
"I am suing Twitter for defamation because they said I... 'operated fake accounts,'" O'Keefe said in a statement. "This is false, this is defamatory, and they will pay. Section 230 may have protected them before, but it will not protect them from me. The complaint will be filed Monday."
The account of Project Veritas, a conservative group known for recording hidden camera videos it says expose "corruption" and "dishonesty," was permanently banned in February. Twitter alleged that it had violated the company's policy against doxxing by showing the home address of a Facebook executive in a video, which the group denied doing. O'Keefe's account was temporarily suspended at the same time but later restored. Twitter said that Thursday's suspension is permanent.
"The account you referenced (@JamesOKeefeIII) was permanently suspended for violating the Twitter Rules on platform manipulation and spam," a Twitter spokesperson said in a statement to Newsweek. "As outlined in our policy on platform manipulation and spam, 'You can't mislead others on Twitter by operating fake accounts,' and 'you can't artificially amplify or disrupt conversations through the use of multiple accounts.'"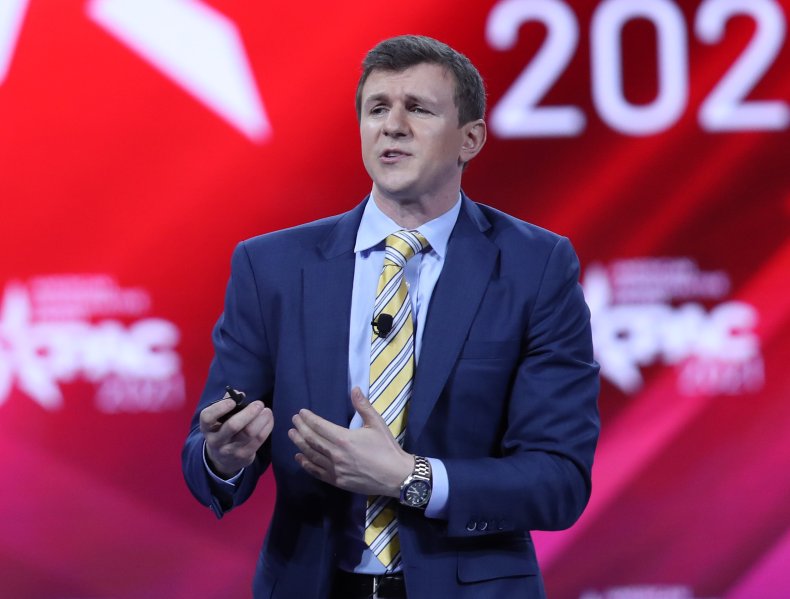 O'Keefe told Newsweek in a recent interview that he would be suing CNN and its anchors Brian Stelter and Ana Cabrera over reporting on the incident that led to Twitter banning Project Veritas, having previously vowed to sue the network for describing the group as "activists" during a speech at the Conservative Political Action Conference in February.
O'Keefe also said that Project Veritas would "launch a division for lawsuits" in order to "represent others in defamation suits against CNN," while boasting that the group has "won every lawsuit we've litigated."
Project Veritas recently released multiple hidden camera videos targeting CNN and featuring Charlie Chester, who the group identified as the network's technical director. One video shows Chester saying, "I 100​ percent believe that if it wasn't for CNN, I don't know that Trump would have got voted out." In another, he suggests that once the COVID-19 pandemic ends, CNN will "milk" climate change because "fear sells."
In a video exclusively obtained by Newsweek, Chester can be heard commenting to an undercover Project Veritas operative about coverage of the Black Lives Matter movement and recent attacks on Asian Americans. The alleged CNN employee can be heard suggesting that he would avoid helping the network report that "a bunch of Black men have been attacking Asians" because "we're trying to help with the BLM."
Newsweek reached out to Project Veritas for comment.