Tesla and SpaceX CEO Elon Musk on Wednesday indicated he may support Florida Governor Ron DeSantis if the Republican runs for president in 2024.
When asked on Twitter who he is leaning toward in the next presidential election, Musk answered by simply writing DeSantis' last name. He noted that he supported businessman Andrew Yang, a Democrat, in 2020, but now he feels "DeSantis has a better chance of winning."
Musk's comments on DeSantis began in a thread about Mayra Flores, who was named the winner of a special election for a House seat in Texas. Flores, a Republican who will hold the distinction of being the first Mexican-born member of the House, flipped the district seat to the GOP by beating Democrat Dan Sanchez. (The seat was vacated earlier this year by former Democratic Representative Filemon Vela.)
"I voted for Mayra Flores—first time I ever voted Republican," Musk wrote in the comments to a tweet posted by political outlet The Texan.
In the same comment, Musk also offered a prediction about Republicans seeing success in the upcoming midterms. He wrote, "Massive red wave in 2022."
Although he has recently expressed support for the GOP, Musk's last comments about his party affiliation came in 2018. In July of that year, he tweeted that he's "not a conservative. Am registered independent & politically moderate."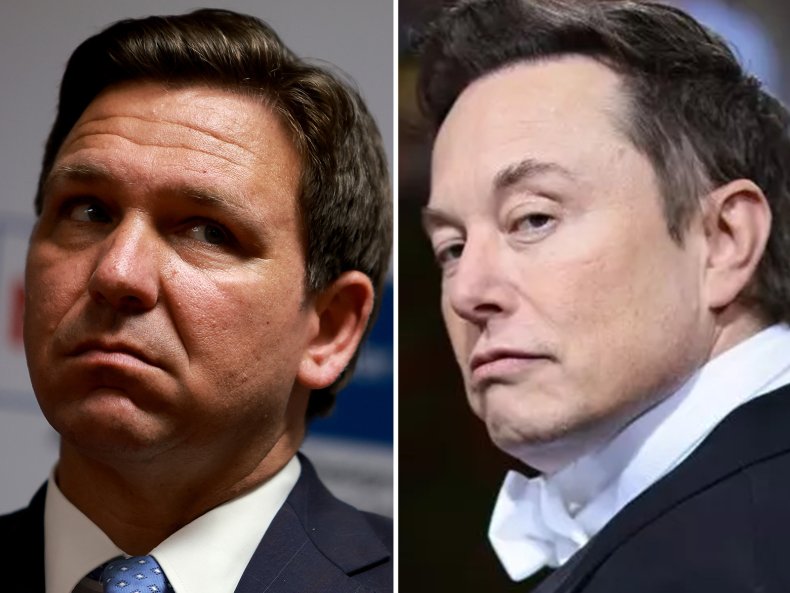 In April, Musk reached a $44 billion acquisition deal with Twitter, but he has since tried to put the deal on hold after saying he needed more data from the company about bot accounts. On Tuesday, the company said the tech billionaire will address Twitter employees on Thursday, according to the Associated Press.
Musk, the richest person in the world, has often shared his political opinions in the past and criticized members of both major political parties in the U.S. His proposed acquisition of Twitter stirred political debate when he indicated last month that he may reverse the social media platform's ban against former President Donald Trump.
Days after his comments about Trump, Musk also said he would be voting Republican for the first time.
"I have voted overwhelmingly for Democrats, historically. Like, I'm not sure, I might never have voted for a Republican, just to be clear," Musk said via video at a tech summit hosted by the All-In Podcast.
"Now this election I will," he added, though it was not clear if he was referring to the November midterms or the 2024 presidential election.
On May 18, he reiterated his political stance. He tweeted that he voted Democratic in the past "because they were (mostly) the kindness party," but "they have become the party of division & hate, so I can no longer support them and will vote Republican."
However, Musk has since publicly endorsed a Democrat in the upcoming mayoral election in Los Angeles. In early June, he announced his support of Rick Caruso, a fellow billionaire businessman who was previously a registered Republican before recently becoming a Democrat.
Musk noted in his endorsement of Caruso that his own "political leanings are moderate, so neither fully Republican nor Democrat, which I am confident is the case for most Americans."
Newsweek reached out to Musk via Tesla for comment.