Elon Musk's 'Sex Tape' Joke Sparks Hilarious Memes
Elon Musk inadvertently started a wave of dad jokes and puns with the release of his "sex tape" on Twitter.
The Tesla CEO and billionaire regularly shares memes on Twitter, the platform with which he's currently embroiled in a legal case. One of his recent posts started a joke war in the comments section, with dozens of followers continuing the theme.
Recently, Musk has referenced his multiple children, promoted cryptocurrency, and challenged Kim Jong Un and Putin to a fight, though he also uses the platform to make business announcements. Musk is a regular on the platform with over 103 million followers.
"But have you seen my sex tape" Musk delivered in a deadpanned manner late on Thursday night. The accompanying image showed two roles of tape, arranged to look like the numbers "69."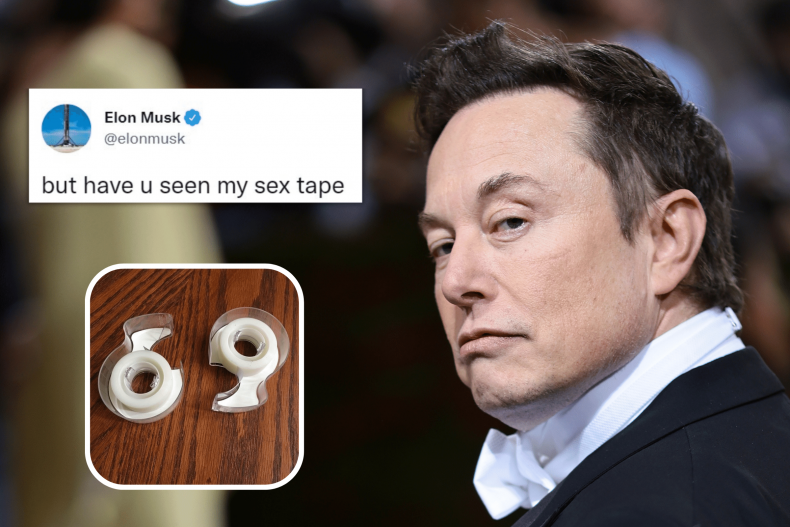 The double entendre was a hit with followers as 260,800 liked the tweet, with thousands more commenting and retweeting it. What followed was a series of one-liners in the comment section, most of which featured literal interpretations of well known phrases.
"Well that sucks," replied @DealinRugs with a picture of a well and a vacuum cleaner, "Let that sink in," said @ImVatsalya17 as a bathroom sink attempted to enter a house, and @AdedipedavidDam said, "well on that note, I rest my case," alongside a picture of a phone case lying on some money.
The situation is under control," delivered @kingB_yarz with a picture of the word situation resting under the Ctrl key on a keyboard.
The jokes weren't to everyone's taste, as many felt compelled to voice how unfunny they found the jokes. For the most part, however, likes were spread freely across all of the jokes.
Musk's joke was tweeted out in between announcements regarding his company SpaceX. The entrepreneur posted a picture of his Starship B7 rocket taking off and informed his followers, "About to attempt long duration engine firing to test autogenous pressurization."
Musk also shared a mock-up of space equipment on Mars, suggesting that it would be a reality one day.
The Tesla CEO recently came under fire for selling $6.9 billion of shares in his own company, but he took to Twitter to explain why that's going to end. "In the (hopefully unlikely) event that Twitter forces this deal to close *and* some equity partners don't come through, it is important to avoid an emergency sale of Tesla stock," the billionaire said.
Musk is facing legal action from the Twitter owners who are trying to force Musk to buy the business as he had originally intended to before he pulled out. Musk said if he is not forced to purchase Twitter, he would re-buy more Tesla stock.