Elon Musk Shares Rare Photo of Child With Grimes: 'Like Father, Like Son'
Elon Musk took a break from trolling Twitter executives and tweeting about the world population crisis to share a photo of him with his son, X AE A-XII.
The Tesla CEO posted the picture late on Sunday, which he says was taken in November 2021. Fans commented on how similar the pair look, drawing attention to a picture of Musk as a baby.
The multi-billionaire now has ten children, with his son X being one of two he shares with musician Grimes. It was revealed recently that Musk has fathered a set of twins with Shivon Zilis, the director of operations and special projects at Neuralink, a company he owns.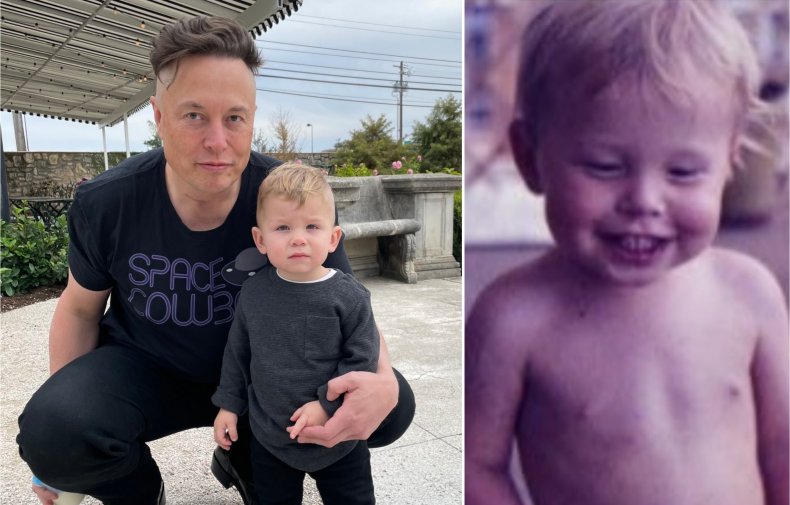 On Sunday Musk wrote: "Thanksgiving last year after watching one too many episodes of Vikings." The accompanying picture shows Musk squatting down next to X.
Responding to comments underneath the picture, Musk laughed at a Vikings meme, and also confirmed that he had cut both his own and X's hair.
Comparing pictures of X and of Musk as a child, @cb_doge wrote: "Elon, you looked the same."
The picture was liked and commented on thousands of times with people expressing their amazement at the similarities. Musk gave his approval to the comparison by liking @cb_doge's tweet. Many stated that it's a case of "Like father, like son" in the comment section.
"They are so similar," one commenter wrote, while another suggested they were copied and pasted, "Ctrl C - Ctrl V."
"I see Grimes in him as well," said @ChristianKWatt, highlighting X's mom.
Not everyone was as complimentary. "How many children do you think is enough?" asked Brazilian columnist Felippe Hermes, referencing Musk's ten children, which he has with three different mothers: six with his first wife Justine Wilson, though their first died of infant death syndrome, two with Grimes (one via a surrogate) and twins with Zilis.
Though Musk has joked about doing his part to alleviate the falling population, in June he also expressed concern about the "fertility slump" in a tweet saying the U.S. birthrate has been below minimum sustainable levels for 50 years.
Musk recently pulled out of a $44 billion Twitter takeover because of the number of spam accounts on the social media network. The Twitter board responded by confirming they intend to force Musk to honor his commitment to purchase Twitter.
Musk has also been the subject of speculation regarding an affair with the wife of Google co-founder Sergey Brin. Musk has been vocal in denying the claim made by The Wall Street Journal.
Newsweek has reached out to Musk's representatives for further comment.