Elon Musk Responds to Viral Shirtless Pics: 'Free the Nip'
Elon Musk has made light of a shirtless picture of himself which has been going viral across social media.
The almost-Twitter owner used the platform, which he now doesn't want to own, to respond to the image of himself topless outdoors with a towel wrapped around his waist. The pictures were taken while he was on vacation in Mykonos, Greece.
Musk is currently embroiled in a lawsuit with the Twitter board after he pulled out of purchasing the site. Musk has repeatedly mocked the company with memes relating to the fact that they're trying to force him into following through on the deal and buy the platform.
The Tesla CEO was presented with the picture by the Twitter user @Teslaconomics. "F*** yea I got my $ behind this man. So so many other smart investors," they wrote, including the picture of Musk shirtless, holding a drink aloft.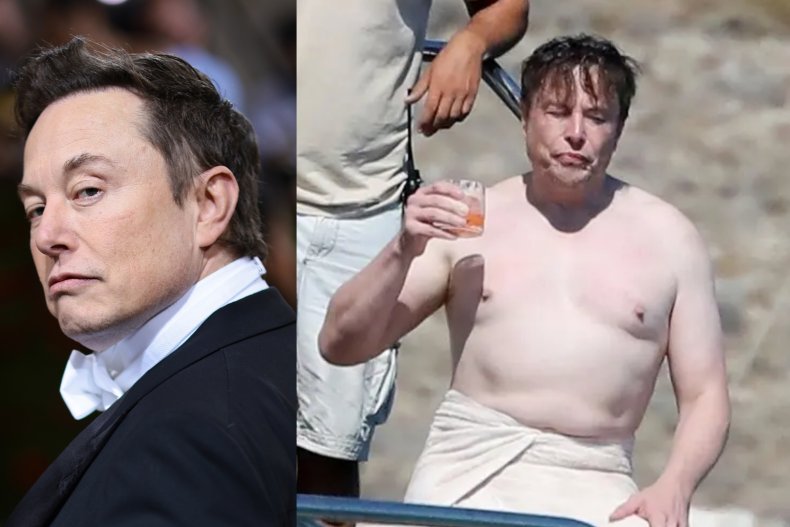 "Haha damn, maybe I should take off my shirt more often," the entrepreneur wrote after the endorsement. He then added, "Free the nip!!" Which is a reference to a longstanding campaign for women to have the right to bare their nipples in public.
Musk also used the tweet to tell everyone that he was "already back in the factory btw."
The holiday photos of Musk on a yacht were seemingly taken by the paparazzi. Since being posted online the main image and many others have received the meme treatment across social media.
"Fixed it" wrote @senjaminbutton as he added Doge dog sunglasses, a blunt and a "Thug Life" tattoo to Musk in the shirtless picture. Others commented on Musk's lack of tan compared to the other people on the boat around him.
Pitting the billionaire's against each other, others put pictures of Musk side by side with Amazon founder Jeff Bezos. "Elon got a lot of catching up to do," wrote @wallstreetmemes comparing their physiques.
Meanwhil, TikTok user @stevensaysstuff compared Musk's vacation photos with Mark Zuckerberg's infamous suncream face picture. His analysis got over 2.2 million views in the first 10 hours of going live.
One of the most popular reactions was shared by @WholeMarsBlog who encouraged Musk to do more gym work alongside his many business ventures.
The mocked up end result is a muscle-bound Musk walking a Doge dog, a Shuba Inu, with a SpaceX rocket taking off in the background.
Other than commenting on his shirtless picture and sharing various memes, Musk has recently been celebrating another successful SpaceX flight which set off on its 25th resupply mission to the International Space Station.
Musk has expressed his desire to make life "multiplanetory" as he aims to colonize Mars.