Elon Musk Hints He's Pulling Starlink After Ukraine Told Him to 'F*** Off'
Elon Musk has claimed he was just following the "recommendation" of a Ukrainian ambassador who told him to "f**k off," following reports SpaceX could stop funding Starlink coverage for Ukraine.
According to CNN, SpaceX wrote to the Pentagon last month requesting the U.S. military pick up the tab, which the company says comes to tens of millions of dollars each month.
On Friday, Jason Jay Smart, a Ukraine-based reporter at the Kyiv Post, tweeted: "Elon Musk's Starlink says it can no longer afford to give Ukraine [Ukraine flag emoji] free service and asks the Pentagon [U.S. flag emoji] to pay for it. Starlink had been a game changer in the war.
"This comes days after Ukrainian Ambassador Andrij Melnyk told Musk to 'f**k off.'"
Musk replied: "We're just following his recommendation," followed by the man shrugging emoji.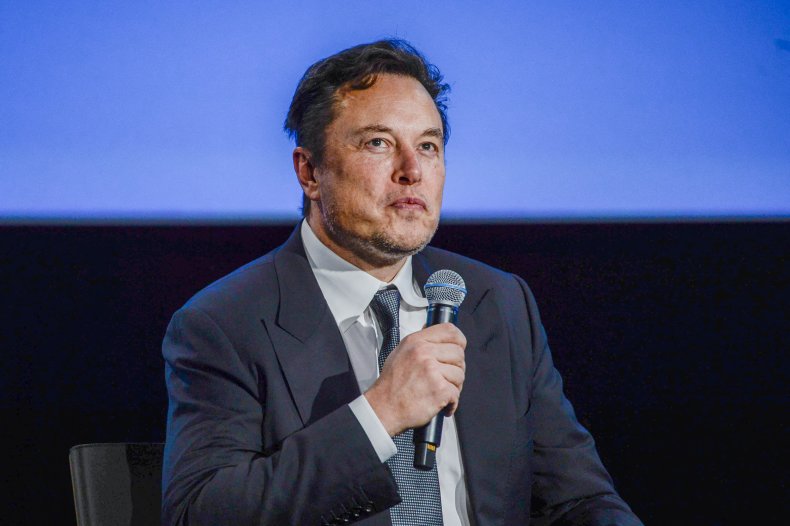 The angry comment from Melnyk, Kyiv's ambassador to Germany, came after Musk tweeted out his Ukraine peace plan on October 3.
The billionaire businessman wrote: "Ukraine-Russia Peace: Redo elections of annexed regions under UN supervision. Russia leaves if that is will of the people.
"Crimea formally part of Russia, as it has been since 1783 (until Khrushchev's mistake).
"Water supply to Crimea assured. Ukraine remains neutral."
Musk then added: "This is highly likely to be the outcome in the end – just a question of how many die before then."
In response Melnyk wrote: "F**k off is my very diplomatic reply to you Elon Musk."
Dmitry Medvedev, deputy chairman of Russia's Security Council, praised Musk's comments which he claimed made him "worthy of a promotion."
Musk has denied a claim, made by Eurasia Group head Ian Bremmer, that he spoke to President Putin before presenting his peace plan.
Bremmer said: "Elon Musk told me he had spoken with Putin and the Kremlin directly about Ukraine. He also told me what the Kremlin's red lines were."
In response, Musk tweeted: "I have spoken to Putin only once and that was about 18 months ago. The subject matter was space."
Some 20,000 Starlink satellite units have been donated to Ukraine since the Russian invasion began in February, with Musk claiming earlier this month this had cost his company $80 million.
The satellite units have provided internet access to areas of Ukraine that would otherwise have been cutoff, including the Azovstal steel works in Mariupol which were besieged by Russian forces in April and May.
In June, speaking to Wired, Ukrainian President Zelensky praised Starlink as "very effective."
He explained: "It helped us a lot, in many moments related to the blockade of our cities, towns, and related to the occupied territories.
"Sometimes we completely lost communication with those places. To lose contact with those people is to lose control completely, to lose reality. I am really grateful for the support of Starlink."
Over the past week, Ukrainian troops have reported Starlink outages in territory they are trying to retake from Russian forces.
On Friday Kyiv reported nine Russian attacks across Ukraine had been repulsed.
SpaceX has been contacted for comment.