Elon Musk Trans Comments Resurface Amid Child Name Change: 'Pronouns Suck'
Elon Musk's past comments and criticism of transgender people have resurfaced after it was revealed his child has applied for a name change in accordance with a new gender.
Court documents have shown that Musk's child has petitioned for a new name and birth certificate through the Los Angeles County Superior Court in Santa Monica. The documents filed in April, found on plainsite.org, state that Musk's child no longer wants to "live with or wish to be related to my biological father in any way, shape or form."
This revelation about Musk's home life may shock some as he's previously joked about gender identity and even tweeted, "Pronouns suck."
Musk's child, named Xavier Alexander Musk at birth, recently turned 18 and has asked the California court to change their name and gender recognition from male to female. The new name is redacted in the court document.
In July 2020, Musk courted controversy for tweeting a controversial two-word opinion: "Pronouns suck."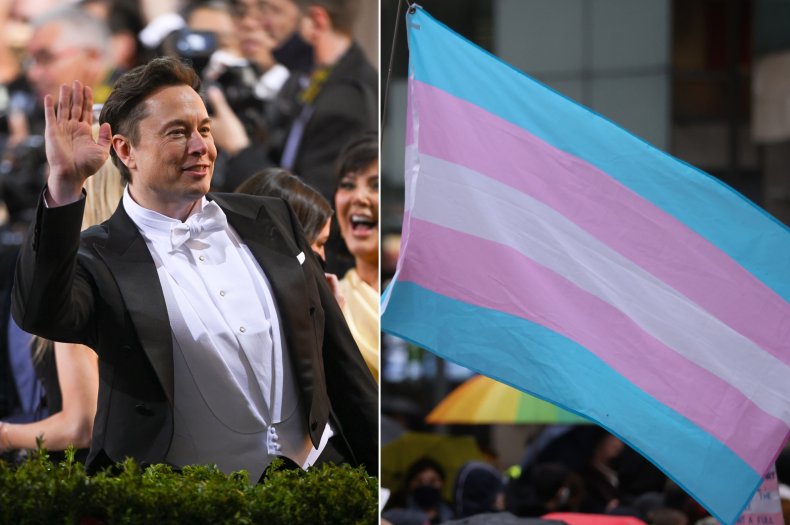 At the time, his comments received huge backlash online, while his then-partner Grimes also replied in a since deleted tweet. "I love you but please turn off ur phone or give me a [call]. I cannot support hate. Please stop this. I know this isn't your heart."
Later that year, Musk was criticized once again for sharing a meme seemingly mocking people who put their pronouns in their online bios. Clarifying his stance after receiving further backlash, Musk tweeted on December 16, 2020: "I absolutely support trans, but all these pronouns are an esthetic nightmare."
He then pointed out a tweet sent by Tesla in 2017 where they highlighted that they had received a perfect score for the fourth year in a row when it came to "LGBTQ equality."
In March 2022 he courted controversy for once again tweeting a joke relating to transgender people and the Ukraine war. The meme read, "Netflix waiting for the war to end to make a movie about a black Ukraine guy falls in love with a transgender Russian soldier." It received 1.2 million likes. This tweet came days after Musk had broken up with Canadian singer Grimes.
Around this time, Elon also changed his name to Elona Musk on Twitter, though this was seemingly related to a confrontation from a Russian politician who challenged him to a fight with Vladimir Putin. Around this same time, rumors started to circulate that Grimes had moved on from Musk and was dating activist and WikiLeaks whistleblower Chelsea Manning.
Most recently, on June 11, 2022, Musk tweeted about gender again, this time expressing his confusion. "We are simultaneously being told that gender differences do not exist and that genders are so profoundly different that irreversible surgery is the only option," he wrote in response to a think piece. "Perhaps someone wiser than me can explain this dichotomy." Musk followed this up by saying, "It is a better world if we are all less judgy."
Musk's child who is petitioning for a separation from him is the daughter of Musk and his first wife, Justine Wilson. According to multiple reports, their new name will be Vivian Jenna Wilson. They wrote in their application for the name change that the reason is under the grounds of "Gender Identity and the fact that I no longer live with or wish to be related to my biological father in any way, shape or form."
Earlier in June, Musk voiced his support for Republican Florida Governor Ron DeSantis. DeSantis is known for his support of the so-called "Don't Say Gay" bill in Florida and holds a 0 rating from the Human Rights Campaign for his voting record on LGBT-related issues and legislation.
This past Sunday, Musk wished his followers a "Happy Father's Day," and also stated, "I love all my kids so much."
The Tesla CEO and billionaire has seven children, five from his first marriage (a set of twins and a set of triplets), and two from his recent relationship with Grimes. The names of the youngest, controversially, are X Æ A-Xii and Exa Dark Sideræl Musk.
Elon Musk was unavailable for immediate comment when Newsweek reached out.