Why Elon Musk Changed His Name to 'Elona' on Twitter
Elon Musk has changed his name to "Elona" on Twitter in a bizarre move that comes a day after the tech billionaire proposed that he fight Vladimir Putin over the Russian leader's invasion of Ukraine.
The Tesla CEO and world's richest man, 50, challenged Putin to "single combat" in a tweet shared on March 14, which then prompted Chechnya's warlord leader Ramzan Kadyrov to get involved.
Kadyrov, the head of the Chechen Republic, has now come to Putin's defense and issued a strong warning to Musk.
"Elon Musk, a word of advice: Don't measure your strength against that of Putin's. You're in two completely different leagues," Kadyrov wrote in a lengthy post, via Telegram, which Musk shared with his followers.
The Chechen warlord went on to tell Musk that Putin would "beat the hell out of you, a much weaker opponent."
It was reported earlier this week that Chechen forces led by Kadyrov are assisting the Russian military near Kyiv.
Why did Elon Musk Change His Name to 'Elona' on Twitter?
In the heated exchange between Musk and Kadyrov, the Chechen leader branded the SpaceX entrepreneur "effeminate" and suggested he train at the Russian Special Forces University, Akhmat Fight Club and the Chechen State Television and Radio Broadcasting Company to prepare for this hypothetical fight with Putin.
"You will return from the Chechen Republic a completely different person Elona, that is, Elon," Kadyrov added, including a feminine version of Musk's first name.
Musk has since changed his name to Elona on Twitter in response and signed off a tweet responding to Kadyrov with his borrowed moniker.
"Thank you for the offer, but such excellent training would give me too much of an advantage," Musk tweeted. "If he is afraid to fight, I will agree to use only my left hand and I am not even left-handed. Elona."
Musk also incurred the anger of the head of Russia's space agency Roscosmos, Dmitry Rogozin, in his challenge to fight Putin.
"You, little devil, are too young to take me on, it's a waste of time, have a go at my brother instead," director general Rogozin responded, quoting a Russian fairy tale.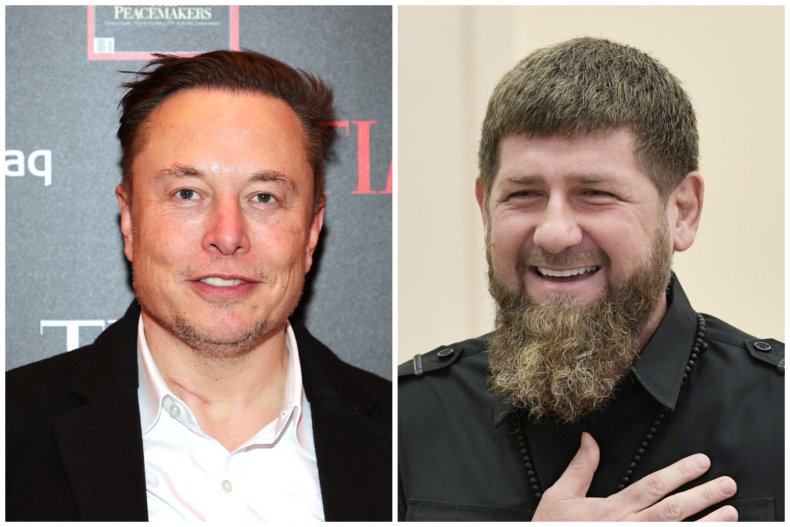 Musk has supported the war effort in Ukraine and sent shipments of satellite internet equipment to the war-torn country last week.
This prompted Ukraine's Vice Prime Minister Mykhailo Fedorov to thank Musk personally on Twitter.
"Received the second shipment of Starlink stations! @elonmusk keeps his word! Thank you for supporting Ukraine and peace in the entire world!" Fedorov tweeted.
But Musk was criticized on Monday for sharing a meme that seemed to mock people supporting Ukraine online.
Follow our live blog for updates on the Russia-Ukraine conflict.