Elon Musk Goes on Joke Spree to Make Twitter 'Maximum Fun'
Elon Musk wants to make Twitter "maximum fun" again, and he's trying to lead by example with a series of jokey tweets.
The multi-billionaire who recently bought Twitter for $44 billion has been embroiled in a free speech debate ever since the news of his takeover was announced.
It has involved people announcing they're leaving his site while others, like George Takei, said they're staying "to fight."
Musk had been defending himself in the ongoing conversation, attempting to clarify what he means by free speech. Now he appears to be moving off the subject, and instead is targeting his followers' funny bones.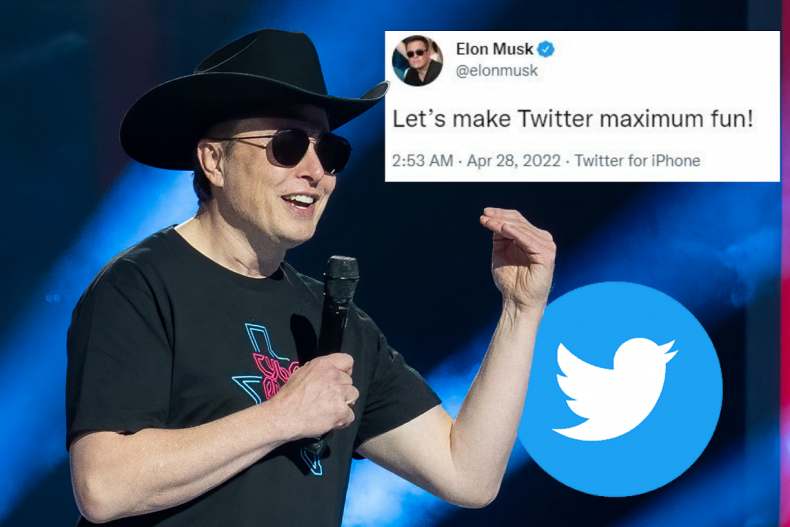 His tweets often gain a lot of traction, but a recent tweet about buying another mega-corporation gained over two million likes.
"Next I'm buying Coca-Cola to put the cocaine back in," Musk wrote late on Wednesday. The joke seems to be a clear nod towards the controversy around him buying Twitter, and his vow to bring back more open dialogue to the platform.
He made his new intentions clear by writing plainly to his 87.2 million Twitter followers, "Let's make Twitter maximum fun!"
Continuing along that trend, he shared a picture of what could have been a previous tweet of his where he wrote, "Now I'm going to buy McDonald's and fix all of the ice cream machines." Above this image he wrote, "Listen, I can't do miracles ok."
The CEO of Tesla, SpaceX and founder of The Boring Company also once again commented on Donald Trump's competitor and criticized its name.
On Wednesday, he commented how "Truth Social (terrible name) exists because Twitter censored free speech." He suggested the site should be called "Trumpet" instead.
Replying to a Dogecoin account that mocked up an app store rankings showing the fictional Trumpet ahead of Twitter, Musk replied, "Trumpet is legit a way better name."
Continuing his effort to bring "maximum fun" to the site again, Musk started replying to other tweets with his own ironic take.
Spotting a report about the "Launch of the Declaration for the Future of the Internet," Musk wrote, "Sounds like satire."
He then replied to a BBC News article about climate change with the headline, "Don't let doom win, project tells worriers." Picking up on the key word there, Musk trolled the article by replying with an image of the Doom video game franchise.
Previously, Musk had attempted to explain his own definition of free speech and what he intends to do with Twitter.
In a tweet (which is now pinned to the top of his page) he wrote, "By "free speech", I simply mean that which matches the law. I am against censorship that goes far beyond the law."
Another tweet of his which proved popular, garnering over one million likes, clarified that everyone will be upset equally.
"For Twitter to deserve public trust, it must be politically neutral, which effectively means upsetting the far right and the far left equally," Musk wrote.