Elon Musk Posts Rare Photo of Sons as Family Meets Pope Francis
Elon Musk has broken his Twitter silence after the tech billionaire was uncharacteristically quiet on social media following news that his ​​child filed to change her name to distance herself from her father.
Sharing a rare photo of his family, the Tesla CEO returned to the platform with a picture of himself meeting Pope Francis.
"Honored to meet @Pontifex yesterday," Musk, 51, tweeted, marking his first post in nine days. He is also currently ​​trying to buy Twitter for $44 billion.
In the photo, the world's richest man can be seen with the head of the Catholic Church, alongside Musk's four teenage sons. He has seven children in total.
Musk's transgender child wasn't present for the photo after she applied to legally change her name last month.
Previously named Xavier Alexander Musk, when she turned 18 in April she filed a petition with the Los Angeles County Superior Court in Santa Monica to change her name to Vivian Jenna Wilson and to be legally recognized as female.
A court document leaked on Twitter says the reason for the change is to do with "gender identity and the fact that I no longer live with or wish to be related to my biological father in any way, shape or form."
The purpose of Musk's meeting with the pope wasn't explained by the billionaire, but his trip to Italy also prompted him to post an old photo showing him celebrating his 40th birthday in Venice with his then-wife, actress Talulah Riley.
"Venice, a site of Great Remembrance," he tweeted.
Xavier Alexander Musk/Vivian Jenna Wilson has a twin called Griffin. Both children were born with IVF after Musk and Canadian author Justine Wilson's previous child, Nevada Alexander Musk, died of sudden infant death syndrome at only 10 weeks.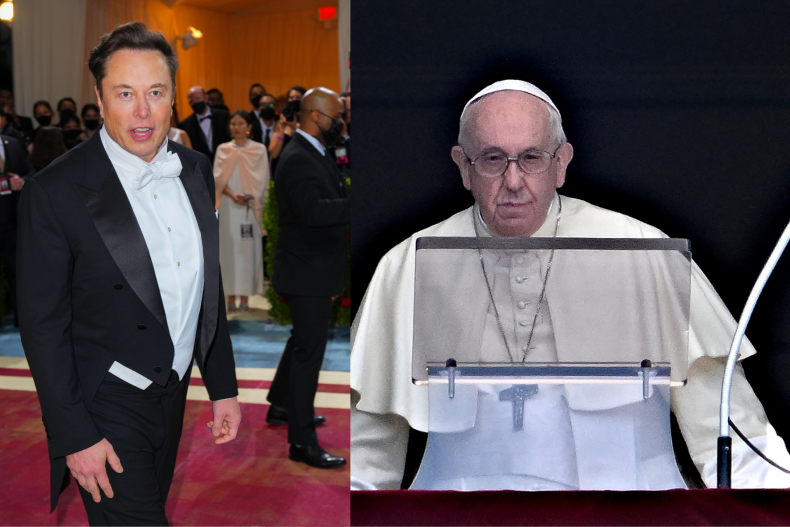 Musk and Wilson have five children together and they divorced in 2008. The other three were also born with IVF—triplets called Damian, Kai and Saxon. Musk and Wilson share custody of the five children.
Musk later had two sons with Grimes — X AE A-XII and Exa Dark Sideræl Musk.
The SpaceX founder's past comments and criticism of transgender people resurfaced amid news of his child's name change petition.
In July 2020, Musk courted controversy for tweeting a contentious opinion: "Pronouns suck."
On June 11, 2022, Musk tweeted about gender again, this time expressing his confusion around pronouns.
"We are simultaneously being told that gender differences do not exist and that genders are so profoundly different that irreversible surgery is the only option," he wrote in response to a think piece. "Perhaps someone wiser than me can explain this dichotomy."
He added: "It is a better world if we are all less judgy."