Tropical Storm Elsa made landfall at about 11 a.m. Wednesday in Taylor County, Florida
Downed trees and partial flooding reported in parts of the state
Winds of approximately 70 mph and heavy rain are forecast
National Guard is on standby, with Governor Ron DeSantis issuing State of Emergency
Tropical Storm Elsa made landfall on Florida's west coast Wednesday morning.
Winds of approximately 70 mph and heavy rain were forecast to hit the Sunshine State late Wednesday morning, according to the National Hurricane Center.
Several downed trees and partial flooding have been reported in multiple areas.
A storm surge warning is in force for a 200-mile stretch of the coast north of Tampa Bay. Elsa is expected to hit Georgia and South Carolina after passing over Florida.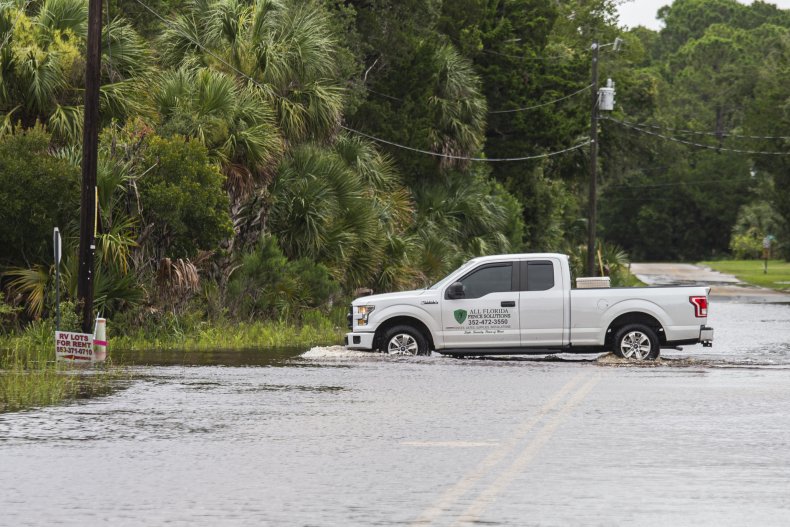 The storm previously battered the Caribbean, leaving three people dead and bringing mudslides and flooding.
Elsa was briefly given hurricane status (for a second time) on Tuesday night as it passed over Cuba but later was downgraded.
Elsa expected to weaken to a tropical depression Thursday
Tropical Storm Elsa is heading toward Georgia as it maintains its strength into Wednesday evening.
According to the National Hurricane Center, Elsa is expected to weaken to a tropical depression as it continues over the Carolinas on Thursday.
About two to six inches of rain are expected over parts of southeastern Georgia and the lowlands of South Carolina, with possible flash flooding, the hurricane center said.
In the coastal areas of North Carolina and southeastern Virginia, about one to five inches of rain are possible through Thursday night, according to the hurricane center.
By Friday morning, Elsa may strengthen to a tropical storm again as it nears New York.
Tropical storm warnings and forecasts of rain and flooding are in place along the mid-Atlantic coast.
"It is looking more and more like parts of Maryland will be impacted by Elsa," the Maryland Emergency Management Agency said in a tweet. However, "impacts are expected to be minimal."
The Virginia Department of Emergency Management said Elsa is "expected to bring heavy rain and gusty winds to [east and southeast] Virginia and the Eastern Shore."
Elsa brought over 10 inches of rain to some Florida cities
AccuWeather reported the highest rainfall amounts in Florida as Tropical Storm Elsa moves across the state.
Over the past 24 hours, the amounts range from 5.6 inches in Fort Myers to 10.88 inches in Port Charlotte.
Additionally, over 25,000 customers in Florida are without power after Elsa made landfall, according to PowerOutage.us.
About 25,600 people were without power in the state as of 2:35 p.m. Wednesday.
The Federal Emergency Management Agency (FEMA) warned residents in Elsa's path about the high risk of flooding.
Elsa winds weaken as the storm moves east
Tropical Storm Elsa has weakened as it moves inland Wednesday afternoon.
At 2 p.m., the National Hurricane Center clocked Elsa's sustained winds at 50 mph.
WCTV meteorologist Mike McCall said Elsa's winds will continue to lessen as the storm moves eastward.
"Along and east of its path, heavy rain and gusts to 35-45 mph are expected," McCall said in a tweet. "[Elsa] will move to the north-northeast by this evening and exit our viewing area."
The Weather Channel reported that all tropical storm warnings in central Florida have been dropped as Elsa progresses.
Tampa Mayor Jane Castor was thankful that the city had only "minimal effects from Elsa" on Tuesday and minimal flooding and damage Wednesday morning.
"Fortunately for us, we didn't see the storm surge that was predicted," she said.
She added that the city is experiencing some downed trees and power outages.
Severe weather warnings still in place in Florida as Elsa move northward
Even as Elsa moves northeast across Florida, many areas along the state's west coast are "not out of the woods yet," the National Weather Service in Tallahassee said.
This video shows Horseshoe Beach in the hours before Elsa made landfall in nearby Steinhatchee on Wednesday morning. The time lapse shows the intense storm surge flooding the shore.
The NWS in Tallahassee said rain, flooding, wind, tornados and storm surges were still possible into Wednesday.
Heavy rainfall and flooding are still expected in the coastal and inland areas of Florida. The University of Florida weather broadcast estimates three to seven inches of rainfall over areas until later Wednesday afternoon.
Tropical Storm warnings in place along mid-Atlantic coast
Tropical storm warnings and watches have been extended along the mid-Atlantic coast as Elsa continues to move northward, the National Weather Service said.
A warning has been issued for the coast of North Carolina, southeast Virginia, the Southern Chesapeake Bay, the coastal Delmarva Peninsula and much of the New Jersey shore.
A special marine warning remains in place for the waters from Manasquan Inlet to the Little Egg Harbor Inlet in New Jersey.
As Elsa continues to move along the U.S. coast, it is expected to bring more storm weather to the Northeast on Thursday and Friday.
Areas of New Jersey have already been hit with severe high temperatures and storms bringing rain, wind, thunder and lightning.
Many communities are experiencing fallen trees, power outages and roadway flooding as a result of the storms.
As of early Wednesday, more than 40,000 homes and businesses were without power, according to NewJersey.com.
There are also major delays on public transits lines due to "weather-related issues." New Jersey transits rail and bus services across the state continue to be impacted.
Elsa makes landfall
Tropical Storm Elsa made landfall around 11 a.m. Wednesday, according to the National Hurricane Center.
The center of the storm came ashore near Steinhatchee, Florida in Taylor County and is continuing northward at a speed of 14 mph.
Maximum sustained winds remain at 65 mph and heavy rainfall continues.
Surfside Death Toll Now 46
Rescue crews at the site of the Surfside condo collapse have recovered 10 more bodies from the rubble, bringing the death toll for the disaster to at least 46, as around 100 people are still unaccounted for, according to officials.
Crews are continuing with the rescue process today, as Florida prepares for Tropical Storm Elsa to make landfall later on Wednesday morning, possibly complicating the operation.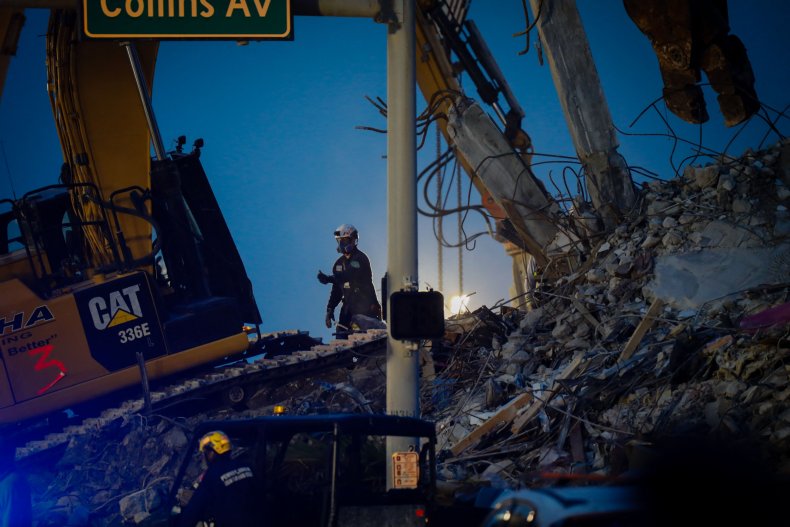 Miami-Dade County Mayor Daniella Levine Cava told reporters on Tuesday that the crews will "continue as now to thoroughly, carefully sift through these piles," but admitted that the job is a "very thorough and exhaustive."
Tampa Airport Reopens Early Amid Storm
Tampa International Airport has reopened earlier than scheduled after it suspended flights on Tuesday night in preparation for Tropical Storm Elsa.
The airport announced that it would be suspending operations at 5:00 p.m. on Tuesday until 10:00 a.m. on Wednesday.
However, early on Wednesday morning, the airport announced that operations would resume at 8:30 a.m. after the extreme weather had cleared up in the area.
Shortly after the announcement, the airport tweeted a picture of a plane landing on the runway, writing: "Planes are landing again and it's a good thing."
Elsa Causes Minor Damage Overnight
Tropical Storm Elsa caused minor damage in several areas of Florida on Tuesday night and Wednesday morning as it approached landfall on the state's west coast.
Both the Hillsborough County Sheriff's Office and the Clearwater Police Department released photos on Wednesday morning showing the minor damage caused by the storm, including several trees downed on roads.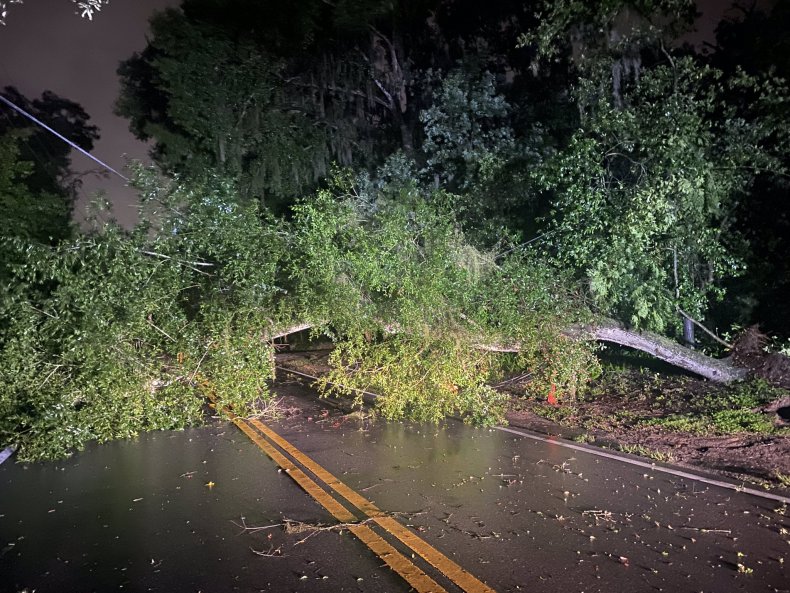 The city of North Port also released photos showing severe flooding in the area, as it confirmed that "High Water" signs had been put in place.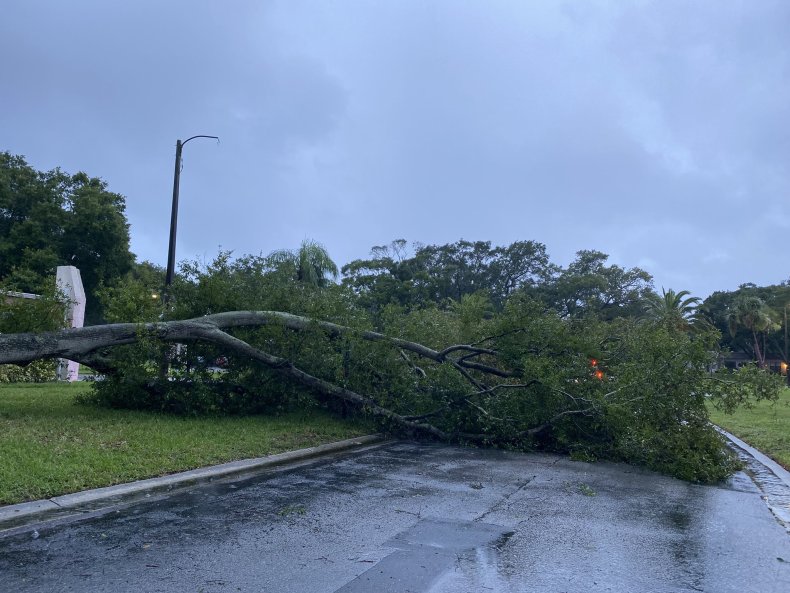 Tampa Mayor Jane Castor confirmed on Twitter that her region had been spared major damage, writing: "We're fortunate to see minimal damage & flooding this morning, but it's important to keep safety top of mind. Be aware of your surroundings & don't drive through flood waters."
DeSantis Confirms Storm Will Make Landfall Wednesday
Florida Governor Ron DeSantis has confirmed that Tropical Storm Elsa is "speeding up" on its way to making landfall in Florida on Wednesday morning.
Speaking from the State Emergency Operations Center at around 8:00 a.m. local time on Wednesday, DeSantis said that the storm is expected to make landfall in the town of Steinhatchee "in the next few hours" and confirmed that it is travelling at 14mph with maximum sustained wind speeds of 65mph.
Although the governor said that areas such as Hillsborough County were suffering from power outages, he confirmed that no healthcare facilities had reported losing power in the state so far.
DeSantis urged Florida residents to continue practicing storm safety precautions and to be mindful of fallen trees and standing water.
Elsa Remains a Tropical Storm
Storm Elsa briefly reached hurricane strength while over the Gulf of Mexico on Tuesday night, before being downgraded back down to a tropical storm as it closed in on Florida.
While located around 100 miles southwest of Tampa on Tuesday, Elsa was upgraded to a Category 1 Hurricane, as it recorded maximum wind speeds of 75 mph. A tropical storm becomes a Category 1 Hurricane at 74 mph.
However, at around 2:30 a.m. on Wednesday morning, the National Hurricane Center confirmed that the storm had weakened on its approach to Florida and was once again classified as a tropical storm with winds of up to 65mph recorded.
The agency said that gusty winds and heavy rain are expected in Florida on Wednesday as the storm makes landfall in the state.