Elsa Path Update As Tropical Storm Builds Speed En Route to Cuba, Florida
Tropical Storm Elsa is expected to build speed and cross over Cuba, bringing disruptive weather conditions to Florida and along the coasts of Georgia and the Carolinas this week.
The storm, which formed east of the Caribbean Sea on Thursday, July 1, was promoted from a tropical storm to a Category 1 hurricane by morning Friday, July 2.
It is now expected to bring tropical storm conditions to the Florida Keys and southwestern Florida by Monday night.
"Elsa is expected to move across central and western Cuba later today [Monday] and pass near the Florida Keys early Tuesday. Elsa is then forecast to move near or over portions of the west coast of Florida on Tuesday and Wednesday," the National Hurricane Center (NHC) warned on Monday morning.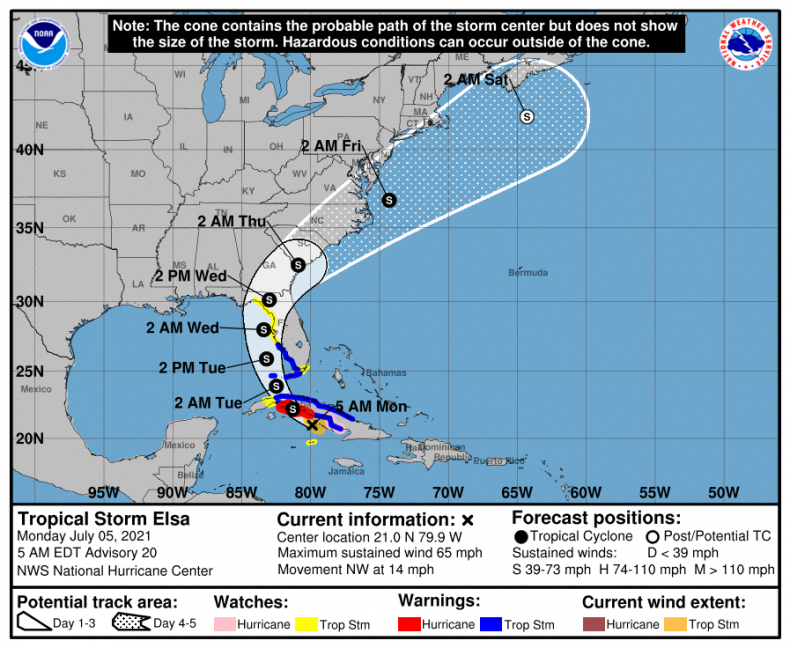 Tropical storm conditions are expected in portions of the Florida Keys and southwestern Florida tonight and Tuesday. A Tropical Storm Watch and a Tropical Storm Surge Watch are currently in effect for much of the west coast of Florida from Bonita Beach to the Suwannee River.
Elsa is the first hurricane of the 2021 season and is expected to bring heavy rainfall, flash flooding, rising water levels and tropical-storm-force winds.
"As Elsa approaches the Florida Keys, Florida Peninsula and coastal Georgia Monday through Wednesday, heavy rainfall may result in isolated flash, urban and minor river flooding," the NHC added. "Mid to late week heavy rains across coastal South Carolina and North Carolina may result in isolated flash and urban flooding."
The risk of tropical storm conditions and storm surge impacts is predicted to extend along the coasts of Georgia and the Carolinas Wednesday and Thursday.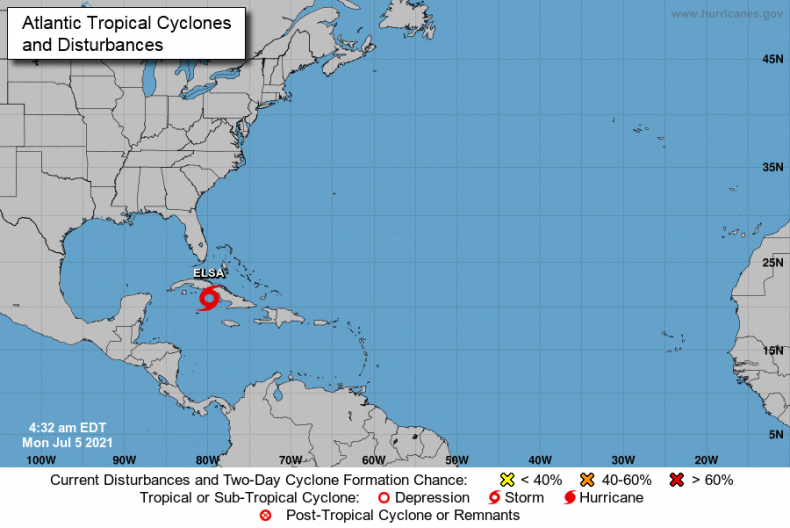 Maximum sustained winds remain near 65 miles per hour, with higher gusts anticipated. Tropical-storm-force winds extend outward up to 70 miles from the center.
A storm surge will raise water levels above normal tide levels. Water in the Bonita Beach to Suwannee River region, including Tampa Bay, could reach heights of up to 4 feet.
A couple of tornadoes are also possible across south Florida Monday night into Tuesday.
A Tropical Storm Warning means that tropical storm conditions are expected somewhere within the warning area, while a Storm Surge Watch means there is a possibility of life-threatening inundation, from rising water moving inland from the coastline, in the indicated locations during the next 48 hours, the agency said.
Officials are urging residents to prepare for the incoming weather.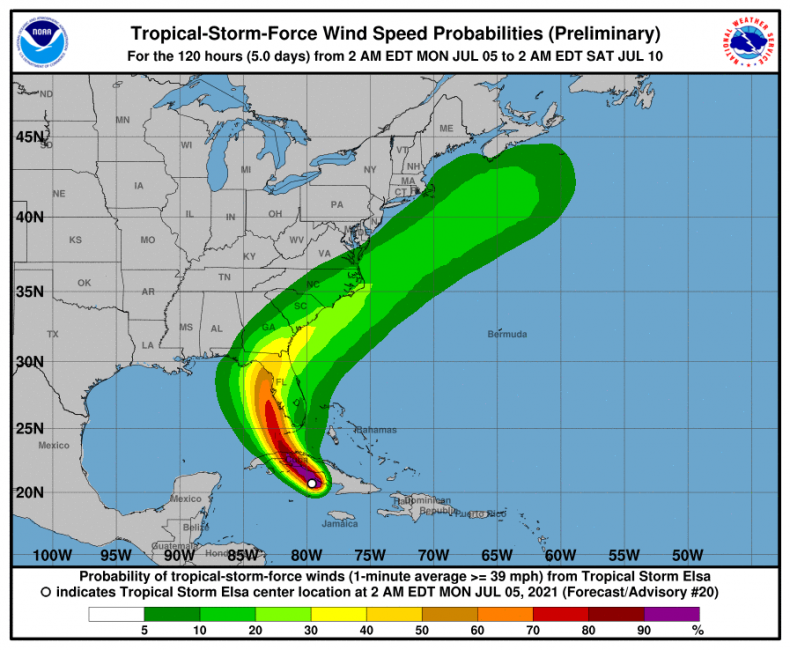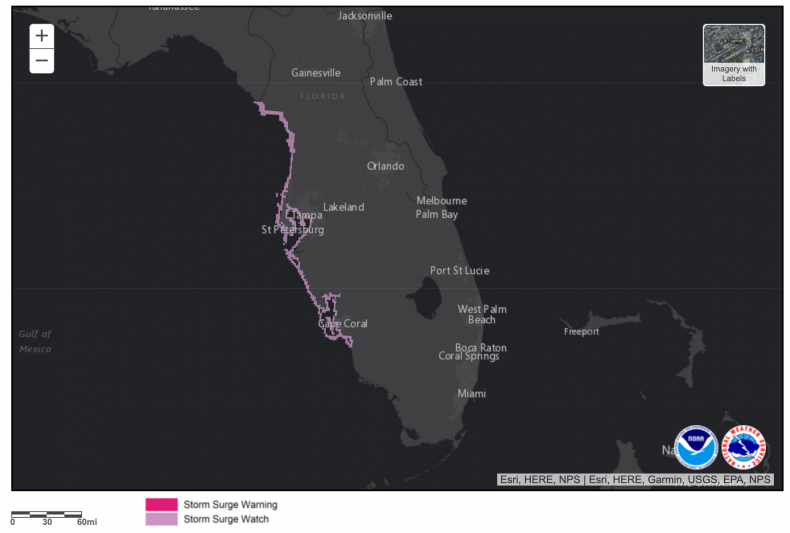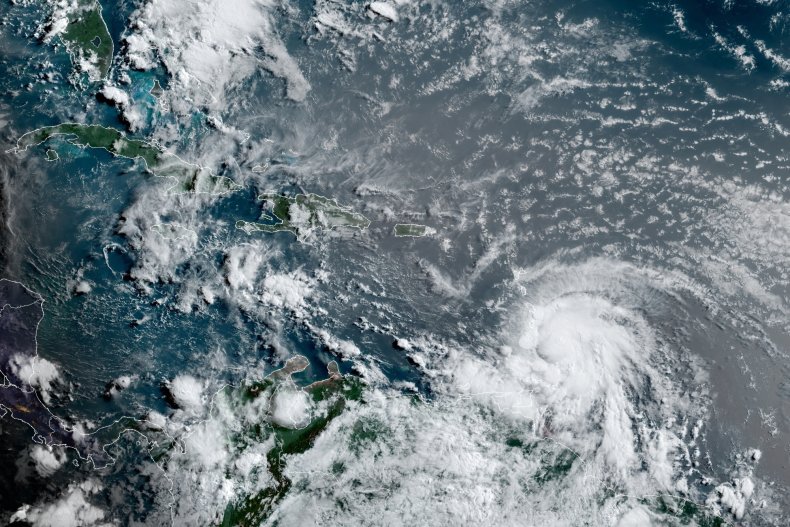 Elsa is the earliest fifth-named storm on record, according to Colorado State University hurricane researcher Phil Klotzbach. He also noted that Elsa is "the farthest east that a hurricane has formed this early in the calendar year in the tropical Atlantic" since 1933.
Federal scientists have predicted that there could be up to 20 named storms, 10 hurricanes and five major hurricanes of Category 3 level or higher during the Atlantic hurricane season, which runs from June 1 to November 30.
There are also fears that the approaching storm could affect the rescue operation in Surfside, near Miami, where the search for survivors of a collapsed structure at Champlain Towers South is continuing.