Is Emily Kohrs a 'Witch'? What We Know About Georgia Grand Jury Foreperson
Emily Kohrs, the grand jury forewoman in the investigation into former President Donald Trump's alleged efforts to overturn the 2020 election, has caused an uproar on social media following a slew of interviews.
The jury has wrapped up its months-long investigation and delivered its final report to Fulton County District Attorney Fani Willis. However, it does not have the authorization to issue indictments. This power falls to Willis, who can impanel a traditional grand jury that can indict individuals.
Following interviews this week by Kohrs, there has been increased interest in who the 30-year-old Fulton County resident is. That has now taken a somewhat stranger turn, with some observers questioning whether she is a "witch" because of her interests highlighted on the social media platform Pinterest.
For some critics of the investigation, this has neatly tied into their claims that Trump is facing a "witch hunt."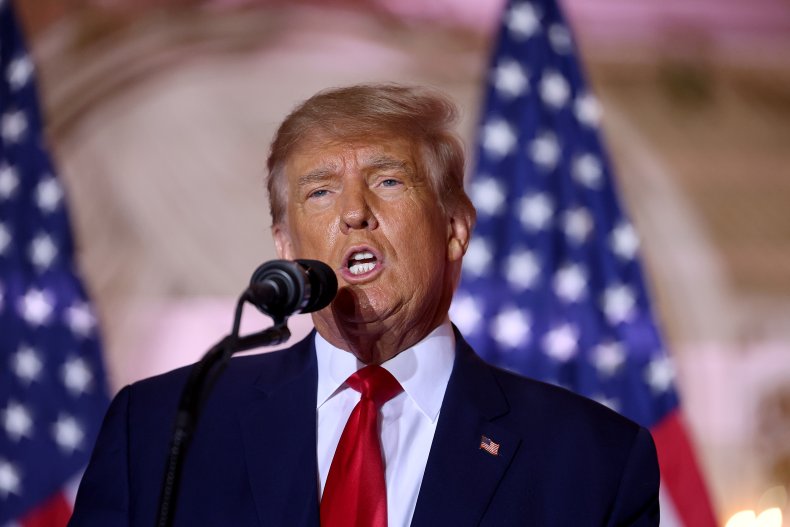 Gaia, a self-described community that "empowers the global evolution of consciousness" described the modern phenomenon of a "witch" in a 2019 report.
"Witches today can be defined in three ways: Someone who actively practices magical rituals or spells, someone who has a spiritual connection such as psychic medium or a tarot reader, or someone who worships the Pagan gods," the report said.
Conservative talk show host Charlie Kirk shared images of Kohrs' Pinterest page on social media on Wednesday.
He captioned the image: "Emily Kohrs, the foreperson on the Trump grand jury in Georgia, really putting the WITCH in Witch Hunt."
The image shared showed social media pins on topics including, astrology, crystals, potions, spell casting, symbols and tarot card reading.
Fox News host Jesse Watters addressed the claim on his show after Kirk's tweet. "According to her Pinterest account, she is a big fan of witchcraft," he said.
"She's a wiccan, it looks like, and now she's leading a different kind of witch hunt."
His guest Ned Ryun, CEO of the right-wing activist group American Majority, said: "It's the chef's kiss that somehow this forewoman is a witch, involved in leading a witch hunt. What are the odds?"
"She's done extreme damage to this entire case," he added.
Despite Kirk's tweet, devotees of the practices highlighted on Kohrs' Pinterest page are not necessarily "witches," although over the years the label has become synonymous with individuals who enjoy them. There is also no other evidence to suggest Kohrs is a practicing witch, or what relevance it might have to the case.
The Gaia report also notes that the term witch "derives from the Old English noun, 'wicca,' meaning a male witch and 'wice' meaning a female witch or sorceress. However, this negative stigma has recently been viewed as outdated and tired."
According to a 2019 report by the Defense Equal Opportunity Management Institute research institute "Wicca is a nature-based, pagan belief system founded in the mid-20th century. [They] worship Nature, often personified as Mother Earth and Father Sky."
Trump has also attacked Kohrs and argued that her apparent enthusiasm during these interviews was concerning and likened the accusations against him to a witch hunt.
In a Truth Social post on Wednesday, the former president said the case was not only "a strictly political continuation of the greatest Witch Hunt of all time."
He added: "Now you have an extremely energetic young woman, the (get this!) 'foreperson' of the Racist D.A.'s Special Grand Jury, going around and doing a Media Tour revealing, incredibly, the Grand Jury's inner workings & thoughts.
"This is not JUSTICE, this is an illegal Kangaroo Court. Atlanta is leading the Nation in Murder and other Violent Crimes. All I did is make TWO PERFECT PHONE CALLS!!
Through her interviews, Kohrs has given slight glimpses into the grand jury's inquiry into the allegations against Trump, to the dismay of legal experts as well as Trump.
CNN legal analyst Elie Honig spoke with the network's anchor Anderson Cooper who had interviewed Kohrs and discussed the "nightmare" her revelations could create for the prosecution.
"Mark my words, Donald Trump's team is going to make a motion if there's an indictment to dismiss that indictment based on grand jury impropriety. She's not supposed to be talking about anything, really," Honig said.
Newsweek has contacted Donald Trump for comment.
Update, 2/23/23, 1 p.m. ET: This article was updated with additional comment and background information.