Eminem Calls Trump Hitler: All the References to the President on 'Revival'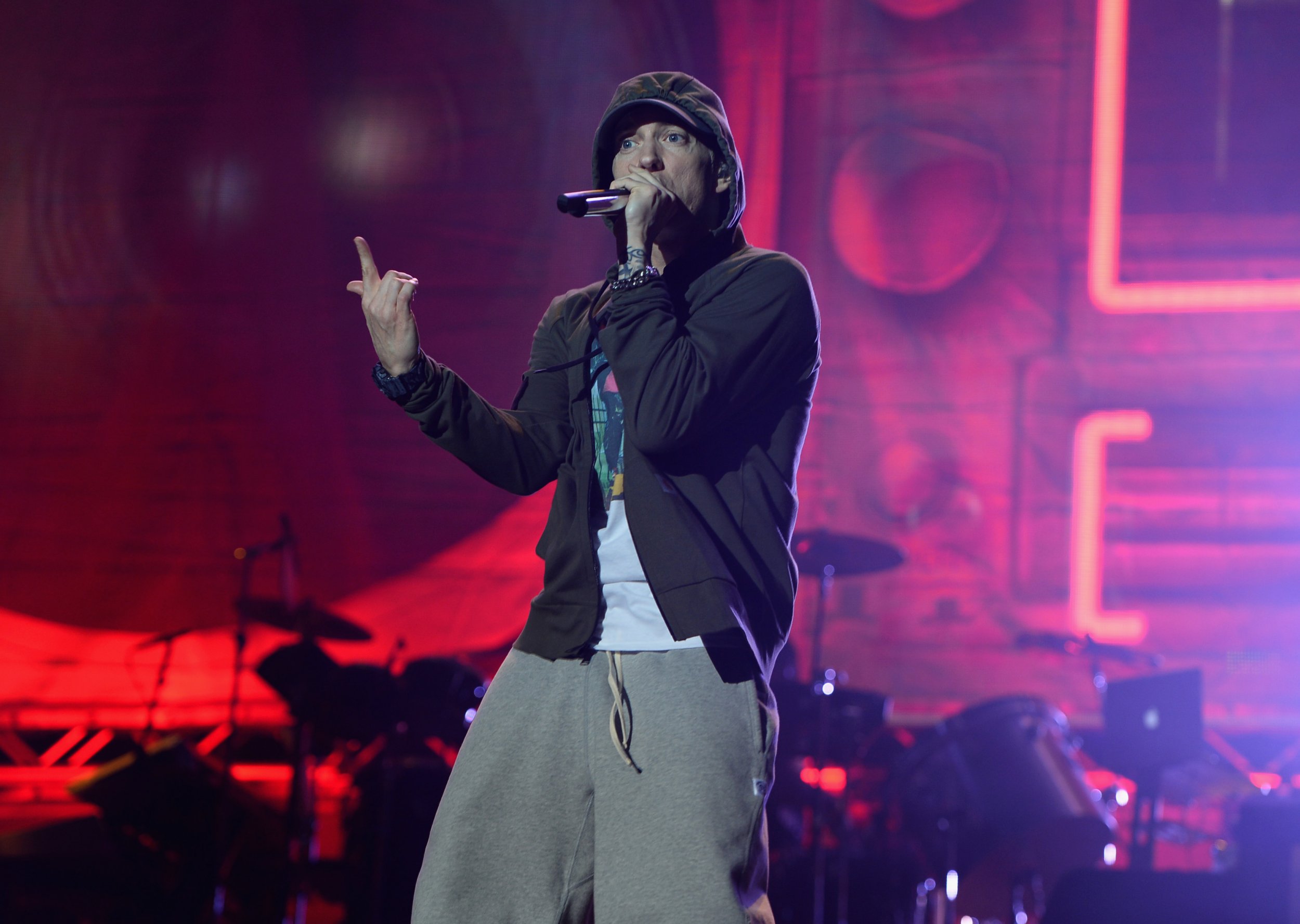 It has been pretty clear Eminem is no fan of Donald Trump since his viral cypher from the BET Hip-Hop Awards attacking the president. So it should come as no surprise that Slim Shady went after Trump and his family in his latest album, Revival, which dropped Friday.
The 19-track record is chock full of yuge insults aimed at the reality star turned leader of the free world. Even the cover—featuring an image of Marshall Mathers with his head in his hands, an American flag in the background—could be interpreted as anti-Trump.
But the real fireworks are in the lyrics.
The entire ninth track, "Like Home," seems to reference Trump's America. But the opening of the first verse is especially pointed in its attack. Slim doesn't go after the president by name, but it's pretty clear who he's addressing:
"Someone get this Aryan a sheet / Time to bury him, so tell him to prepare to get impeached / Everybody on your feet, this is where terrorism and / Heroism meets, square off in the streets / This chump barely even sleeps / All he does is watch Fox News like a parrot and repeats / While he looks like a canary with a beak / Why you think banned transgenders from the military with a tweet? / He's tryin' to divide us, thos shit's like a cult / But like Johnny, he'll only unite us"
Later in the verse, Eminem pokes fun at Trump's seeming penchant for self-tanner: "Let's start from zero, this is our renewal / Spray tan, get ride of, get a brand new, better / America, and here's to where we're from."
In the second verse, though, Eminem really goes for it, comparing Trump to Hitler and dropping a reference to the time MTV trotted Trump out for the 2004 Shady Convention, which jokingly put Eminem forward as political candidate.
"Didn't wanna piss your base off, did ya? / Can't denounce the Klan, 'cause they play golf with ya / You stay on Twitter, way to get your hate off, Nazi / I do not see a way y'all differ / And all you got are race cards / Better get the swastika with your name carved in it / Should be your trademark, 'cause hate's all you played off / And you just lick the plate off / So I guess it pays to feed off of chaos / So basically, you Adolf Hitler / But you ain't ruining our country, punk / You won't take our pride from us, you won't define us' / Cause like a dictionary, things are looking up / So much, got a sprained neck, know we would rise up / Against this train wreck and take a stand / Even if it mean sittin' when they raise the flag / This ain't the Star Spangled Banner / This man just praised a statue of General Lee' / Cause he generally hates the black people, degrades hispanics / Take it back to the Shady national convention / Wish I woulda spit on it before I went / To shake his hand at the event / Or maybe had the wherewithal / To know that he was gonna try to tear apartOur sacred land we cherish and stand for"
On the 12th track, a dark song about killing, Eminem brings up Ivanka Trump, the president's eldest daugher and an aide in the White House:
Woke up, it was dawn, musta knew somethin' was wrong / Think I'm becomin' a monster 'cause of the drugs that I'm on / Donald Duck's on as the Tonka Truck in the yard / But dog, how the f--k is Ivanka Trump in the trunk of my car? / Gotta get to the bottom of it to try to solve it
On Revival's 14th track, "Heat," which is, let's say, raunchy, Eminem references Trump's infamous Access Hollywood comments about grabbing women by their privates:
Got me under your control and your spell / Wanna wrap you up, put you in a bow like an arrow / Grab you by the (meow!), hope it's not a problem, in fact / About the only thing I agree on with Donald is that"
On "Offended," the 15th track, Slim manages to reference both the Senate Majority Leader Mitch McConnell as well as the president, telling the Republicans he doesn't plan to let up his attacks:
"Kiss my butt, my set of principles/ Is gone, but till I get the President to respond / My pen and pencil is a missile launcher / And send it to Mitch McConnell / Just as big of a bitch as Donald—shit's on, bruh!"
Later in the same song, Em makes his last reference to the president, rapping "so Kellyanne Conway, I'm a really bad hombre."
With the album now available for everyone to listen to, including Trump, all that's left to do is wait for the president to respond on Twitter. But if history is any guide, that might take a while: the leader of the free world still hasn't responded to Eminem's BET video.