Meet Emmanuel Macron, France's Liberal Donald Trump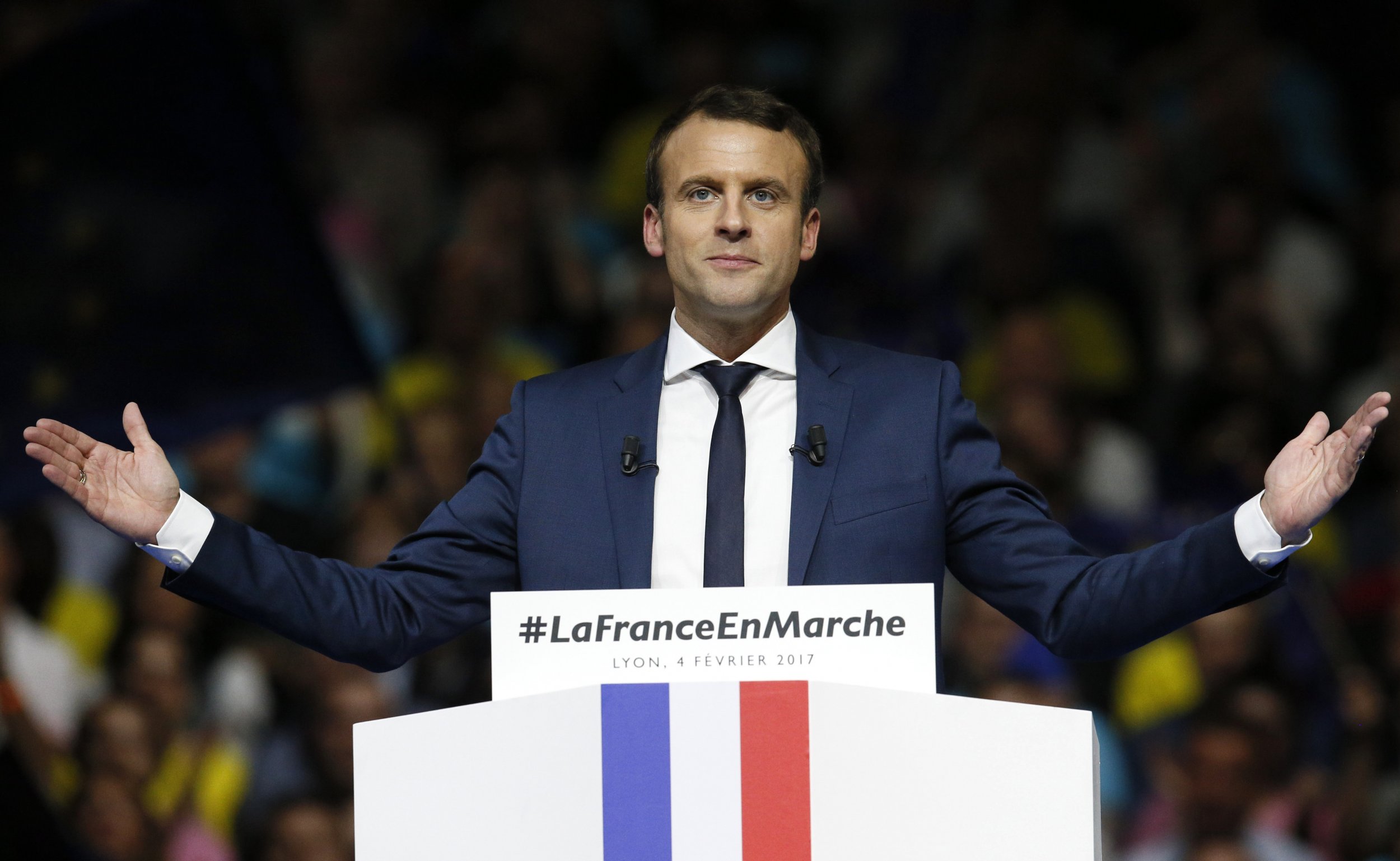 He's an establishment figure but a relative political novice, with a staggering level of self-confidence and a campaign based around riotous rallies—France's independent centrist presidential candidate Emmanuel Macron would be just like Donald Trump, if it wasn't for the small matter of disagreeing with him on more or less every substantive aspect of policy and politics.
Still, in a briefing with English language journalists in London Tuesday, Macron has a go at letting out his inner populist, berating the press for its attitude toward his campaign. "that's very interesting to me to see your reaction, or French journalists' reaction," he says, in very good but heavily accented English, "those who two years ago, three years ago say" — here he punctuates his sentence with a loud hand clap and injects sarcasm as only the French can — "'oh how David Cameron is a big star, it's super... they are making super-liberal reforms, they are much better than France.'
"OK fine. Now you have a liberal guy trying to push reforms in France you say 'oh guys... no chance, how [does he] want to do so?'" he smiles, "But fine, because I'm proud of it."
The episode illustrates how Macron, who served as economy minister under Socialist President Francois Hollande but is running this race under the banner of his new "En Marche!" movement, is conducting his campaign. His aim, he says, is not to half-heartedly promote the tenets of 21st century centrism — public sector reforms, pro-Europeanism, socially balanced but moderate economic policy, and the rest — but to make the case for them without shame or reservation.
For an example of the opposite, he says, look no further than Britain's last political upset; the Brexit referendum. David Cameron and his allies, Macron believes, " didn't defend the Remain, actually, they defended a 'yes but,' which is not the best way to win against 'no.' And at the end of the day they lost."
Where he is most passionate — and most directly against the prevailing political mood — is in his pro-Europeanism. He describes the idea that leaving the EU can boost national sovereignty as "bullshit," relishing the coarse English swear word. "Where you have to deal with Chinese dumping of steel... if you play it on a national basis, you are killed," he says, "When you speak about immigration and security, you need Europe."
His visit to the U.K. does well to showcase the twin poles of his appeal; on the one hand, he is a political 'grown up' comfortable on the world stage, and on the other, he is a whirlwind speechmaker who relishes whipping up his supporters.
In a coup for the former, he's granted a meeting with British Prime Minister Theresa May at her Downing Street office before our briefing. They discuss security co-operation, and Britain's forthcoming departure from the European union, his tone on which is measured, but firm: "the best trade agreement for Britain… is called membership of the EU, and is very well known," he says.
He hopes to demonstrate the latter at a rally Tuesday evening. Walking to and from the briefing through the confines of a cavernous conference center in Westminster, Newsweek is surrounded by gaggles of excitable teenagers from Britain's French expat community, wearing Macron campaign t-shirts with Topshop-esque logos and jabbering at each other in hushed, excitable tones.
Right now, he's looking impressive, instilled with confidence and riding high in the polls (most put him at second place in the first round of voting, after the far-right Marine Le Pen, and then have him beating her in the second round, two person, showdown).
But the real test is yet to come. Campaign sources say that we'll start to see the real meat of his policy ideas at the end of this week, when he'll put out a proposed budget for France. Sometime after that, he'll be releasing a detailed programme for government.
At the moment, his charismatic good looks, confident, muscular liberalism, and rare relish for political campaigning mean everyone broadly in France's political center ground (including the center-right) can project their hopes onto to him. That won't be possible once he explains exactly what he wants to do. The test is whether the coalition he is building sticks around past this point; he was, after all, part of the government of a President described as the least popular since World War Two.
Macron says he is aware he's facing a tough fight. But he's confident, in part because he has faith in France's unconventional nature. "Ten years ago when a lot of countries like yours were pushing very hard for a much more ultra liberal Europe… we went dead against. So we have a contrarian approach," he jokes. Macron's country will certainly be contrarian if it elects him. But in a time of political shocks, it's far from an impossibility.
Meet Emmanuel Macron, France's Liberal Donald Trump | World