'We're Revolting!': Emmanuel Macron's Government Faces Over 100,000 Angry Protesters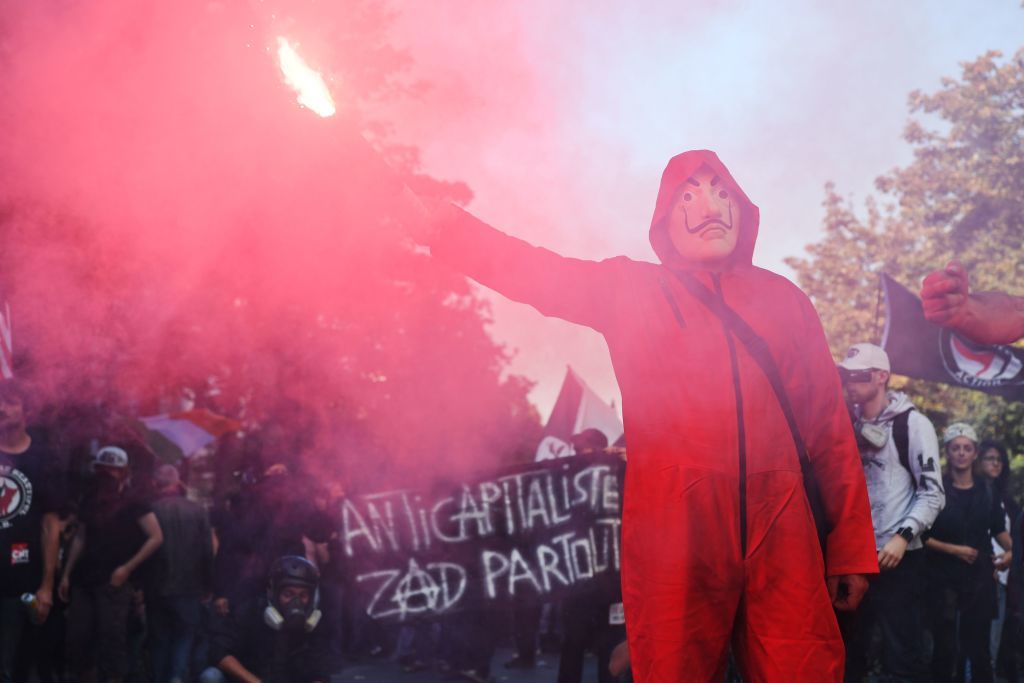 Some 160,000 protesters marched in demonstrations across France against President Emmanuel Macron's social reforms on Tuesday, chanting: "We're not complaining, we're revolting!"
Macron, who has seen a plummeting approval rating since summer, said last week that French people complain too much. "We don't realize how lucky we are," he argued. Now, tens of thousands of students, workers and retirees have taken to the streets in 100 cities around the country to raise their voices in opposition to policies that have caused many to lose part of their previously guaranteed monthly support.
"I've lost 50 euros ($57) a month—I can't make ends meet anymore," François Manugal, a retired 65-year-old from the southeastern city of Lyon, told France 24. Other demonstrators carried signs blasting the ruling government's austerity measures, arguing that Macron's policies will "disadvantage the weakest in society" such as the poor and elderly.
Philippe Martinez, head of France's hard-left Confederation of Labour, estimated that the number of demonstrators was nearly double what was officially reported, saying some 300,000 joined marches across the country with 50,000 in the capital Paris alone. The protest leader accused Macron of wrongly believing that "reducing social contributions would be good for purchasing power."
Force Ouvrier, another prominent leftist trade union joined the movement as well, jointly saying with the Confederation of Labour that Macron is "destroying France's social model," Agence France Presse reported.
In total, the French Interior Ministry reported 16 arrests across the country, including nine in Paris. Two injuries were also reported in the French capital, including to one police officer and one demonstrator.
Macron's government has been rocked by a series of resignations since the summer, with the most recent being Interior Minister Gérard Collomb a week ago, who was previously seen as one of the president's closest allies. Although Collomb officially stepped aside to prepare for a mayoral run in Lyon, a post he held before joining the national government in 2017, he had publicly criticized the president several times.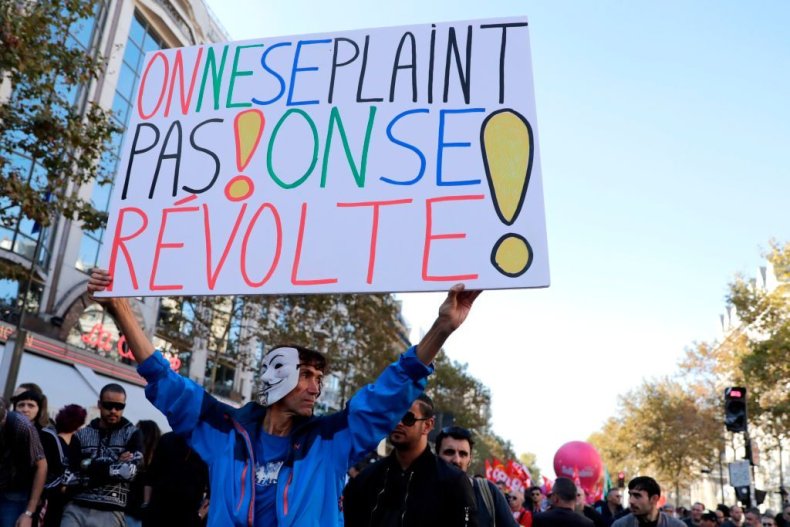 Last month, Collomb told journalists that "very few of us can still talk to [Macron]." He also warned that the president could "end up isolating himself," and had previously said that Macron presents a "lack of humility."
The minister's departure followed those of environment minister Nicolas Hulot, who announced his resignation at the end of August, and popular sports minister Laura Flessel, who stepped down at the beginning of September. In Hulot's resignation announcement, he accused Macron's administration of being swayed by powerful lobby groups. Flessel cited "personal reasons."
With Macron's approval ratings hovering just below 30 percent, the president is increasingly viewed as "president of the rich," with many French citizens viewing him as disconnected from the reality they face.
A series of high-profile gaffes have fueled the criticism. In September, a video of Macron brushing aside an unemployed man's complaints went viral. During the encounter, the president suggested the man was simply not looking hard enough for work and that he could find a job by simply "crossing the street."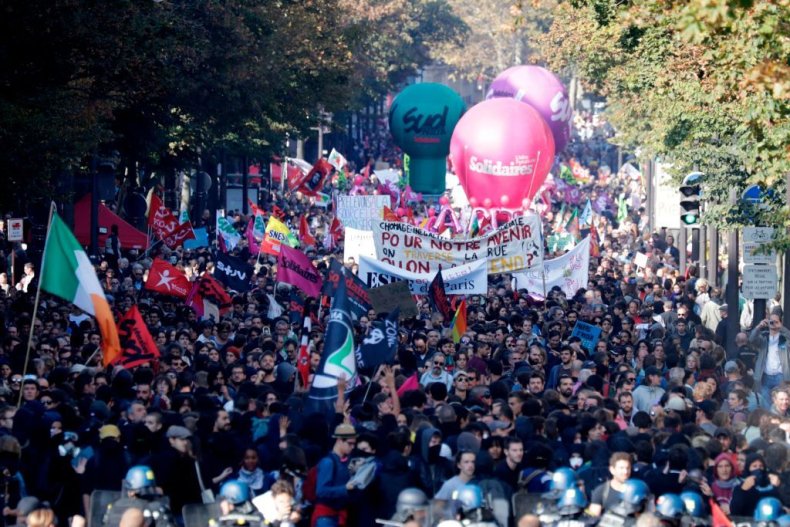 Macron has also been mocked for scolding a teenager who addressed him by his nickname earlier this year, as well as for ordering 1,200 plates at a cost of hundreds of thousands of euros from a high-end producer. Last August, it was reported that Macron had spent close to $30,000 on makeup during his first three months in office.
The president faced and survived two no-confidence votes in parliament at the end of July, after his former chief bodyguard was taped hitting a male protester and wrestling a woman to the ground. The guard was initially only suspended for two weeks but was fired in July following significant public backlash.
As Macron's approval remains low and criticism high, labor unions are planning further demonstrations in the coming months, according to France 24. They will use the movement to address specific reforms that target pensions and unemployment subsidies.