Emmy Awards 2021: Best Red Carpet Looks, From Anya Taylor-Joy to Michaela Coel
After switching to a remote event in 2020, the Emmy Awards were back last night and offered viewers a lot of entertainment.
Not only did Conan O'Brien receive a lot of praise for his performance, WandaVision fans were up in arms about the hit Disney+ show's "snub", having been nominated in 23 categories and not bagging a single accolade.
But before the ceremony even kicked off, there were a lot of head-turning moments on the red carpet. From Michaela Coel to Anya Taylor-Joy; these were our favourite looks.
Michaela Coel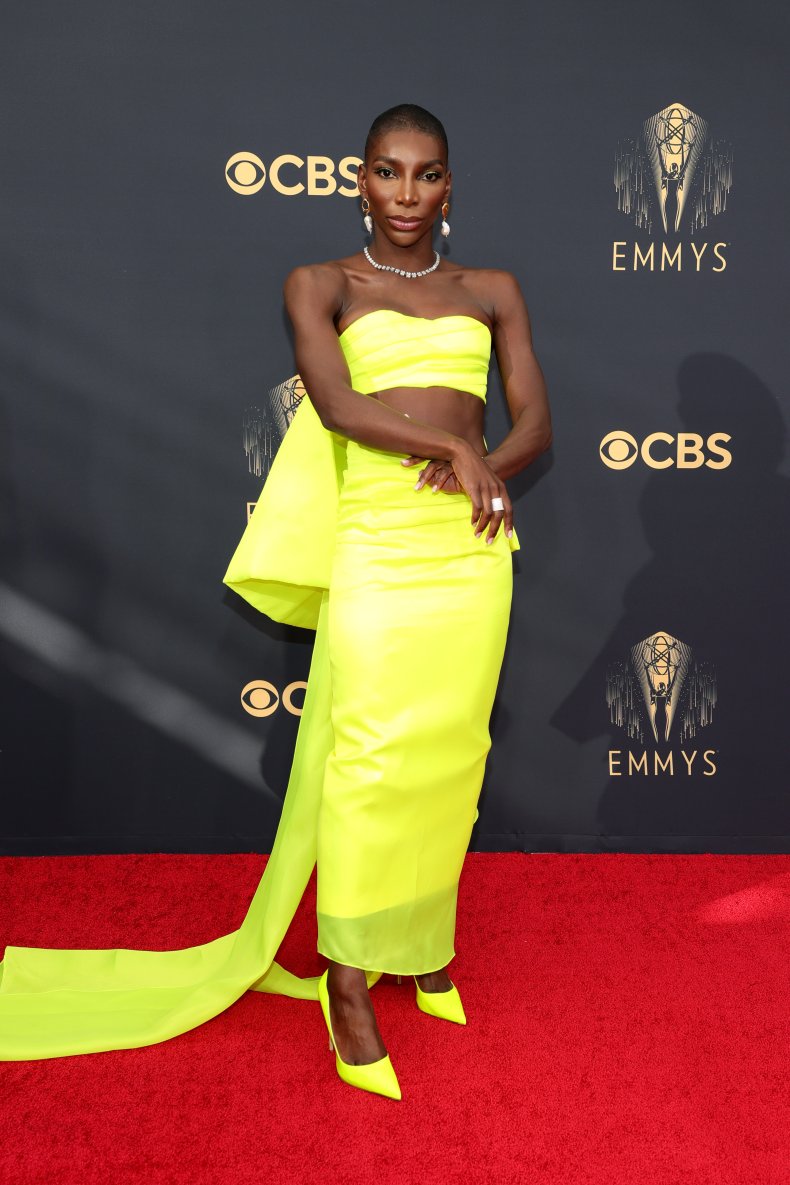 British powerhouse Michaela Coel stunned in this yellow co-ordinate by Christopher John Rogers.
The silk organza two-piece was made up of a skirt and bandeau crop top complete with a bow at the back and long train.
The 33-year-old actor and writer picked up the Best Writing award for her BBC/HBO limited series I May Destroy You.
She dedicated her award to survivors of sexual assault and used her speech to encourage writers to explore uncomfortable topics.
"Write the tale that scares you, that makes you feel uncertain, that isn't comfortable," she said.
"I dare you — in a world that entices us to browse through the lives of others to help us better determine how we feel about ourselves, and to in turn feel the need to be constantly visible, for visibility these days seems to somehow equate to success — do not be afraid to disappear from it, from us for a while, and see what comes to you in the silence."
Anya Taylor-Joy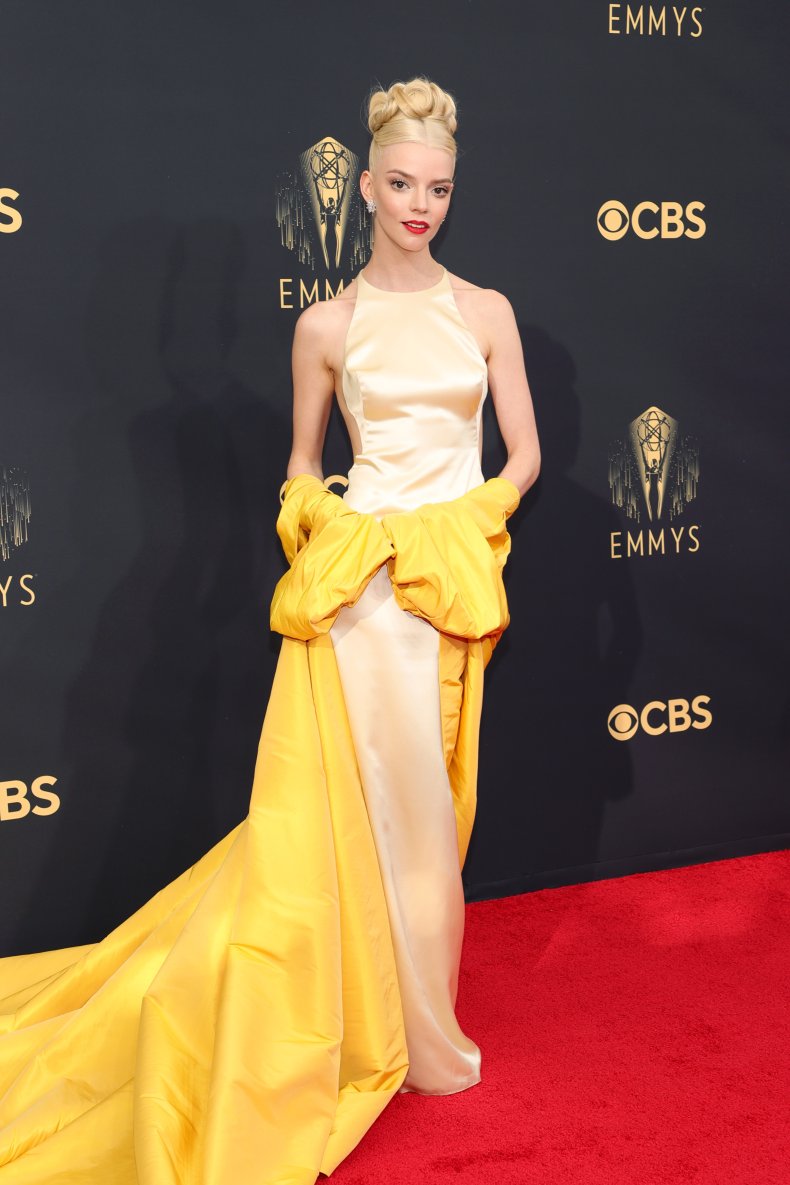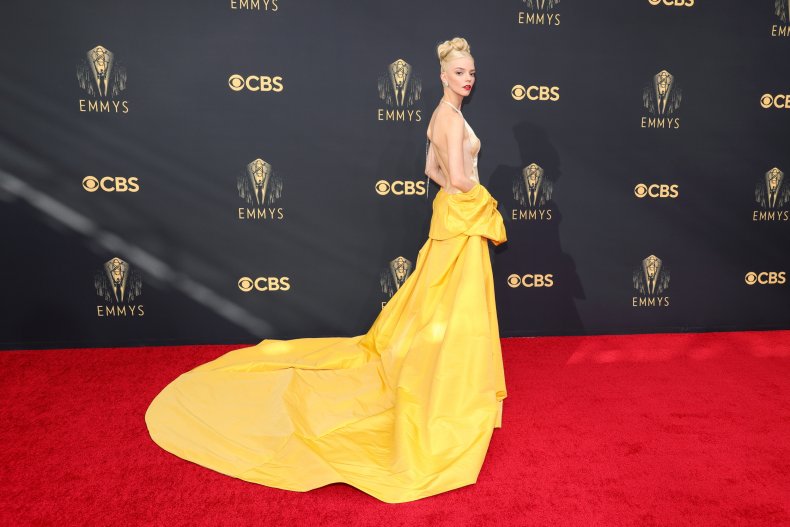 Star of Netflix series The Queen's Gambit, Anya Taylor-Joy looked beautiful in this Dior haute couture gown and shawl.
The 25-year-old was nominated for Best Lead Actress, Limited Series but lost out to Kate Winslet for her role in Mare of Easttown.
Ellen Pompeo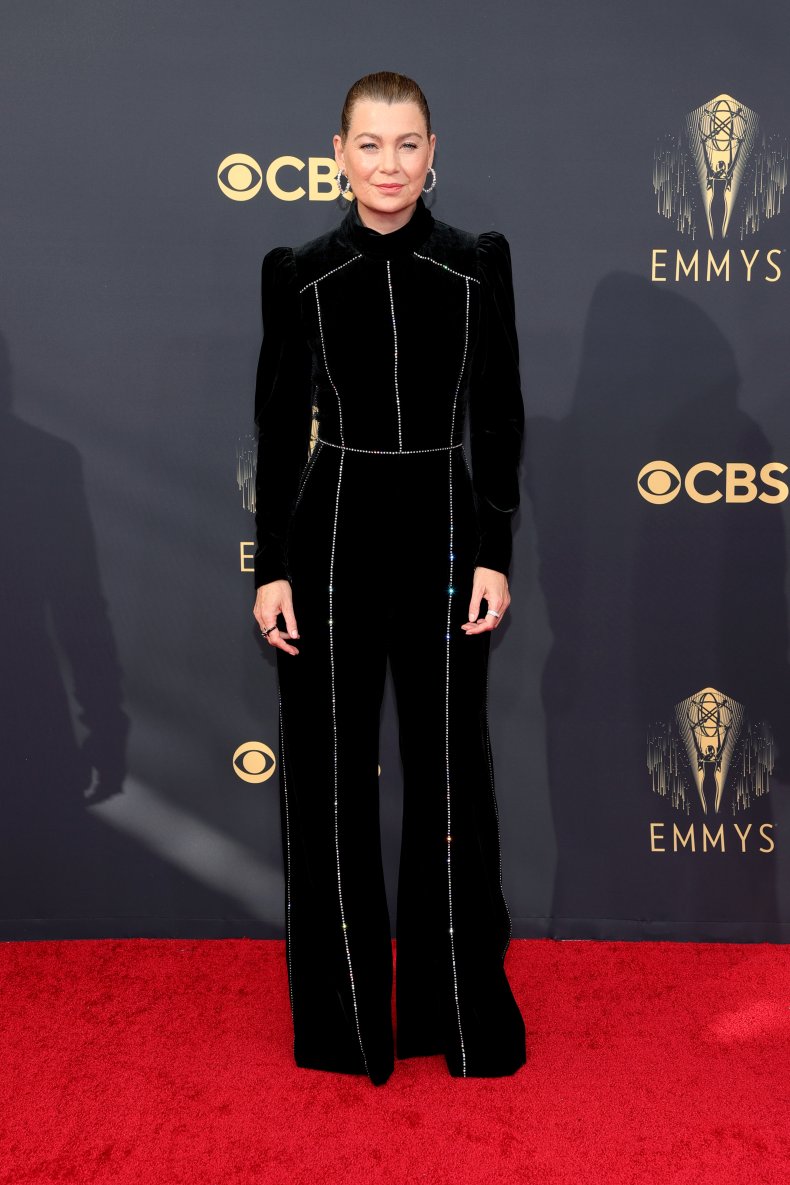 Ellen Pompeo turned heads in a black Elie Saab velvet jumpsuit with structured shoulders and embellished pinstripes.
The Grey's Anatomy star wore her hair in a slick ponytail.
Catherine O'Hara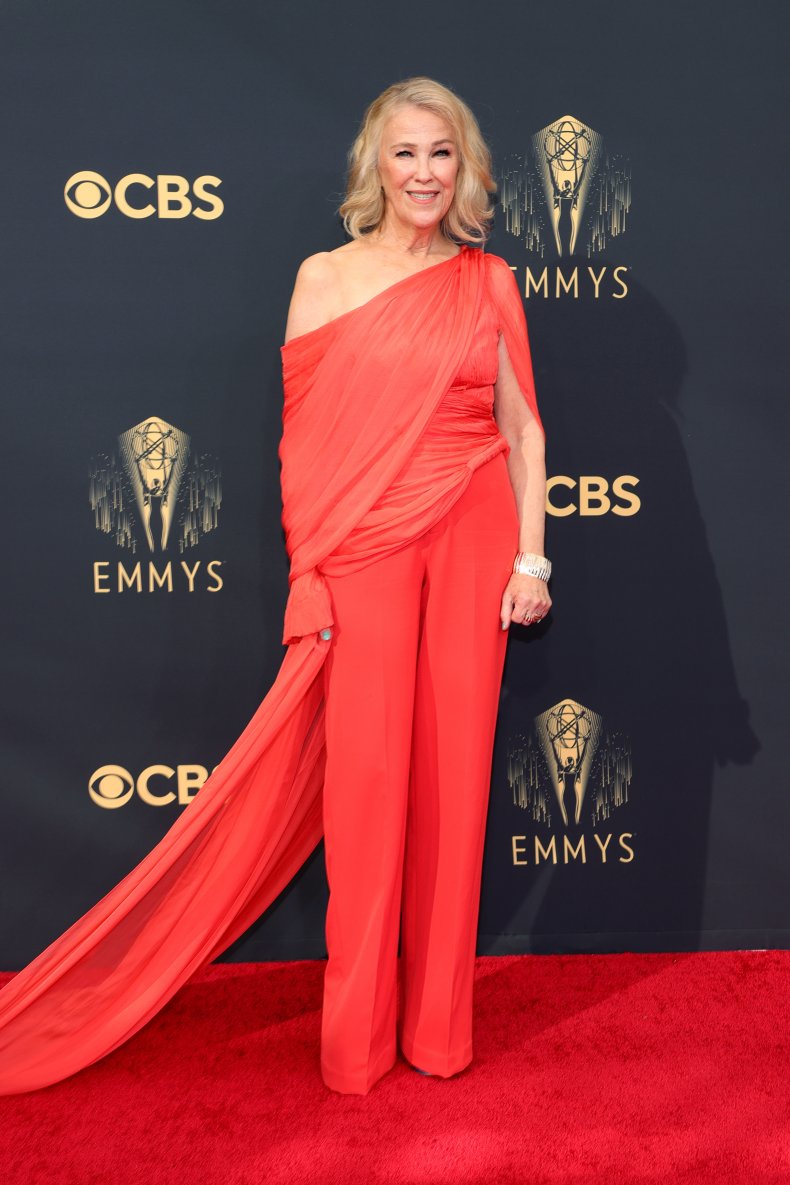 Channeling her inner Moira Rose, Schitt's Creek star Catherine O'Hara was a show-stopper in this coral jumpsuit.
The Cong Tri one-shoulder design came complete with train.
Dan Levy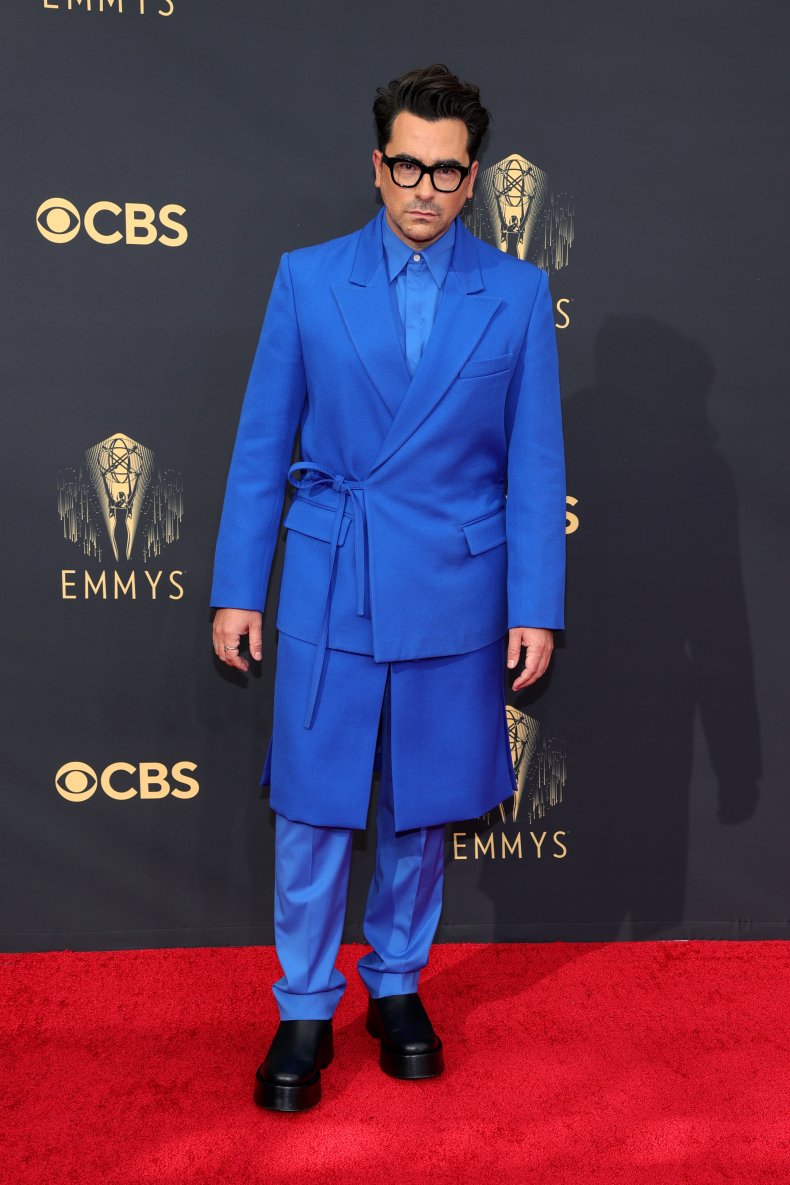 Also walking the red carpet for a mini Schitt's Creek reunion was Dan Levy, in a Valentino cobalt asymmetrical suit.
He and his on-screen family, O'Hara, Eugene Levy and Annie Murphy presented two awards together.
Seth Rogen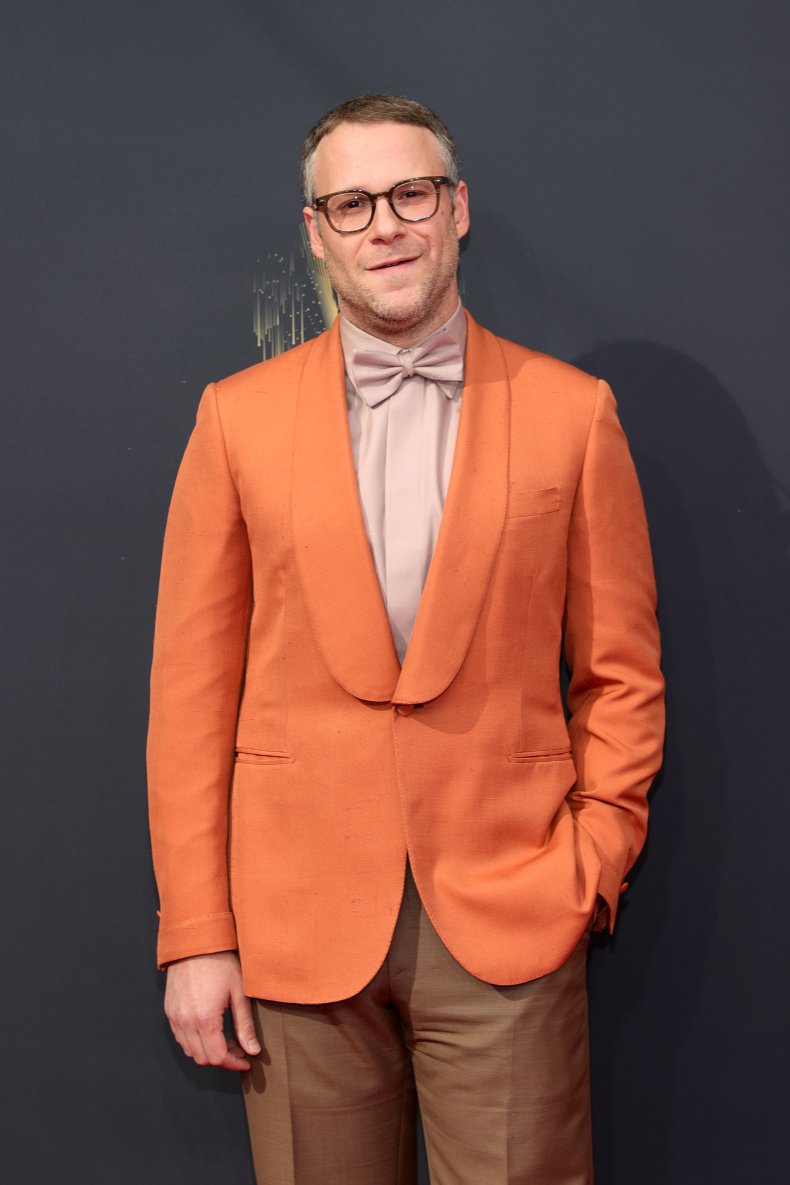 Seth Rogen looked dapper in a peach-colored suit.
The 39-year-old was there to present the award for Outstanding Supporting Actress in a Comedy Series.
He used his speech to criticize the awards ceremony for its lack of COVID precautions, saying: "Let me start by saying there is way too many of us in this little room.
"What are we doing? They said this was outdoors! It's not! They lied to us!
"We're in a hermetically sealed tent right now. I would not have come to this! Why is there a roof?"
Elizabeth Olsen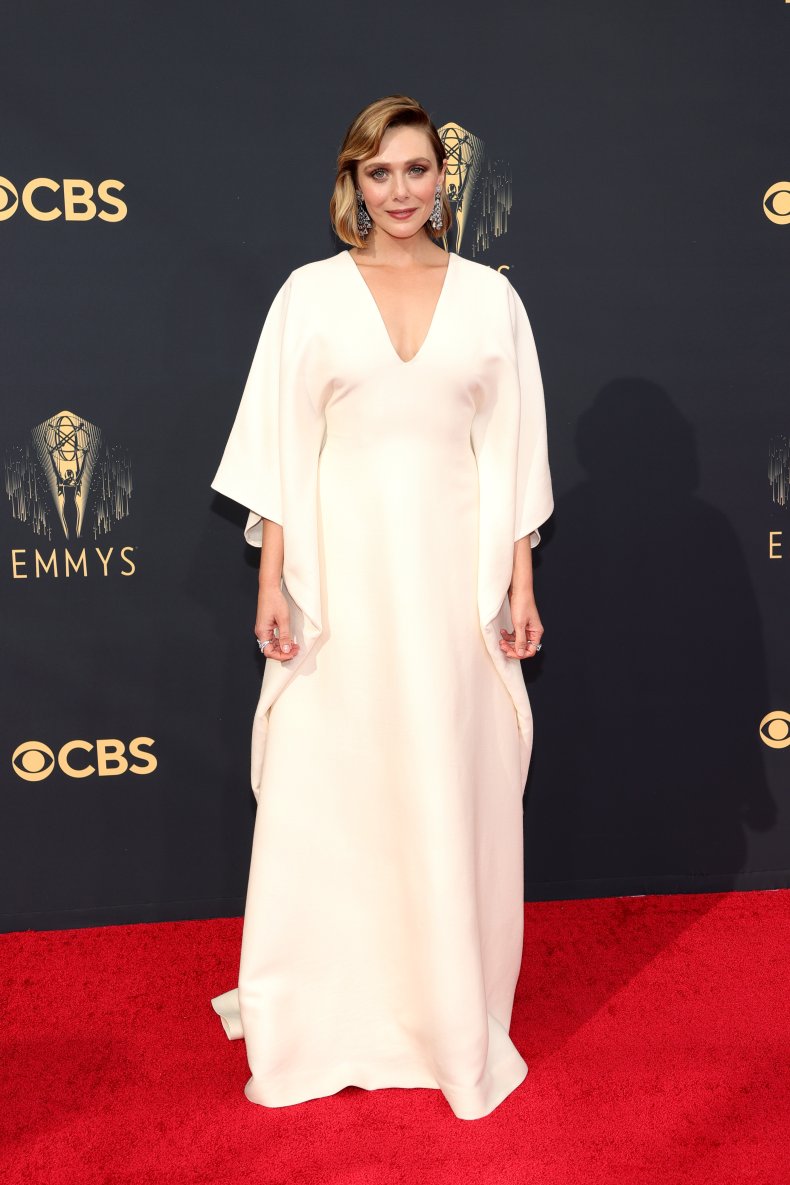 Star of WandaVision Elizabeth Olsen paid a sweet tribute to her family with her fashion choice.
Olsen, 32, arrived in a simple white gown created by The Row, her sisters Mary-Kate and Ashley's brand.
"Elizabeth is so lucky to have two sisters who are incredible designers and know her style so well," Olsen's stylist, Elizabeth Stewart told People.
Angela Bassett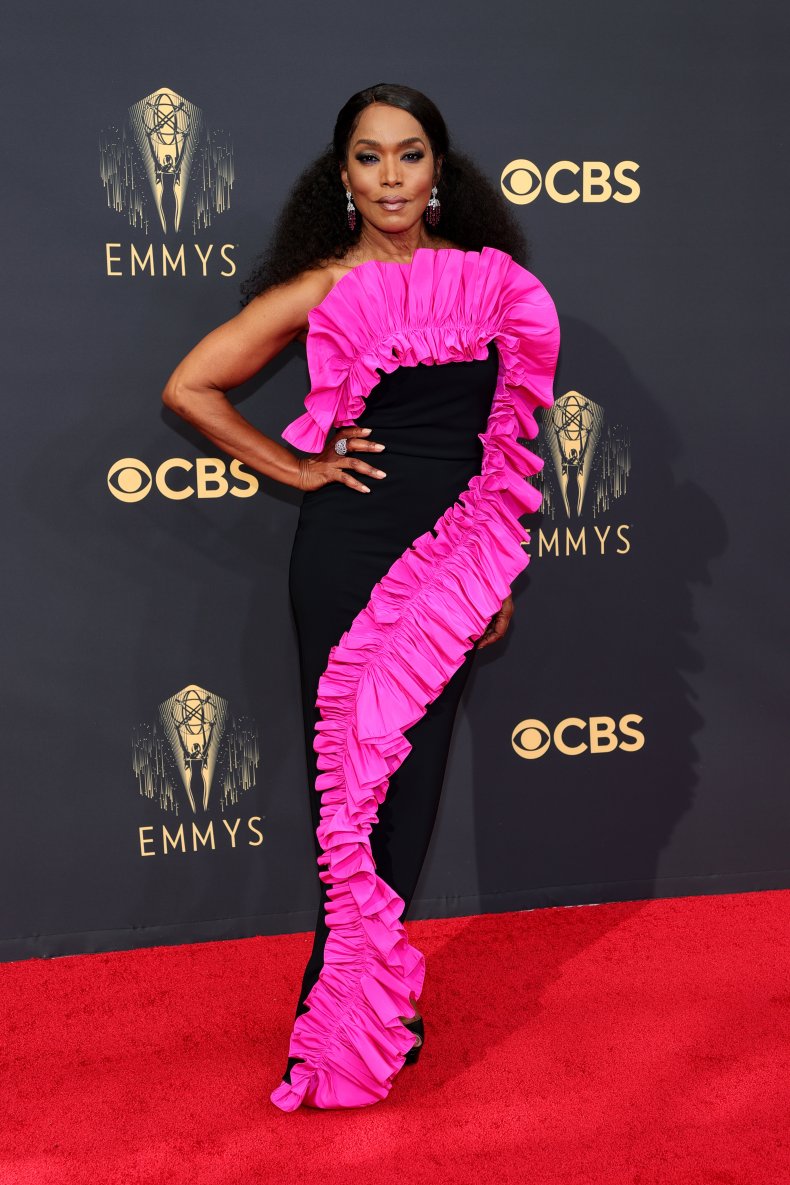 Angela Bassett, 63, looked amazing in her Greta Constantine gown.
The star of 9-1-1 donned a black strapless gown with pleated pink detailing.
Cynthia Erivo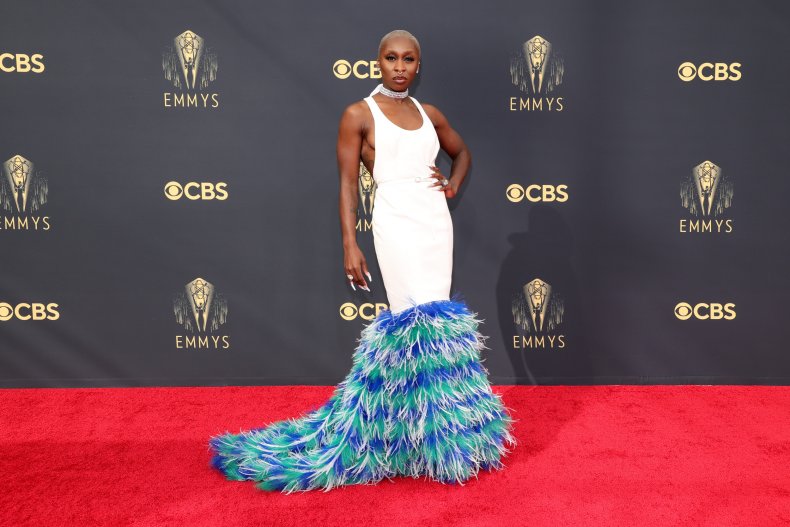 Cynthia Erivo arrived on the red carpet in a breath-taking Louis Vuitton gown.
The dress was a simple, slim-fitting racerback white dress at the top, with a trumpet bottom made up of blue, green and white feathers.
The 34-year-old from London, England, was nominated for Outstanding Lead Actress in a Limited Series for her role as Aretha Franklin in Genius.
On the red carpet ahead of the event, she said to People of playing the soul singer: "She gave the world such incredible music and brought many people together, and I wanted to make sure her story was told as fully as possible. I'm really glad to be here for that."
Taraji P. Henson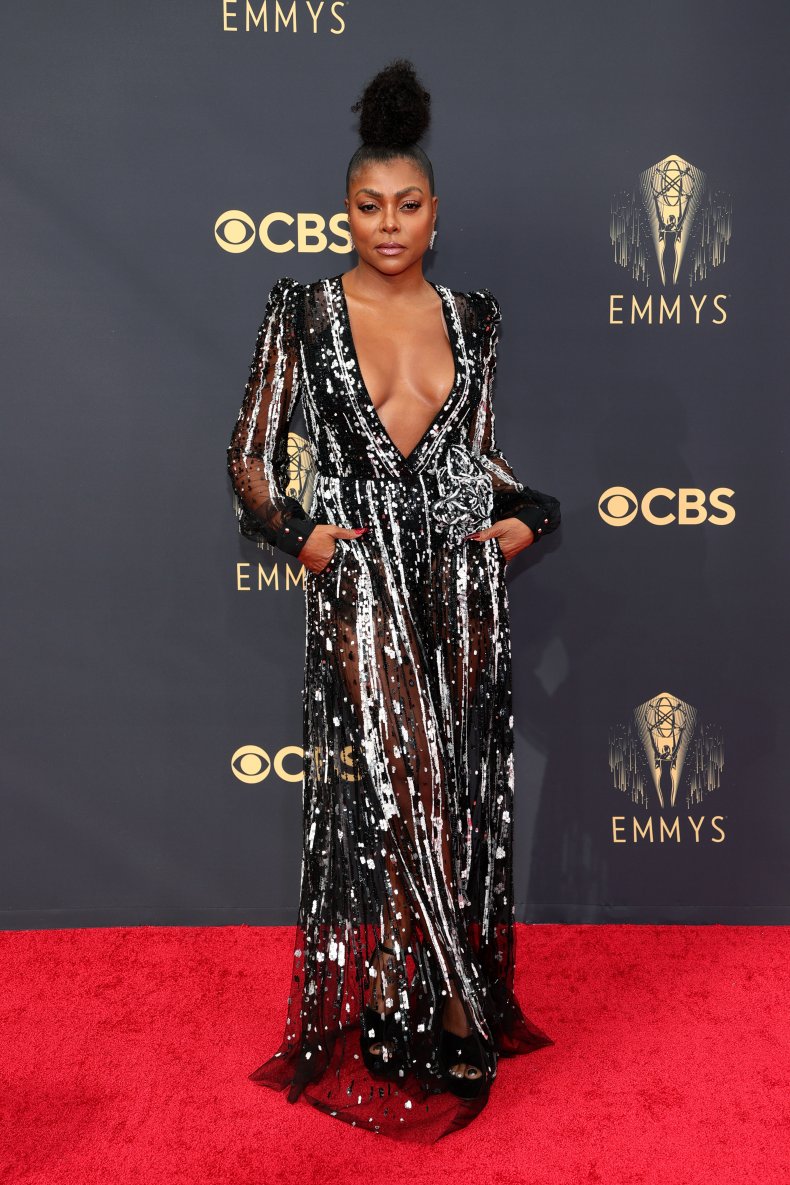 Taraji P. Henson wore another stunning Elie Saab creation.
The 51-year-old walked the red carpet in a black sheer gown with a plunging neckline.
Speaking with E News, she teased the release of an upcoming music album.
When asked if she'd ever thought about dropping an album she replied: "Have you been talking to somebody? Stay tuned."
Leon Bridges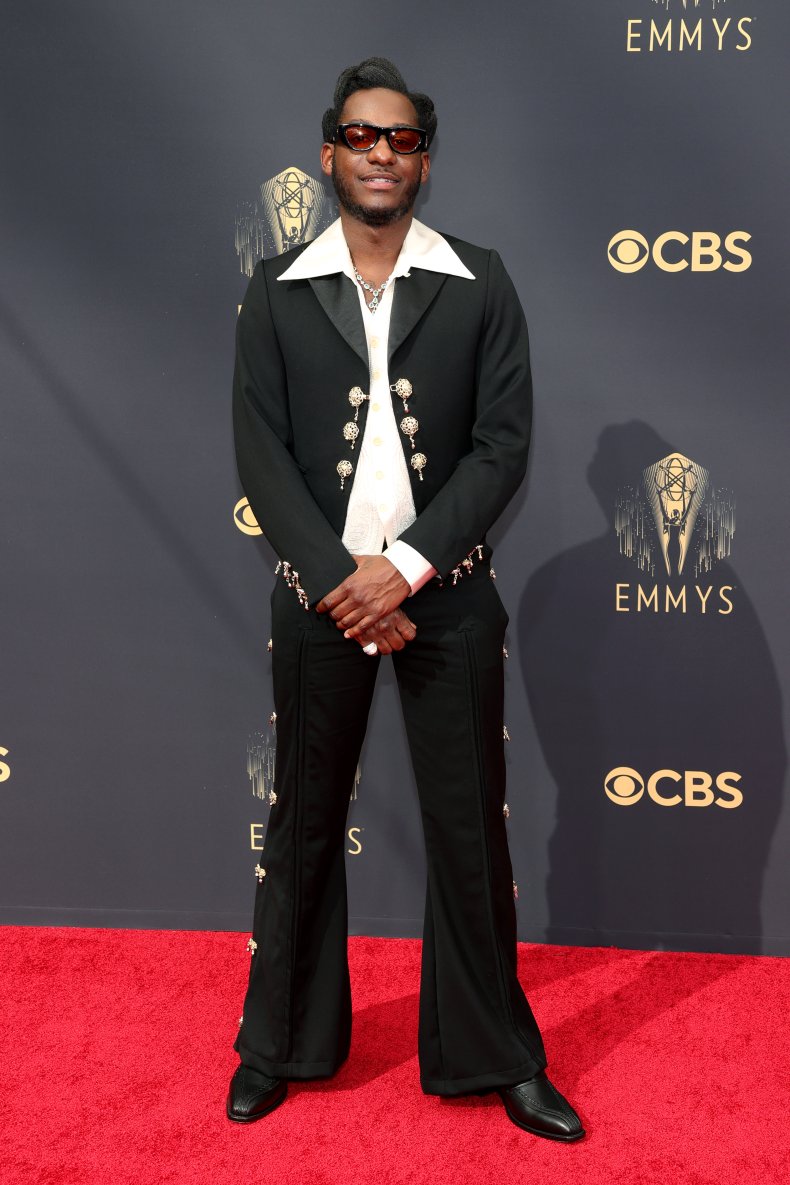 Singer Leon Bridges served up a 70s inspired outfit complete with flared trousers.
Bridges performed his hit "River" alongside Jon Baptiste for the ceremony's In Memoriam tribute to stars of the television industry that we have lost.
Kathryn Hahn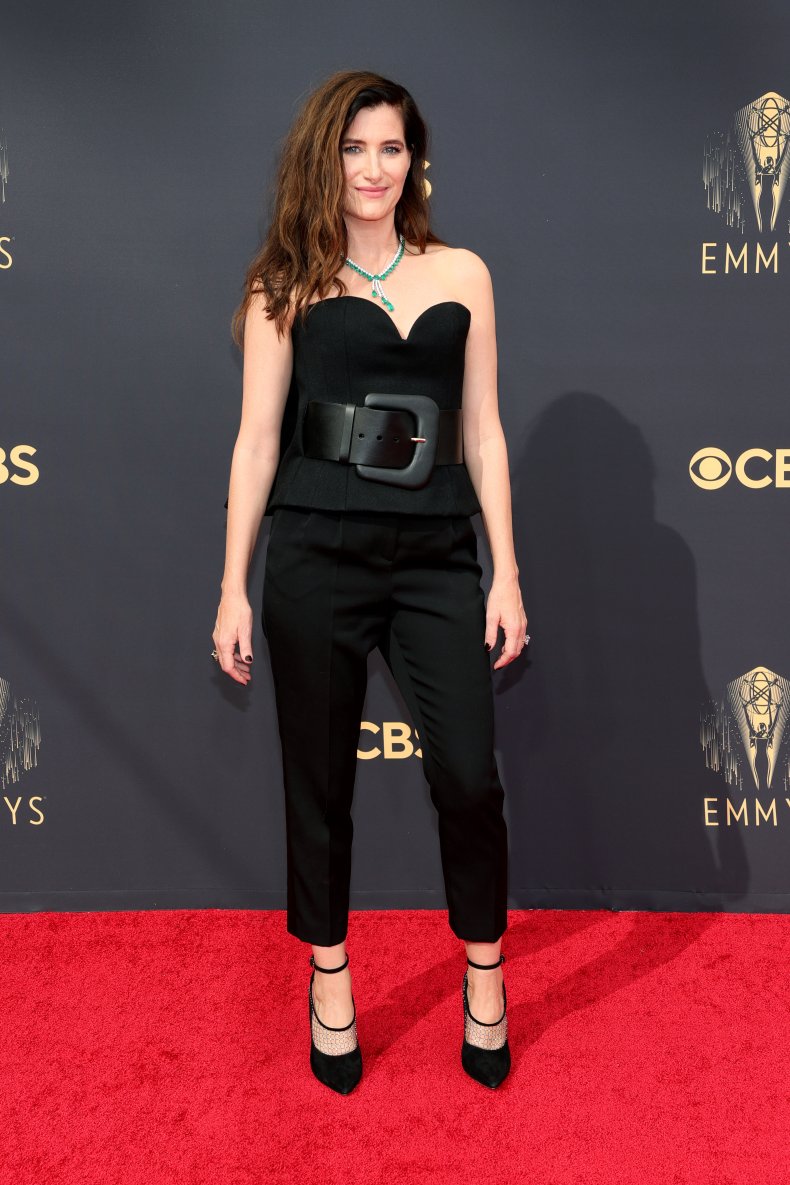 Kathryn Hahn turned heads with her Lanvin jumpsuit featuring a giant waist belt.
Hahn's scene-stealing turn as Agatha in WandaVision had her nominated for Outstanding Supporting Actress in a Limited Series, though she lost out to Mare of Easttown's Julianne Nicholson.
Billy Porter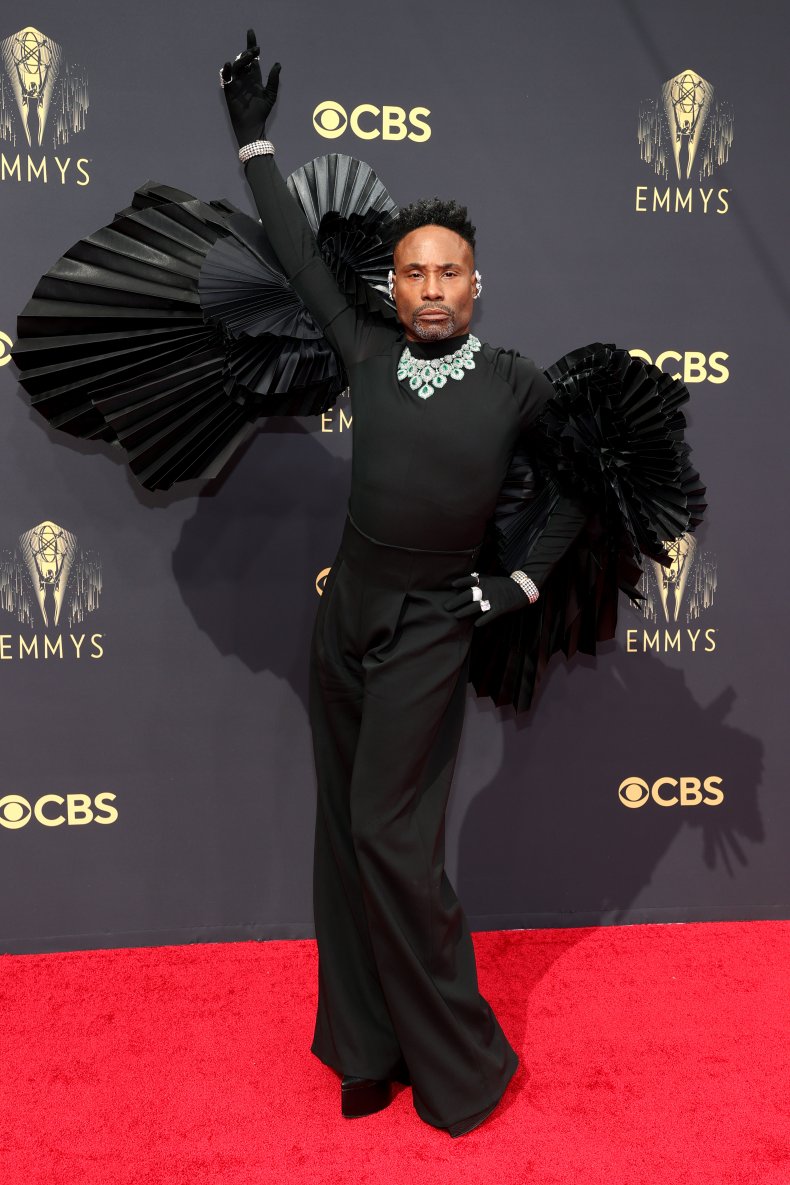 While Billy Porter may have skipped this year's Met Gala, he didn't miss an opportunity to strut his stuff on the Emmy's red carpet.
Wearing an Ashi Studio ensemble with folded wings, the Cinderella star told E News: "I am the fairy godmother."
Nicole Byer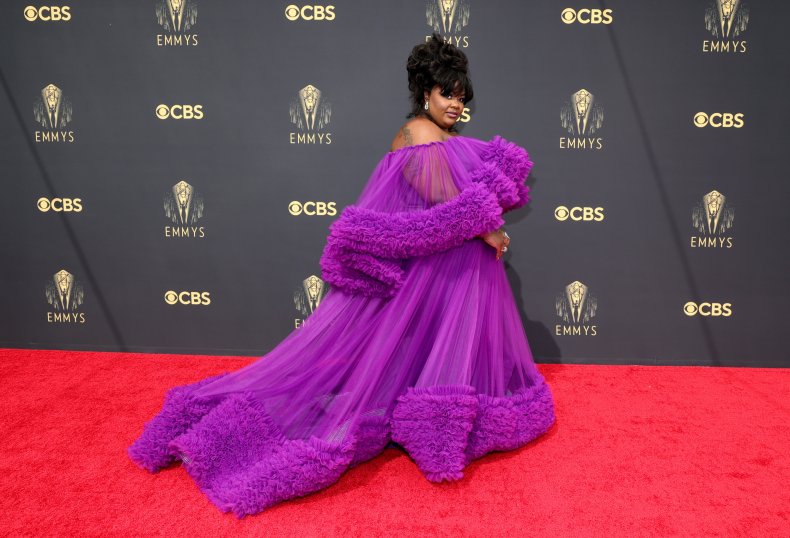 Host of Netflix baking show Nailed It! Nicole Byer was another star of the red carpet.
The 35-year-old comedian wore a dazzling purple gown by Christian Siriano.
Kerry Washington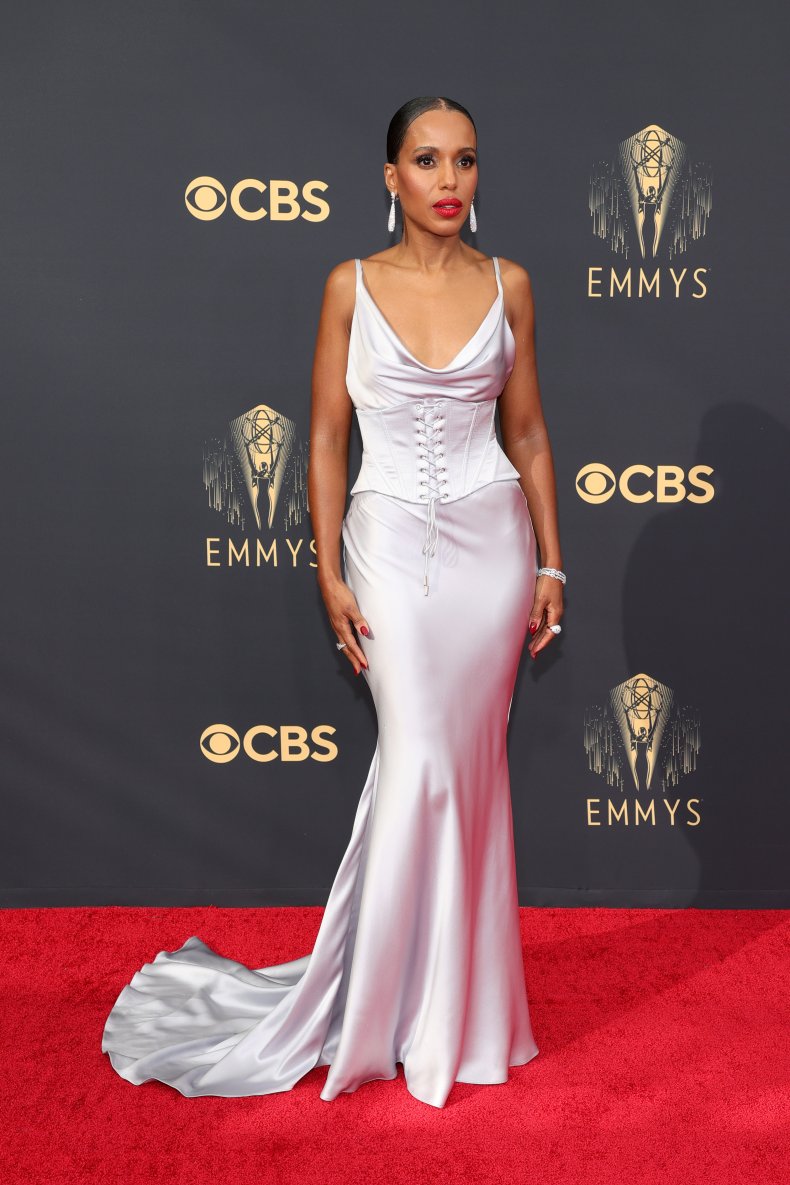 Kerry Washington was a vision in a corseted silky Etro gown in muted gray.
The 44-year-old actress presented the award for Outstanding Supporting Actor in a Drama Series and used her speech to pay tribute to the late Michael K. Williams.
"Michael was, crazy to say 'was,' a brilliantly talented actor and generous human being who has left us far too soon," she said.
"Michael, I know you're here, cause I know you wouldn't miss this, your excellence and artistry will endure. We love you."
Leslie Odom Jr.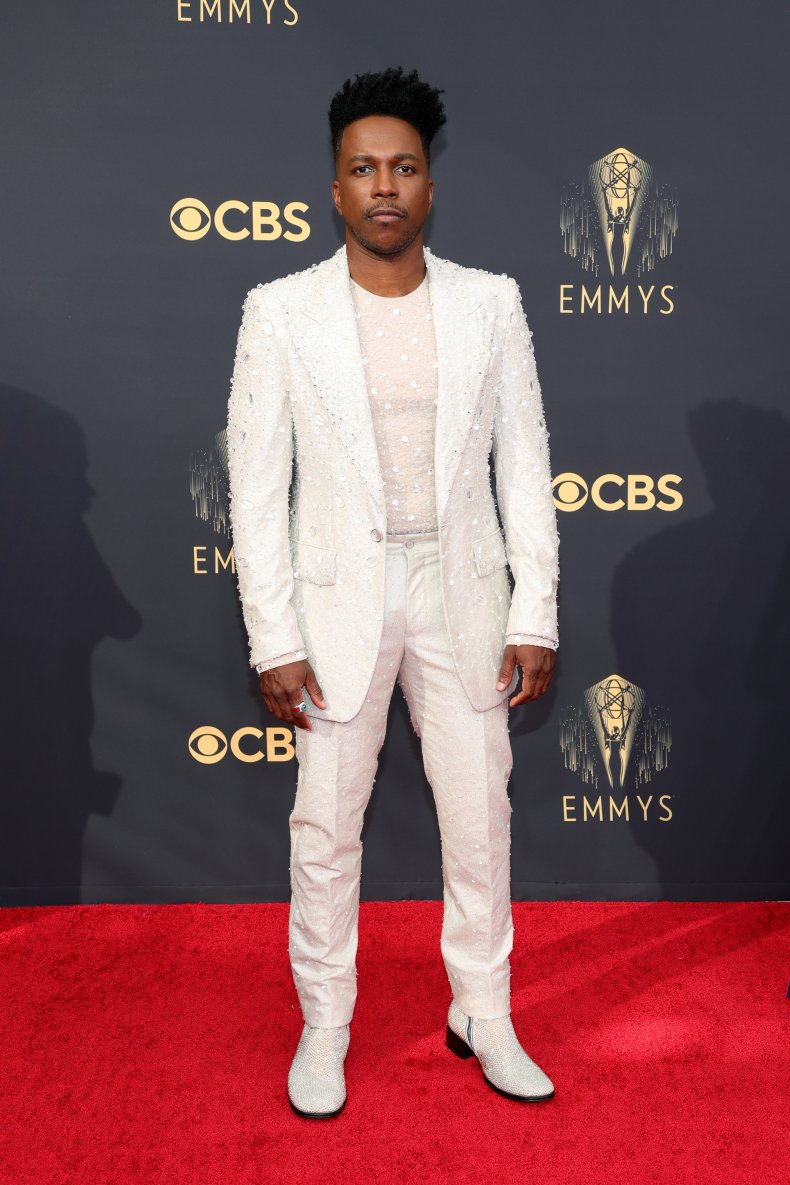 Leslie Odom Jr. showed how you shine on the red carpet in a glistening white suit by Dolce & Gabbana.
The 40-year-old attended the ceremony with his wife, Nicolette Robinson.