Moment 2-Year-Old Drops Engagement Ring Into Sea Mid-Proposal Goes Viral
The famous showbiz saying "never work with children or animals" came to mind after a couple's engagement was derailed by the 2-year-old daughter, who accidentally dropped the ring into the ocean.
Australian couple Stephanie and Luke captured their big moment in a TikTok video, including how it all went wrong.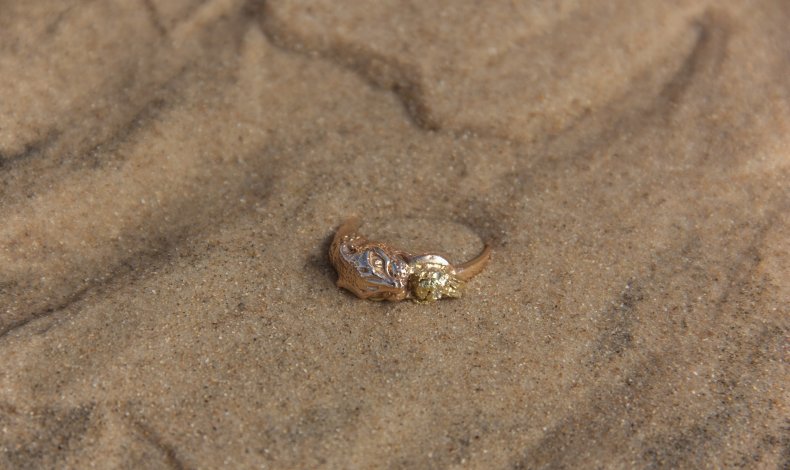 When it comes to proposals, a survey by wedding agency ZankYou of 1,000 married men about what made them drop to one knee found that 55 percent ended up proposing after their partner dropped hints about wanting to marry.
As Luke got down on one knee, Stephanie's daughter Harper reached out to grab the ring, but dropped it on the decking—which happened to have gaps in it.
The moment was shared to TikTok by the mom and fiancee on Thursday, posted to her account @stephanieariana0.
Luke had involved Harper as a way of asking not only his girlfriend for permission to wed, but also her child. Mom Stephanie wrote in a TikTok video that her daughter is simply a "helpful little girl" and wanted to take care of the ring.
As the ring fell into the sea, everyone present could be heard gasping, rushing to have a look. Luke immediately ran off the decking and into the water, before he could hear a friend warning that it was far too shallow to jump.
Stephanie's dad could be seen looking through the gaps of the decking, trying to spot the jewelry. "I can see it," he said.
According to the couple, the water in Hervey Bay in Queensland is clear, meaning the ring could still be seen. Luke was able to track down and grab the jewelry, which now sits on Stephanie's finger.
"We just moved on and laughed about it," the couple said in a follow-up video. "It wasn't Harper's fault at all. She's a helpful little girl, and everybody's like, 'Why would you do it with a kid around?' Luke wanted to essentially ask Harper as well."
Luke's advice for proposing near a body of water with a ring? "Tie a string and get some fishing line."
TikTokers found just as much humor in the situation, with the video being viewed more than 13 million times in just one day.
"Omg so lucky he found it...what a story to tell at the wedding though," wrote one user.
Newsweek has contacted Stephanie for comment.
She and Luke aren't the only couple to have their engagement proposal almost ruined. In July, a giraffe headbutted the bride-to-be.
Montserrat Cox' romantic moment soon turned into a farce when a giraffe decided it was the perfect time to join in.
Thanks to the strong headbutt of the giraffe, Cox was left in a neck brace for days after, but still felt it was "the best proposal ever."