Touching Moment Woman Realizes Proposal Is for Her Goes Viral: 'Speechless'
One woman's "trick" proposal has gone viral on TikTok, prompting an "outpouring of love" from people online.
In the video, which is captioned "The surprise of a lifetime" and has over 16 million views, Christina Barcelona can be seen on a wearing a colorful strapless dress, on a boat with friends on her way to Toronto Island Park, Toronto. The text overlay says: "The moment I realized I was getting engaged."
As the women approach the dock, the camera pans to Christina as realization dawns on her and she says through tears and laughter: "Is that Curtis? Is that Curtis? No way!"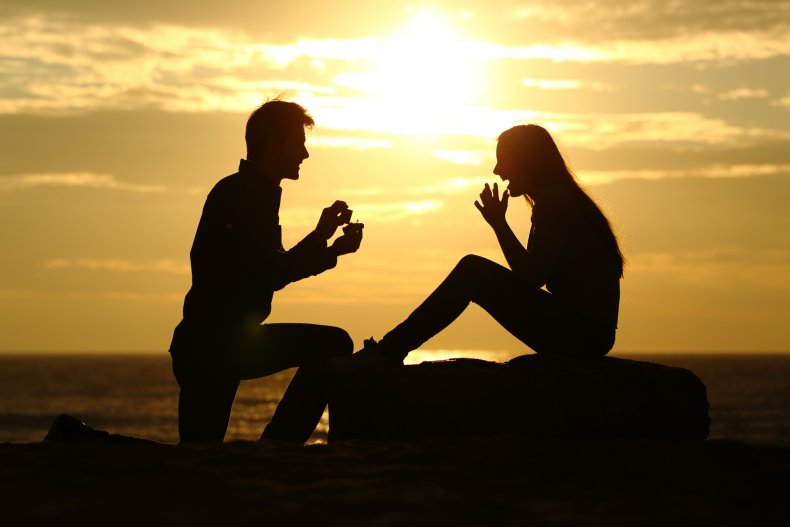 Her friend, Andrea, holding the camera then says, laughing: "Surprised you made it this far without asking where we were going!"
The camera then pans to the dock, where the words "marry me" can be seen spelled out in lightbox letters, covered in red heart shaped balloons.
In a follow up video, Christina can be seen getting out of the boat and then we can see her boyfriend Curtis down on one knee, followed by a candlelit picnic with flowing Veuve Clicquot champagne, and a glimpse of her impressive engagement ring, which appears to be a Marquise cut diamond.
"I couldn't believe it was for me! Literally speechless," she commented.
In a series of additional follow up videos, Christina explains she is "over the moon," saying "the outpouring of love on TikTok has just been, like, the cherry on top. And I think it's just so special how we all collectively just love love."
She explains how the proposal came about: "A couple of weeks ago...a friend of a friend who I love, her name's Nicole, she reached out in a group chat with a good friend of mine and a couple of other friends.
"And she said to us that her work was sponsoring an event on Toronto Island...and she had a few tickets left over and wanted to know if we could come and the dress code she said was like, garden casual. I can be really hard to make plans with, especially on a week night because I'm just old like that, but it sounded fun and I was intrigued!"
A Unique Proposal
With new technology and the demand for interesting proposal videos on social media, people are now finding new and unique ways to put a ring on it.
Written In The Sand
Is there a more romantic place than the beach? Many couples don't think so and opt to have the ceremony down on the sand, but one man got there earlier and decided to put on lavish display for the proposal. In the video at the beginning of this article, we can see an artist, secretly hired by George Smith, 28, creating a giant image of a diamond ring, with the words "Rachel, will you marry me? GHS" written inside.
Drone footage captured the tender moment Rachel first spotted the 50-foot sand art at King Edward's Bay in Tynemouth in the north of England.
Literary Love
In a video with over 1 million views on TikTok, Cellas Hayes proposes to his now fiancé Mweyeria Offord, with the text: "This girl doesn't even know she's about to become a fiancé."
Offord, who has a BA in English Literature and a love of books, is sent on a treasure hunt through the library of the University of Mississippi, and inside each book were specific capitalized letters spelling out "will you marry me?"
Don't Try This At Home
Relationships are not always romance and fantasy.
In a not so romantic gesture, TikTok user Alexandrovitch possibly took things too far with his girlfriend.
In the video, viewed over 58 million times, Alexandrovitch can be seen filming his girlfriend walking through their house. After walking across a rose petal strewn floor, he hands her a bunch of red roses, cutting a red ribbon, then being led eyes closed in to the kitchen to find, not an engagement ring, but a lot of clearing up to do. Fans online wondered if the prank had gone too far.
Marry Me
Christina's video has nearly 3 million likes on TikTok, and users were delighted for her in the comments. One person, in a comment gaining 36,000 likes, wrote: "Omg! You are adorable! I'm crying and I don't even know you!"
Another person said: "Why am I crying on the toilet for someone I don't know," to which Christina replied: "We are now bonded by toilet cries."
Some users found the video inspirational, with one writing: "Gosh I can't wait for my moment. This warms my heart seeing people find their forever person. I know I will have one soon," while another wrote: "I'm crying this is so incredible, can't wait to meet my person."
The hashtag #propsal has 9.8 billion hits on TikTok, and one user commented on the prevalence of proposal videos on the platform, writing: "So I've seen a million proposal videos lately and I'm kinda tired of them but THIS was so heartfelt and genuine. Congrats."