Man's Proposal Prank Sparks Fury: 'Would Have Broke Up With Him Instantly'
An online prankster has sparked controversy after tricking his girlfriend into believing he was about to propose only to then present her with a sink of dirty dishes.
TikTok user Alexandrovitch, from Germany, is no stranger to playing tricks on his partner but some viewers are wondering if he may have gone too far with his latest effort.
The video, which has been viewed over 32 million times, can be watched here.
For most people, a marriage proposal represents one of the most memorable moments in their adult life, but the perfect way to pop the question is difficult to quantify.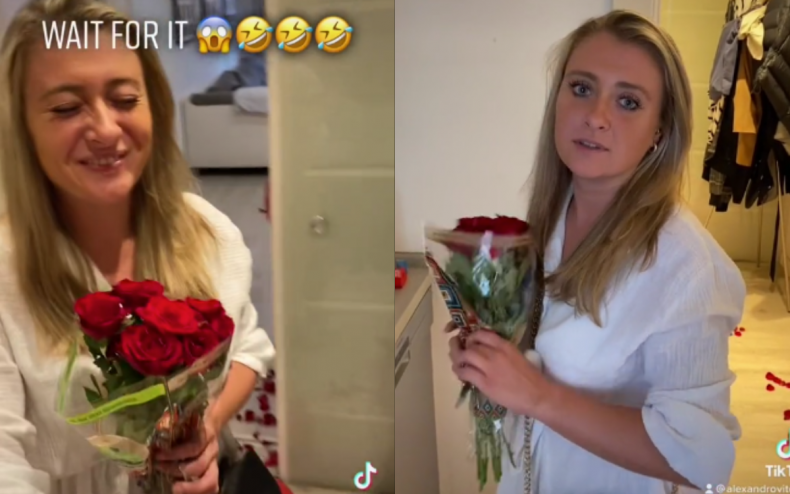 In 2015, researchers from the University of Texas teamed up with the website ScienceOfRelationships to quiz 400 newly engaged or newly married people about their ideal proposals.
According to the findings, 69 percent were in favor of a private proposal, rather than something done in public, while popping the question at home ranked second only to a beach-based proposal when it came to listing the ideal locations.
In that sense, Alexandrovitch couldn't have chosen a more perfect setting to propose—or rather trick his girlfriend into thinking that was what was about to unfold.
In the video shared to social media under his handle Alexandrovitch90, viewers see the moment she comes through the front door of their apartment to be greeted by pink balloons and rose petals.
The clip, which is scored with Ed Sheeran's romantically gushy "Perfect," continues on with the prankster's girlfriend asking: "What is this?" as she enters. She begins walking toward her boyfriend, who then hands her a pair of scissors to cut a ribbon running across the entrance of the next room.
Having appeared initially skeptical as to what is unfolding she appears to warm to the idea, cutting the red ribbon and following him into the next room. At this point, he hands her a bouquet of red roses before asking her to close her eyes as he takes her hand and leads her on further.
She begins laughing with anticipation at what is to come—but that joy proves short-lived when she arrives at her destination and, rather than be greeted by some grand romantic gesture of love, opens her eyes to find the kitchen in disarray.
Pots and pans litter the counter along with garbage and other dirty dishes. While her boyfriend is left in hysterics, she appears entirely unimpressed, throwing the flowers at him before storming out of the room.
But while Alexandrovitch was left in stitches come the end of the clip, many of those watching online were thoroughly unimpressed. Mamajane said she "would have broke up with him instantly" if it had been her while comsaronm described the video as "heartbreaking."
Mayameyer08 commented: "Ok come on, that was not nice," while zodiacs____4 wrote: "All that hard work for a prank. You made her sad. I could feel the sadness in her eyes." Elsewhere Hannah Newman said: "I know I'm supposed to find this funny but I just feel so much pain watching this. I feel so bad for her."
Corona0216, meanwhile, felt Alexandrovitch should have thought about his girlfriend's feelings before making the video, branding the results "not funny at all." "You could say 'it's only a video.' But relationships aren't just a 'video' and aren't made to be messed with," they added. "It's not a game!"
Alexandrovitch, real name Nikolai Fischer, told Newsweek his girlfriend is "already expecting a proposal and this was a good opportunity to prank her without expecting it." Fischer said she was initially furious with him for the trick. "She took being angry to a new level," he admitted. "After a few hours she calmed down and was able to laugh about it."
He said they live in Schleswig-Holstein in Germany and will celebrate their 4-year anniversary together this November. "We've pranked each other a lot during that time, but we've been pranking each other publicly on TikTok for less than 2 weeks and soon on big sites like Youtube and Instagram too," he said. "There will be many more pranks to come. You can be excited."
If you have a similar family dilemma, let us know via life@newsweek.com. We can ask experts for advice, and your story could be featured on Newsweek.
Update 8/11/22 10:53 a.m. ET: This article has been updated with a new video and additional comment from Nikolai Fischer.