England Re-Enters Lockdown After Vote Despite Revolt By Rebel Politicians
England will be plunged into a new four-week COVID lockdown amid warnings the country's hospitals will be overwhelmed with thousands more deaths unless action is taken.
Members of Parliament (MPs) in Westminster have voted through the new restrictions with the opposition Labour party backing Boris Johnson's Conservative government in bringing in the tough new rules. The hospitality industry, warning it is already on its knees after months of restrictions and a curfew, will bear the brunt yet again.
The passing of the vote means that from Thursday, bars, restaurants pubs, non-essential shops, salons, and gyms will shut and people will be banned from mixing with anyone they don't live with. The public will have to stay at home unless they need to travel for work, childcare, or medical reasons and to avoid domestic abuse. Scotland, Wales, and Northern Ireland have their own restrictions in place.
It has not been plain sailing for the prime minister in terms of drumming up support for what has been dubbed the U.K.'s "Lockdown 2.0". Johnson faced a revolt by a handful of Tory backbenchers angry at the impact of the dramatic new measures on civil liberties and the economy. Ahead of the vote, it was thought around 20 Conservative MPs could vote against the leader's new restrictions, seen as a largely symbolic protest. In total, 38 MPs voted against the new national lockdown.
Johnson has insisted the restrictions will end on December 2 amid widespread concerns they could be extended until Christmas or beyond if they fail to sufficiently bring down coronavirus infection rates. His tone was less determined when he was grilled by MPs during weekly Prime Minister's Questions when he said an extension "depends on us all doing our bit now to make sure that we get the R (value) down".
He warned of "fatalities running in the thousands" if no action was taken with the country's top scientists already outlining how COVID is spreading faster than the reasonable worst-case scenario. Tory rebels - and several Labour MPs from the North-West of England - said during a debate on the new lockdown that England's previous tiered system, brought in two weeks ago, had not been given a proper chance.
Johnson's predecessor as prime minister, Theresa May, said evidence from Liverpool - placed into the highest tier and under the strictest rules - showed "cases are falling". Another Tory rebel, former chief whip Mark Harper, said: "We have acted too soon because we are starting to see the tier system working."
Former Tory leader Iain Duncan Smith said data presented to ministers to justify the lockdown had "subsequently unraveled in the last few days". He was referring to data that forecasted as many as 4,000 COVID deaths a day over winter ad was presented to the public on Saturday. Professor Chris Whitty, the government's chief medical officer, has since admitted that the prediction was unlikely to come true because the modeling was a worst-case scenario based on a situation where no extra measures were brought in. A figure of around 1,000 deaths a day was "entirely realistic" without tougher action, he said.
MP Philip Davies told the prime minister: "Nobody voting for this motion tonight is offering to sacrifice their own job in order to pursue this lockdown policy - of course not. They are just expecting millions of others in our country to sacrifice their jobs to pursue this policy. I never thought I would see the day a so-called Conservative minister would stand up and urge Parliament to further sacrifice our most basic of freedoms, collapse the economy and destroy jobs - all to pursue a failed strategy."
Johnson responded: "While it pains me to call for such restrictions on lives, liberty, and business I have no doubt that these restrictions represent the best and safest path for our country".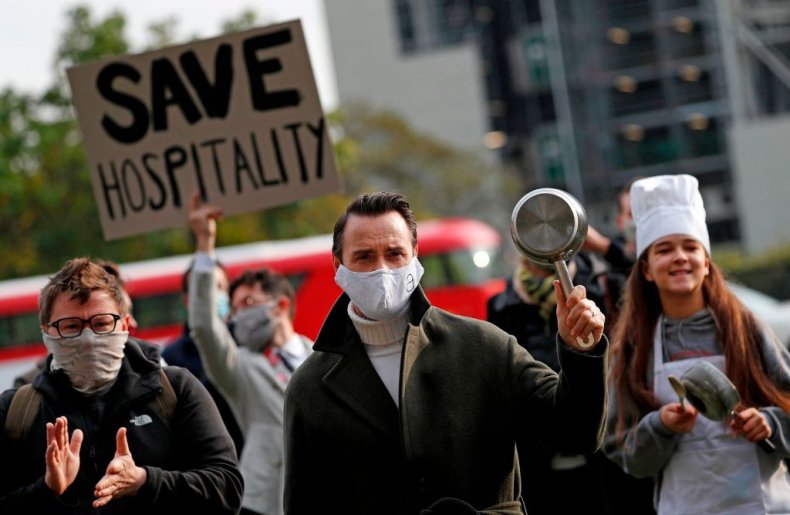 Labour Leader Sir Keir Starmer said his party would be backing the government but added: "Nobody votes for the regulations today with anything other than a heavy heart."
The vote came on the same day that England's National Health Service (NHS) will move into its highest level of emergency alert overnight as fears mount it will run out of beds and staff during the second wave.
NHS England chief executive Sir Simon Stevens said the health service would return to the highest "level 4" alert in response to the "serious situation ahead". Doctors have warned of an impending crisis across hospitals as intensive care units fill with COVID patients while rising numbers of nurses and doctors are forced to stay away either self-isolating due to contact with positive cases or suffering from the virus themselves.
Stevens confirmed there had been a "very substantial" increase in "desperately sick patients in hospital" last month and said the country is "once again facing a serious situation". There are now "22 hospitals' worth" of COVID-19 patients in hospitals in England, he said.
A level four alert was last in place at the start of the pandemic before it was dropped to level three in July. It means NHS England will take control of coordinating the health service response to the pandemic in partnership with local commissioners.
The British public will not notice a difference if they use the NHS but it means the overarching NHS England body has had to take over to ensure all services are supported appropriately. A national freeze on elective surgery has not been announced, although local restrictions are already in place in the North West and Midlands.
Director of NHS England, Stephen Powis, earlier indicated the health service had just 9,000 beds left for COVID patients. There are currently 11,000 coronavirus patients in NHS hospitals – a massive increase from 500 at the end of August and 2,000 at the end of September. There were 19,000 COVID patients in NHS hospitals during the peak of the first wave.
Ahead of the vote, Dr. David Strain, of the University of Exeter Medical School, told Newsweek he is glad the government is implementing a second nationwide lockdown but believes it should have come sooner. He says surge capacity at his hospital in the south-west of England - measures put in place to meet COVID demand such as turning regular wards into COVID-19 wards and canceling routine treatments - are already being put in place.
"The real task is finding staff as we have doctors and nurses either off self-isolating or with COVID themselves," he said. "Our COVID beds are full. We expect to meet surge capacity by the end of this week and we are preparing to make very difficult decisions in unfortunately postponing non-essential services very shortly.
"From a purely medical point of view, yes I believe we should have entered lockdown sooner, and I am grateful that the prime minister has announced it for this week. I can understand the decision in keeping the economy going, but I do think lockdown should have happened [when SAGE] first warned about it last month."
It is hoped the new lockdown measures will reduce transmission, get the 'R' number below 1 and buy the country time before effective treatments and vaccines are brought in. Unlike during the U.K.'s first three-month lockdown, schools and universities will stay open.
Dr. Julian Tang, a clinical virologist at the University of Leicester, believes the second lockdown will be worse than the first and threatens any hope of families spending Christmas together. He told Newsweek that keeping schools and universities open will "blunt" the lockdown and the lockdown will need to be extended beyond Johnson's December 2 cut-off date as a result.
"There might be a chance of easing lockdown over Christmas but only if people really follow the lockdown rules, and not if schools remain open." With schools and universities continuing as normal, he said, the lockdown will likely have to last until January.