'Enough Is Enough': Store Owner Rips Chicago Leaders After Smash-and-Grab at Car Dealership
After his Chicago car dealership was robbed on Saturday, the owner of the business called on city leaders to do more to address crime.
During the incident on Saturday, two men walked into the dealership, Gold Coast Exotic Motor Cars, with one standing guard at the door, and the other using a hammer to break open display cases, ABC 7 reported. Employees said that the men made off with seven luxury watches.
The value of the stolen merchandise was $2 million, and the robbery occurred while there were families in the store, according to CBS Chicago.
"A city that I love and everybody loves to come to is going to be a desert if they don't stop this. We're going to have people moving out of this city—they're moving out now—that want to just be safe," the store's owner, Joe Perillo, told the news station.
"They're walking into my business, crashing the windows," Perillo said. "And one guy stands with a gun. And we have to have this happen. Enough is enough."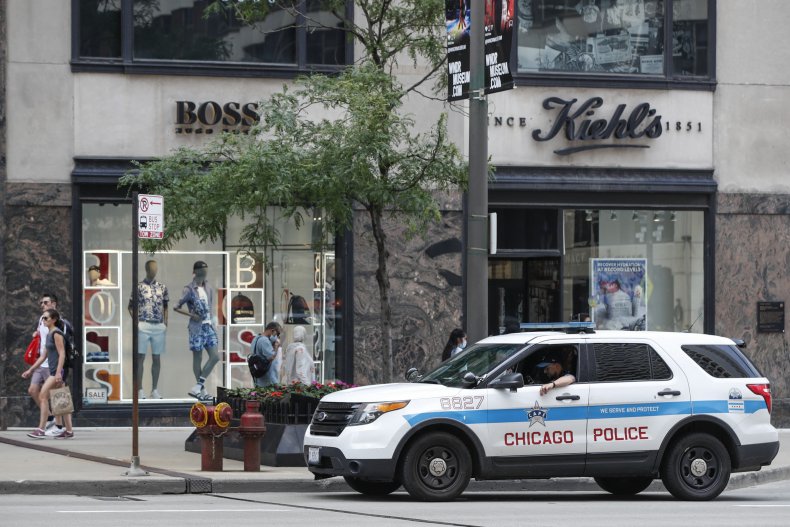 Perillo said he wants Chicago Mayor Lori Lightfoot and the state's attorney's office to take action.
"It's only a fool who keeps doing things the same way and expects different results. If the Mayor and Kim Foxx don't do anything to get control of this, it's not going to get better. It's going to get worse," he told CBS Chicago. Foxx is the Cook County state's attorney.
A poll released Sunday by ABC News found that few Americans are satisfied by the way crime is being handled at the federal level. The survey found only 36 percent approve of President Joe Biden's handling of crime in the U.S. and only 32 percent approve of his handling of gun violence.
Chicago and other cities around the country have been impacted by a recent spate of smash-and-grab robberies. Chicago ranked third on a list released by the National Retail Federation of cities most impacted by organized retail crime. However, overall,robberies in the city have seen a 2 percent decline this year, according to police data updated this month.
Lightfoot said Monday that some retailers themselves haven't taken adequate measures to prevent themselves from being victims of crime.
"Some of the retailers downtown in Michigan Avenue, I will tell you, I'm disappointed that they are not doing more to take safety and make it a priority. For example, we still have retailers that won't institute plans like having security officers in their stores," Lightfoot said during a crime summit at the University of Illinois in Chicago.
Newsweek reached out to Lightfoot's office for comment.