The Equalizer is the show that CBS has put in the coveted post-Super Bowl slot for 2021, with the first episode set to air on Sunday, February 7 at 10 p.m. ET / 9 p.m. CT. The show stars Queen Latifah as former CIA agent Robyn McCall, who helps those who have not had proper justice to get equal. If that sounds familiar, that is because Denzel Washington played a similar character in two Equalizer movies.
In The Equalizer and The Equalizer 2, Washington played Robert McCall, a former special services commando who faked his own death, but who re-emerges in the first of these films with his special set of skills to save a young girl from a Russian gang.
As is clear, both Latifah and Washington are playing characters called McCall, but the two characters are not siblings. Instead, the CBS Equalizer is an entirely separate reboot of the story.
Particularly, the show is a reboot of the same property the movies were—yet another Equalizer, a show starring Edward Woodward as Robert MCall that ran from 1985 to 1989 on CBS. Like Latifah's character, McCall was a former covert operations officer, though in the '80s show it is not confirmed to be the CIA but merely an organization called "The Agency" or "The Company."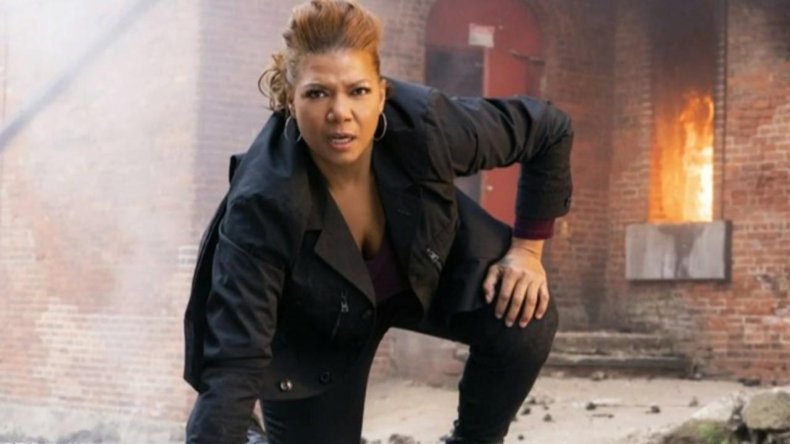 The original show's co-creator Richard Lindheim was involved in this new reboot, but died in January—the day after he saw the pilot episode.
In an interview with Entertainment Tonight, Latifah, who comes to the show after playing Hattie McDaniel in Netflix's Hollywood, spoke about what the original show meant to her, and how she wanted her version to be different.
The actor, Oscar nominated for her work in Chicago, said: "I watched The Equalizer as a kid growing up, so I always loved the idea of it—and the world was just so nasty at the point in time...The world was mean... the world was not fair and it still is not, but I felt like this would be a great opportunity to take all the things I've learned throughout my career and my life and be able to exact some justice."
With the CBS show bringing the show up to date, there are of course some changes. The original Equalizer found clients from a newspaper ad, the film one uses Craigslist, while Robyn uses social media, making quite literally an online social justice warrior. Robyn is also a single mother to a rebellious teenager, played by Laya DeLeon Hayes.
The show, as you might hope from a series made amidst the Black Lives Matter protests, is more inclusive than past editions, with Latifah leading an ethnically mixed cast including Chris Noth, Tory Kittles, Lorraine Toussaint, Liza Lapira and Adam Goldberg.
Speaking to Entertainment Tonight, Latifah said she did not contact Washington about taking on his role, saying: "Clearly I didn't talk to Denzel first because he would've told me I was crazy! He would've talked some sense into me!"
Asked about the difference between her character and those played by Washington and Woodward by Star Tribune: "In Denzel's version and the original version, those characters were much more stoic, more closed off. Robyn doesn't have that luxury. She has a teenage daughter. She has to figure out how to turn off the soldier in her and turn on the mom."
The Equalizer starts Sunday, February 7 at 10 p.m. ET / 9 p.m. CT on CBS. The remaining episodes will air Sundays at 8 p.m. ET / 7 p.m. CT.