Eric Adams Takes Initial Lead In NYC Mayor Race, but Garcia Banks on Ranked Choice Votes as Yang Concedes
Although Brooklyn Borough President Eric Adams has taken the lead in the Democratic primary for the New York mayoral race, candidates Andrew Yang and Kathryn Garcia are hoping that the new ranked-choice voting (RCV) system will ultimately help them secure the nomination.
As of Tuesday evening, Adams has 29.99 percent of the vote, Garcia has 21.47 percent and progressive candidate Maya D. Wiley has 20.83 percent. Yang has 11.90 percent. But these tallies only represent the first-choice candidate of 353,874 votes, according to the unofficial results released by the city's Board of Elections.
RCV allows voters to rank up to five candidate choices for an office. If no candidate wins a majority of votes as people's top candidate, then the ballots are recounted in successive rounds. In each round, the candidate with the fewest votes is eliminated. If a voter's top choice is eliminated, then the voter's vote then goes towards their second-choice candidate. The rounds continue in this way until one candidate wins a majority of the votes.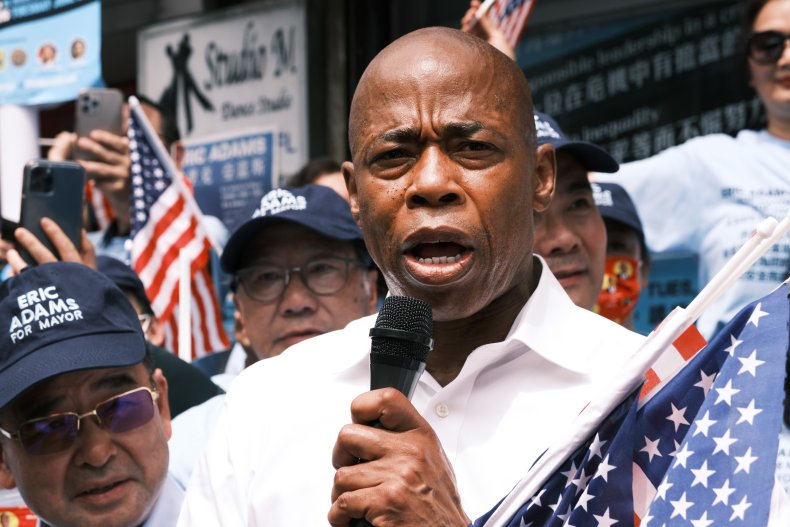 The city's Board of Elections won't release the official results of the RCV until Tuesday, June 29. So even though this initial report places Adams as the first-place candidate, those results may not ultimately matter if he ultimately fails to win a majority of the vote.
The results will likely be even more delayed because an estimated 15 to 20 percent of voters are expected to vote by mail using absentee ballots, the Associated Press reported.
Absentee ballots can arrive at the election board up to 10 days after Election Day. As a result, a more complete result may not be known until sometime through the week of July 12, The New York Times reported. The election board has promised to release updates totals once a week until all absentee ballots are counted.
A recent RCV poll had Adams winning 28 percent of respondent support, Yang with 20 percent and Garcia with 15 percent. The poll was conducted by the international polling firm Ipsos. Yang is a former Democratic presidential candidate and Garcia is the city's former sanitation commissioner.
But despite Adams' lead in the polls, Yang and Garcia are hoping that RCV will ultimately work in one of their favors. Over the weekend, Yang and Garcia campaigned together. Yang told supporters that they should include Garcia as their second-ranked candidate.
"Andrew Yang No. 1 and Kathryn Garcia No. 2. That's the way I want your ballots to look," Mr. Yang said at a Sunday rally in the city.
While Garcia didn't tell her supporters to rank Yang, she did emphasize that voters could choose more than one candidate.
"You don't have to pick between Andrew Yang or Kathryn Garcia," Garcia said in Queens on Saturday. "You can vote for both of us."
Presumably, the duo would like to beat out Adams as the favorite. But because RCV is a relatively new voting method in the U.S., analysts haven't forecasted whether the Yang-Garcia team-up will benefit either of them. They are just two of the race's 13 Democratic candidates.
However, on Tuesday evening, that did not appear likely, as Yang conceded.
"I am a numbers guy," Yang, once seen as the front-runner, told supporters. "And I am not going to be the next mayor of New York city based on upon the numbers that have come in tonight. I am conceding this race," Yang told supporters
The Adams campaign has said that their team-up may be a way to "make a backroom deal" to game the new voting method and "disenfranchise" the city's Black and Latino voters.
"For them to come together like they are doing in the last three days, they're saying we can't trust a person of color to be the mayor of the City of New York when this city is overwhelmingly people of color," Adams said.
Yang responded by saying that he too is a candidate of color.
Newsweek contacted the New York City Board of Elections for comment.
Update (6/22/2021, 11:05 p.m.): This article has been updated to reflect the fact that Yang conceded the election.