Ex-Trump Lawyer Recalls Sidney Powell's 'Nuts' Proposals: Jan. 6 Hearing
Former Trump White House lawyer Eric Herschmann recalled the tense arguments he had with Sidney Powell—the attorney who allegedly led some of the former president's most extreme legal considerations to overturn the 2020 election—calling the proposals she made during a December 18, 2020, meeting "nuts."
"It got to the point where the screaming was completely, completely out there," Herschmann said in a videotaped interview with the January 6 committee. "What they were proposing, I thought was nuts."
On Tuesday, the House panel revealed new details about the December 18 meeting where some participants allegedly discussed having the military or Justice Department seize voting machines.
Former White House staff secretary Derek Lyons told the committee it was "not a casual meeting," describing a scene where top Trump officials were screaming and hurling insults at each other. Former White House counsel Pat Cipollone also testified that he was verbally attacked by Powell for asking where the evidence of election fraud was.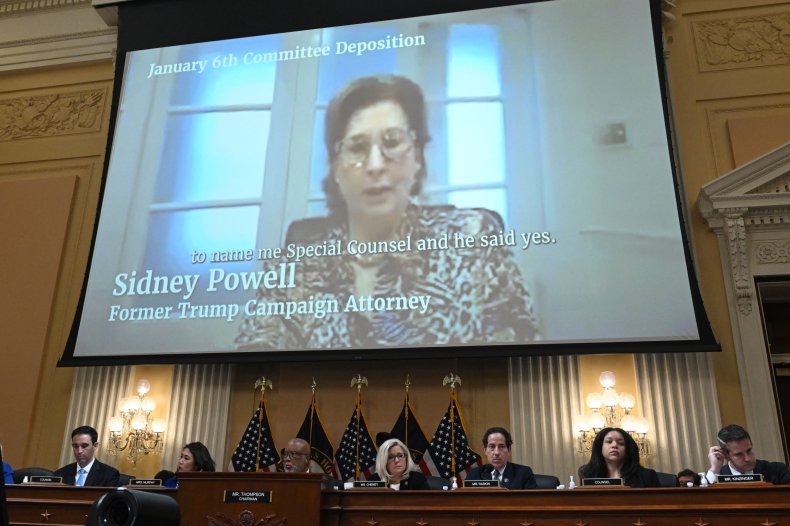 In his testimony, Herschmann said Powell told him that all of the 60-plus judges who threw out her lawsuits challenging the results of the 2020 election were corrupt.
The former White House lawyer recalled asking Powell, "Every one? Every single case that you've done in the country you guys lost—every one of them is corrupt? Even the ones we appointed?"
Trump's legal team was unsuccessful in their litigation efforts to overturn the election, with nearly all their lawsuits being dismissed or dropped due to a lack of evidence.
Powell said in her testimony that Trump had appointed her to special counsel during that December meeting, although Cipollone disputed those claims, saying that in his view, "She hadn't been appointed to anything," and he was "vehemently opposed" to such an appointment.
At the end of the meeting, Lyons said Trump's team would continue "looking for avenues that would enable, that would result in President Trump remaining President Trump for a second term."
In another deposition featuring former Attorney General Bill Barr, the former Trump official said that when asked by the former president if the Department of Justice should seize voting machines, he told Trump, "Absolutely not. There's no probable cause."
Cipollone testified that he agreed with Barr's conclusion, saying, "To have the federal government seize voting machines, that's a terrible idea for the country."
"That's not how we do things in the U.S., there's no legal authority to do that," Cipollone told the committee.
"There is a way to contest elections, you know, that happens all the time," he added. "But the idea that the federal government could come in and seize election machines? I don't understand why we even have to tell you that's a bad idea for the country. It's a terrible idea."