Eric Munchel, Zip Tie Rioter, Had Arsenal at Home, Took Arms Stash to Capitol, FBI Says
Eric Gavelek Munchel—the 30-year-old insurrectionist who was arrested on January 10 and charged with conspiracy after being pictured in viral videos wearing a tactical vest and carrying zip ties around the congressional chamber during the January 6 riot on the Capitol—stashed weapons before entering the building and also had a home arsenal which included numerous firearms, a sniper rifle and hundreds of rounds of ammunition.
"When Munchel entered the Capitol, he was dressed for combat: he wore combat boots, military fatigues, a tactical vest, gloves, and a gaiter that covered all of his face except for his eyes," a Department of Justice (DOJ) court filing submitted Wednesday said. In addition to his gear, Munchel also carried a taser and attached a red iPhone to the front of his tactical vest through which he recorded the day's events.
In his video of the day's insurrection, Munchel's mother Lisa Eisenhart told him, "We're going straight to federal prison if we go in there with weapons," to which he responded that he needed to "take my weapons off before I go in there." The couple then stowed their weapons in or near a tactical bag. Soon after, Munchel declared that he was about to take part in "treason" and announced he was "F-cking ready to f-ck shit up," the court filing alleges.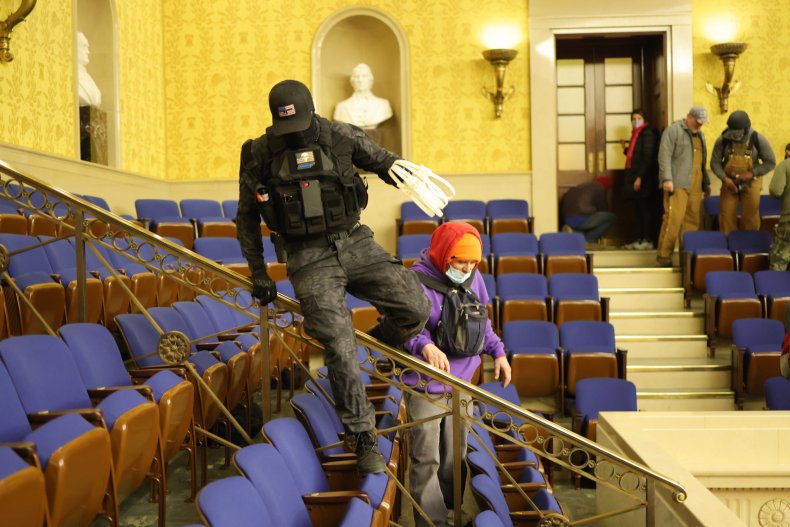 The government obtained a federal search warrant for Munchel's Nashville, Tennessee residence on January 9. Inside a bedroom closet, they found a .22 caliber revolver and dozens of rounds of ammunition. Inside of a gun safe, they also found approximately 15 firearms, including assault rifles, a sniper rifle with a tripod, other rifles, shotguns, pistols and hundreds of rounds of ammunition.
"Munchel was prepared for conflict: as he told a reporter for The Sunday Times, he 'wanted to show that we're willing to rise up, band together[,] and fight if necessary,'" the court filing reads.
"Munchel also told the Times reporter that he had left his guns in Tennessee because of the 'strict' guns laws in Washington—the implication being that Munchel would have been armed with a firearm had Washington's gun laws not been in place," the filing continues.
Once inside the congressional chamber, "Munchel stood with a crowd whose members shouted 'Treason!' and lamented the disappearance of lawmakers from the chamber moments earlier."
Because Munchel stashed unknown weapons before entering the Capitol, carried a taser on his person into the Senate gallery and seized zip-tie handcuffs as he and others stormed the building, he is a possible danger to the community if released, the DOJ court filing states.
Munchel was arrested on January 10 and is facing federal charges of knowingly entering or remaining in a restricted building or grounds without lawful authority, violent entry, disorderly conduct on Capitol grounds, conspiracy and civil disorder. His court hearing is set for February 22.
Newsweek contacted the Department of Justice for comment.