Eric Trump Claims Undocumented Immigration 'Was Not a Problem Anymore' During Father's Presidency
Eric Trump, the son of former President Donald Trump, claimed that undocumented immigration was "fixed" during his father's tenure in the White House—despite the U.S. border with Mexico seeing a significant surge in migrants in 2019.
The former president and fellow Republicans have strongly criticized President Joe Biden's changes to immigration policies, arguing that they have led to a surge in predominantly Latin American migrants attempting to enter the U.S.
Meanwhile, Democrats and Biden have pushed back, pointing out that the U.S. routinely sees surges in migrants from Central America, including under Trump. The president and his defenders have also pointed to high levels of poverty and environmental factors as well as high crime rates in Central America driving the wave of migration.
Eric Trump, an executive vice president of the Trump Organization, blamed Biden's changes in policies during a Sunday interview with Fox News, falsely claiming that everything had been solved during his father's administration.
"My father had the issue fixed," Eric Trump said. He complained that Biden had "immediately stopped" the construction of the southern border wall, which was a key campaign promise touted by his father. But immigration analysts have long pointed out that the wall does little to deter migrants, as they simply use ladders or other means to climb over remote areas of the barrier.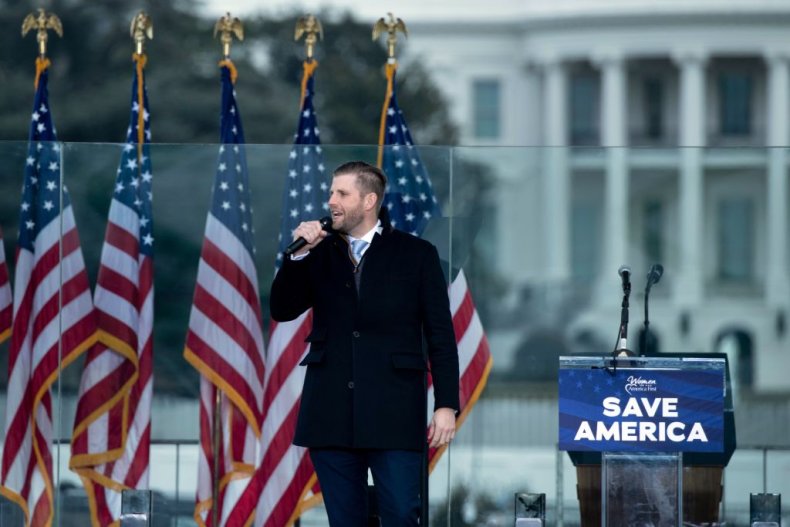 "I just don't understand it. My father had fixed this problem. Illegal immigration was not a problem anymore," Eric Trump said.
The former president's son also argued that his father had created the "most humane form" of immigration, claiming that people were no longer making the "dangerous trek" to the U.S.
Undocumented migration to the U.S. has been on the decline, overall, for the past two decades, according to Customs and Border Protection (CBP) data. That trend continued overall under former President Barack Obama although there was a substantial uptick in 2014. Despite Trump's hardline border policies, such as his internationally condemned family separation policy and the push to construct the border wall, the number of undocumented migrants apprehended crossing the border jumped to 860,000 in 2019—far higher than the peak of less than 560,000 apprehensions seen under Obama in 2009.
Although the recent surge in migrants is part of a historical pattern, Vice President Kamala Harris has described the situation as a "huge problem" and Biden has said more needs to be done to address the situation. The administration is advocating for more funding to Central American countries to address violence and economic insecurity.
Meanwhile, Secretary of Homeland Security Alejandro Mayorkas has said that the U.S. is set to see the biggest surge of migrants in two decades.
"We are on pace to encounter more individuals on the southwest border than we have in the last 20 years. We are expelling most single adults and families. We are not expelling unaccompanied children," Mayorkas said in a statement earlier this month.
Newsweek reached out to the White House for comment.