Joe Biden Plays Down Immigration Surge, Says 'Nothing Has Changed'
President Joe Biden pushed back against criticism of his immigration policies during a press conference on Thursday, and pointed out that there was a significant surge of migrants at the border under his predecessor, former President Donald Trump, as well.
PBS NewsHour White House correspondent Yamiche Alcindor questioned Biden about the perception of him among migrants, saying that many people were coming because they seem him as a "moral" and "decent" person.
"Well, look, I guess I should be flattered. People are coming because I'm the nice guy," Biden quipped in response. "It's the reason why it's happening, that I'm a decent man, or however it's phrased. That's why they're coming, because, you know, 'Biden's a good guy.'"
"Truth of the matter is, nothing has changed," he added.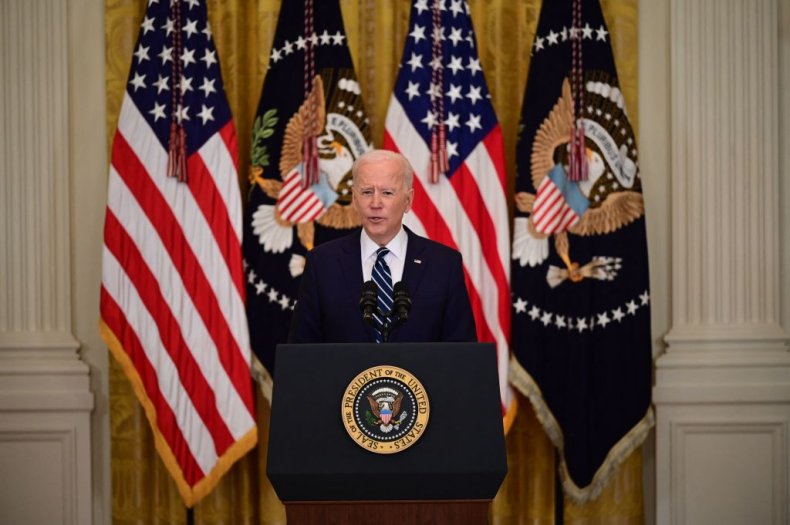 The president went on to point out that there has been a 28 percent surge in unaccompanied migrant children coming to the border thus far under his administration. He then noted that Trump's administration had seen a 31 percent surge in 2019.
"It happens every single solitary year," Biden said.
"And by the way, does anybody suggest that there was a 31 percent increase under Trump because he was nice guy?" Biden asked the room of reporters with a wry smile. "And he was doing good things at the border? That's not the reason they're coming."
Trump's hardline immigration polices were widely condemned nationally and by the international community. In particular, the former administration faced substantial criticism for separating migrant children from their parents. Hundreds of these children remain separated from their parents or guardians to this day.
Biden has faced substantial backlash from Republicans, and some Democrats, over the surge of Latin American migrants coming to the southern border of the U.S. The number of apprehensions by the Customs and Border Protection (CBP) topped 100,000 in February, as it did for several months in 2019 under Trump.
Vice President Kamala Harris has been tasked with spearheading the administration's response to the surge in migrants. Although the White House has pushed back against Republicans calling the situation a "crisis," Harris described the situation as a "huge problem" on Wednesday.
"Look, it's a huge problem. I'm not going to pretend it's not. It's a huge problem. Are we looking at overcrowding at the border in particular of these kids? Yes," Harris told CBS This Morning on Monday.
A major issue for the administration is the surge unaccompanied migrant minors, which the Biden administration has declined to deport. Although most single migrant adults and families are being expelled—as they were under Trump—the new administration has asserted that it will not be deporting vulnerable children. Instead, the minors are detained by CBP until they can be united with family members already in the U.S. or transferred to better-equipped facilities managed by the Department of Health and Human Services.
The transfers should happen within 72 hours, but hundreds of the migrant children have reportedly been detained for up to 10 days. Harris admitted the shortfalls but stressed that the White House is working to address the issue in her Wednesday interview.
"Should we be processing the cases faster? Yes," the vice president said. "This is, however, not going to be solved overnight."
Meanwhile, Secretary of Homeland Security Alejandro Mayorkas has said that the U.S. is set to see the biggest surge of migrants in two decades.
"We are on pace to encounter more individuals on the southwest border than we have in the last 20 years. We are expelling most single adults and families. We are not expelling unaccompanied children," Mayorkas said in a statement last Wednesday.