Sen. Chris Murphy Wouldn't Want His Kids in Migrant Detention Centers But Defends Biden Policies
Senator Chris Murphy, a Connecticut Democrat, defended President Joe Biden's approach to addressing the surge in migrants at the southern border with Mexico on Monday, but noted that he would not want his own children to be kept in the conditions that migrant children are currently enduring in detention centers.
On Friday, Murphy took part in a bipartisan tour of a detention facility housing hundreds of migrant children from Central American nations in Texas. Following that visit, the Democratic lawmaker—a member of the Senate Foreign Relations Committee—said in a tweet that he "fought back tears" when a 13-year-old migrant girl told him how afraid she was. He discussed the situation in greater detail during a Monday interview with CBS This Morning.
"The conditions—you know, I wouldn't want my children to be in those detention facilities," the senator said. However, he pivoted to argue that it's not the same as the situation under former President Donald Trump, and defended the Biden administration's policies.
"These aren't cages. There are doctors and childcare workers there," Murphy said. "The Biden administration is trying to, you know, deal with a mess they were left from the Trump administration. The Trump administration effectively dismantled the asylum system and, so, Biden is trying to stand it up as quickly as he can."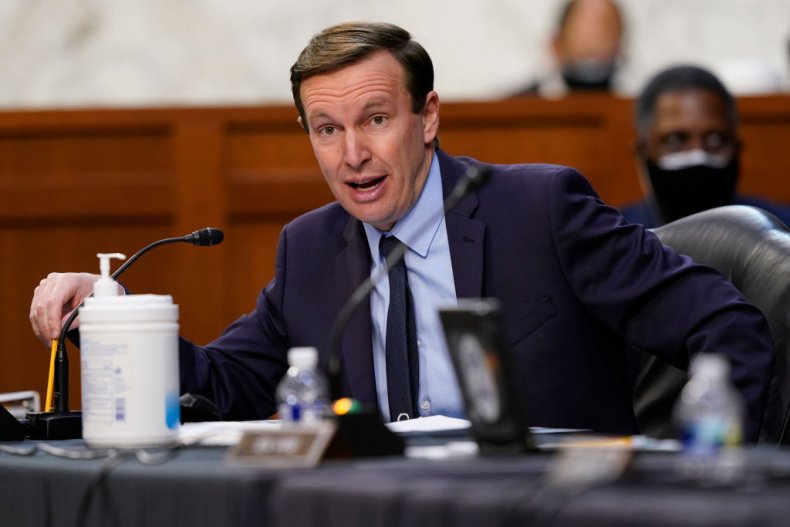 Trump's immigration policies were nationally and internationally condemned. The previous administration's family separation policy—which removed migrant children from their parents—received significant backlash. Hundreds of those children remain separated from their families to this day.
More than 15,000 migrant children are reportedly now in custody at the southern border, according to CBS News. These children came as unaccompanied minors, and the Biden administration has decided that they will not be deported as single adults and most families are. Instead, the administration aims to place them with family members already in the U.S. or other caretakers within 72 hours. But Axios reported that over 800 have been held for more than 10 days, while thousands more have been detained for more than five days.
Representative Henry Cuellar, a Texas Democrat, shared photos from inside a temporary overflow facility in Texas with Axios, showing crowded facilities with migrants sleeping on mattresses on the floor. They were separated into areas by clear plastic walls and had silver emergency blankets to cover themselves. Cuellar described the situation as "terrible conditions for the children."
"We have to stop kids and families from making the dangerous trek across Mexico to come to the United States. We have to work with Mexico and Central American countries to have them apply for asylum in their countries," the Democratic congressman told Axios.
The White House has faced substantial criticism from Republicans, who argue that Biden's policy changes have incentivized a surge in migrants. Meanwhile, some Democrats have criticized the administration's approach as well, with many raising concern about the conditions in which unaccompanied minors are detained. Biden defenders point out that the number of migrants coming to the border had already been growing for several months, while noting that surges have been routine for many years.
"We have a short-term plan, a medium-term plan and a long-term plan, and the president and I have spoken to this repeatedly. Please remember something, that President Trump dismantled the orderly, humane and efficient way of allowing children to make their claims under United States law in their home countries," Secretary of Homeland Security Alejandro Mayorkas said during a Sunday morning interview with NBC News' Meet the Press, defending the new administration's policy changes.
"He dismantled the Central American Minors program, so we are rebuilding those orderly and safe processes as quickly as possible," Mayorkas said.
Newsweek reached out to the White House for comment but did not immediately receive a response.