Senator Rob Portman, an Ohio Republican, said that he would "probably" support sending some $4 billion in aid to Central American countries in a bid to address the root causes of migration to the U.S.
President Joe Biden has called for sending $4 billion over four years to Central American nations—where most migrants coming to the U.S. border hail from—in a bid to curb poverty, corruption and violence there. The bulk of undocumented migrants arriving at the southern border with Mexico travel up from Guatemala, El Salvador and Honduras, all of which have high crime rates and high levels of poverty.
In addition to addressing these root causes of migration, the funds would go toward setting up centers throughout the region that could be used to apply for refugee resettlement in the U.S.
During a Sunday interview with CBS News' Face the Nation, Portman, a ranking member of the Senate Homeland Security and Governmental Affairs Committee, said $4 billion was "probably" a reasonable number.
"We've spent $3.6 billion, so roughly that amount, in the last five years in those three countries in the Northern Triangle, alone, so El Salvador, Guatemala, Honduras. There's a lot of corruption down there. They've also had issues and natural disasters, including the hurricanes. So it hasn't made much of a difference in terms of the poverty rates. It's a little better. And of course, we should work on that," Portman said.
The Republican lawmaker said that analysts expect it will take "many years" or even a "decade" to adequately address the underlying issues spurring migrants to make the dangerous journey north.
"So let's begin the process. But let's be sure we do two things. One, let's tie that aid to them helping us in terms of the asylum process and working through this issue that otherwise overwhelms our system. And second, let's tie the aid to actually dealing with the corruption and make sure that there is transparency, there is an adherence to the rule of law," he said.
Biden has received significant criticism—particularly from GOP lawmakers—over his administration's response to the growing surge of migrants coming to the border. The administration and its defenders have pushed back against the concerns, pointing out that surges have been common for many years, noting the high numbers that flocked to the border in 2019 under former President Donald Trump.
Secretary of Homeland Security Alejando Mayorkas in a Sunday interview with NBC News' Meet the Press argued that the administration is working to rebuild a migration system "dismantled" by the previous White House. Trump's immigration policies were condemned nationally and internationally, particularly his administration's family separation policy. Hundreds of migrant children remain separated to this day due to that hardline plan.
"Please remember something, that President Trump dismantled the orderly, humane and efficient way of allowing children to make their claims under United States law in their home countries," Mayorkas said.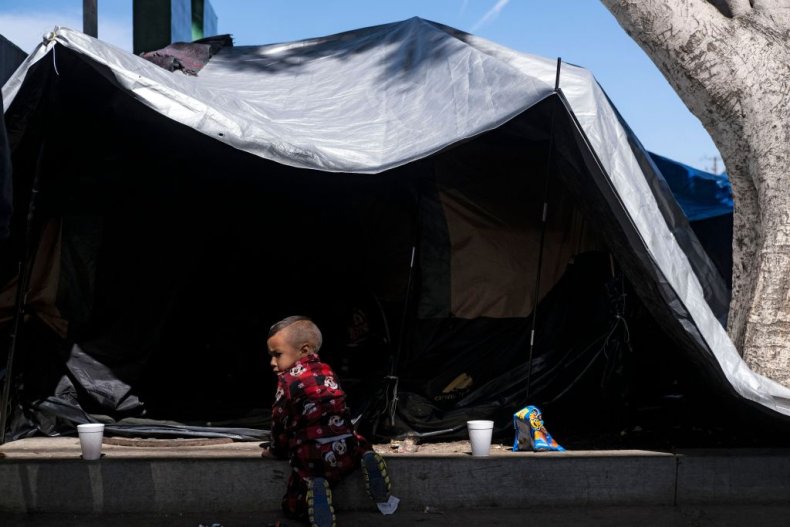 The Biden official explained that most of the newly arriving migrants are being expelled from the country, while unaccompanied minors are being allowed to remain. These children are temporarily held in detention centers before they can be transferred to family members or other caretakers residing in the U.S. Biden last weekend deployed the Federal Emergency Management Agency (FEMA) to help address the issues associated with the growing number of unaccompanied minors.
Newsweek reached out to Portman's office for further comment, but did not immediately receive a response.