Eric Trump Complains That 'Every Family in Politics Enriches Themselves,' Saying 'It Is Sickening'
President Donald Trump's son Eric Trump complained about families involved with politics enriching themselves, saying "it is sickening."
"It can't happen in politics on any side of the aisle," Trump, who is a vice president of his father's company the Trump Organization, lamented in an interview with Fox News host Jeanine Pirro on Saturday evening.
During the interview, Trump and Pirro complained about former Vice President Joe Biden's son Hunter Biden serving on the boards of numerous companies and international organizations.
The president's son argued that he'd "be in jail" if he was behaving in the same manner as Biden's son. "Why is it that every family in politics enriches themselves?" Trump asked. "It is sickening."
Newsweek subscription offers >
Critics of the Trump family would find the president's son accusations quite bizarre, as the family has widely been seen to use the White House as a way of enriching themselves. Donald Trump, going against long-standing precedent, refused to step aside as the sole-owner of his family-run business when he took office. The president delegated day-to-day management responsibilities to his sons, and has insisted that he's not involved with decision making.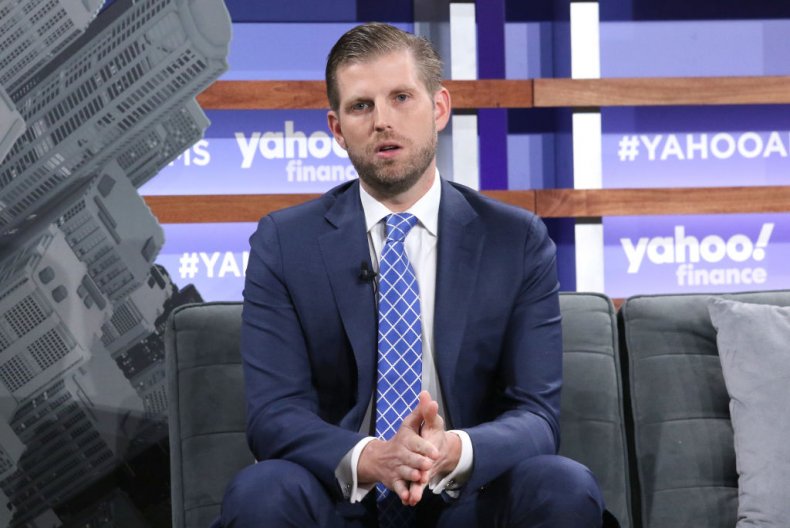 But the president and his family have been accused by ethics experts and legal scholars of violating the Constitution's emoluments clauses, which prohibit the president from using his office for self-enrichment. Foreign governments, such as Saudi Arabia, have spent large amounts of money booking hotel rooms at the president's hotels. Several embassies have also shifted their annual parties to be held at Trump International Hotel in Washington, D.C. since he took office.
The Trump administration announced last week that it would host the annual G-7 Summit at the president's Doral golf resort in Florida. Ethics experts and many lawmakers slammed the decision, forcing the administration to backtrack.
"Based on both Media & Democrat Crazed and Irrational Hostility, we will no longer consider Trump National Doral, Miami, as the Host Site for the G-7 in 2020," Donald Trump tweeted. The president said officials "will begin the search for another site, including the possibility of Camp David, immediately."
Although the Trump Organization has insisted that it will not launch any new foreign business ventures while Donald Trump serves as president, that hasn't prevented the company from moving forward with multiple overseas projects that began while he was a candidate. Ivanka Trump, the president's daughter who serves as a White House adviser, has also seen numerous new trademarks approved by the Chinese government as her father remains embroiled in a trade war with the country.
Eric Trump Complains That 'Every Family in Politics Enriches Themselves,' Saying 'It Is Sickening' | U.S.