Erica Garner Died Before a Single NYPD Officer Received the Training That Could Have Saved Her Father's Life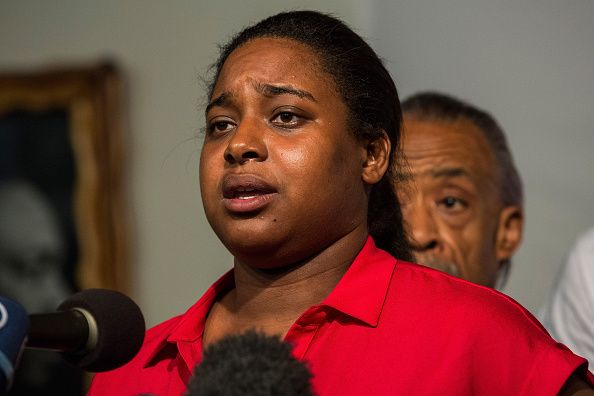 Erica Garner, the daughter of Eric Garner and police brutality activist, died in Brooklyn, New York, on Saturday.
Garner, 27, had been fighting for her life after she slipped into a coma due to lack of oxygen from a massive heart attack last Saturday, the New York Daily News reported.
"She was a warrior, she was a fighter and we didn't pull the plug on her," Garner's mother, Esaw Snipes, told the New York Daily News. "She left on her own terms."
It was announced on Thursday that Garner was brain-dead with no chance of recovery.
A person who was identified as a co-worker kept Garner's Twitter and her followers updated with developments of her health. On Saturday, the co-worker announced the activist had died.
"Erica the world loves you. I love you. I am glad you came into our lives. May you find the peace in the next life that you deserved while you were here. I will always love you my sister. Love you," the tweet read.
Garner had her first attack back in August after the delivery of her son, Eric, who is named after her father. The doctors said this was because the delivery cause stressed on her enlarged heart. Like her father, Garner suffered from Asthma, which triggered the second heart attack, according to relatives.
The civil rights leader spurred into activism after her father was killed by New York Police Officer Daniel Pantaleo, who killed her father in July 2014 using a chokehold. Eric Garner's pleas of "I can't breathe!" sparked outrage and helped begin the Black Lives Matter movement. The technique has been banned from the department since November 1993.
Three years have passed since the NYPD announced they would train officers on the force against implicit bias, but training has still not begun. New York City Mayor Bill De Blasio announced in 2014 that a significant portion of the police department would be retrained after Panatelo was not indicted for the death of Eric Garner, but no officer received any formal training.
Jaclyn Rothenberg, a spokeswoman for de Blasio, previously told Newsweek that the department had attempted to start training much earlier, but "unfortunately, it's taken us longer than we hoped."
"[W]e're confident the training will start in-full in the coming months," she said.