Texas Lieutenant Governor Dan Patrick has paid the fine of a jailed salon owner who was jailed for continuing to operate in violation of Texas Governor Greg Abbott's stay-at-home order intended to contain the spread of COVID-19, while also offering to go under "house arrest" in her stead so she can be freed in time for Mother's Day.
A spokesman for Patrick confirmed that the lieutenant governor paid the fine of Salon Á La Mode owner Shelly Luther, a spokesperson for Patrick confirmed to Newsweek. Shelly was sentenced to seven days in jail and a $7,000 fine on Tuesday. She was also issued an additional $500 fine for every day the salon remains in business until May 8, when businesses like salons are officially allowed to resume operations due to new orders issued by Abbott after he ended stay-at-home restrictions on April 30.
"7 days in jail, no bail and a $7K fine is outrageous," Patrick tweeted on Wednesday. "No surprise Texans are responding. I'm covering the $7K fine she had to pay and I volunteer to be placed under House Arrest so she can go to work and feed her kids."
Luther's case has attracted the attention of many conservatives in the state and elsewhere, some of whom gathered outside the Dallas County Courthouse in protest of what they believe is an injustice on Wednesday morning.
It seems unlikely that Luther will be in immediate financial trouble soon, after having received nearly $500,000 in donations as of Wednesday night from a GoFundMe campaign that describes the salon owner as an "American Hero" who decided to "resist tyranny" by ignoring the public health restriction.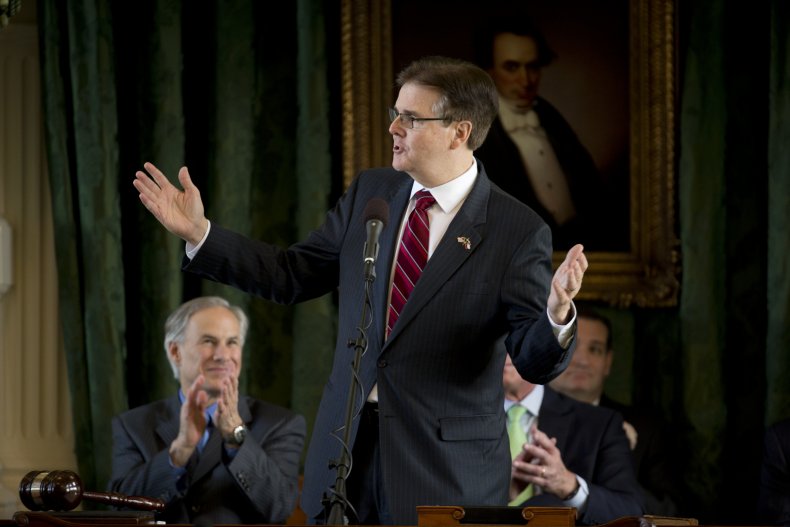 Patrick's $7,000 to cover Luther's fine was payed into the GoFundMe account, the lieutenant governor's spokesperson confirmed.The campaign's original goal was $250,000, which was quickly exceeded. The money is said to "go directly to Shelley Luther."
When Judge Eric Moyé sentenced Luther on Tuesday, he gave her an opportunity to avoid jail by apologizing for her "selfish" actions. However, the salon owner refused, claiming children would go without food if she followed the law.
"I have to disagree with you, sir, when you say I'm selfish, because feeding my kids is not selfish," Luther said at the hearing, "I have hairstylists that are going hungry because they'd rather feed their kids. So, sir if you think the law is more important than kids being fed, then go ahead with your decision, because I'm not going to shut the salon."
Patrick is not the only public official in Texas to publicly take up the popular cause. Texas Attorney General Ken Paxton demanded that Shelley's sentence be commuted as he condemned Moyé's "outrageous" decision in a letter sent to the judge on Wednesday.
"The trial judge did not need to lock up Shelley Luther," Paxton wrote to Moyé. "His order is a shameful abuse of judicial discretion, which seems like another political stunt in Dallas. He should release Ms. Luther immediately."
Update, 5/7 4:09 p.m.: This article has been updated to provide clarification from a spokesperson for Patrick.