Ethan Hawke Reveals 'Moon Knight' Inverts Hero and Villain Roles
In books and movies, villains are often presented as mentally unstable, but the concept of the crazy, evil genius has been cleverly turned on its head in Moon Knight, which explores mental illness through the experiences of the hero.
The Disney+ series, which stars Oscar Isaac, is set for release next month and it offers a nuanced exploration of mental health and what happens when the hero is the unstable one in the classic battle of good versus evil.
Isaac stars as the protagonist, Marc Spector, who juggles multiple personalities (one of which is Englishman Steven Grant—complete with a questionable accent) because he lives with a debilitating form of dissociative identity disorder.
The villain, Dr. Arthur Harrow, is a religious zealot played by Ethan Hawke.
"The history of movies are paved with storytellers using mental illness as a building block for the villain," Hawke told Newsweek and other reporters. "I mean, there's countless stories of mentally ill villains, and we have a mentally ill hero."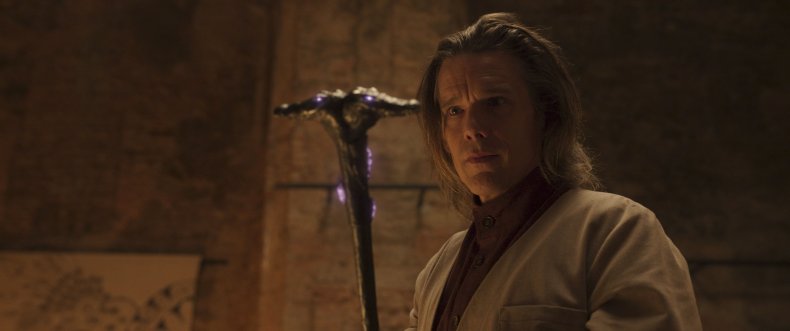 Hawke described this as "fascinating" because "we've now inverted the whole process."
He continued: "So now as the antagonist, I can't be crazy because the hero's crazy. So I have to kind of find a sane lunatic or a sane malevolent force."
The Before Sunrise star revealed that this inversion of the usual hero and villain status quo was something of a puzzle for him to figure out.
"That was an interesting riddle for me to figure out how to be in dynamics with what Oscar was doing," he said.
"And Mohamed Diab [screenwriter] was really embracing his mental illness as a way to create an unreliable narrator. And once you've broken the prism of reality, everything that the audience is seeing is from a skewed point of view," he said.
Hawke continued: "That's really interesting for the villain because am I even being seen as I am? And it's also...I think that was our riddle, and we came up with somebody who was trying to save the world. And in his mind, he's Saint Harrow, you know? I mean, he thinks he's gonna be part of the great solution."
Isaac opened up about his English accent in the show and his process of getting into the character of Steven Grant and revealed that a very unlikely comedian was his inspiration—Karl Pilkington.
"And there's just so much of that humor that I just find so funny, and I thought there's an opportunity here to maybe make something," Isaac explained. "What if we make him English? What if Peter Sellers was approached with a Marvel project, what would he do? And so I started thinking about that, and that led me to Karl Pilkington from An Idiot Abroad."
Moon Knight will begin streaming on Disney+ on March 30.