Etsy Sellers Say Strike Is About 'Free Speech' as Platform Faces Boycott
Thousands of Etsy sellers are on strike this week after the online marketplace moved to raise the fees it charges from each transaction, prompting sellers to protest the lack of fair communication and representation.
Etsy, the niche online marketplace known for its focus on handmade goods sold by creators and artists, announced that it increased the fee it takes from sellers on each transaction from 5 percent to 6.5 percent, effective on Monday.
A petition was created to cancel the fee, saying that "Etsy fees are an unpredictable expense that can take more than 20% of each transaction." The petition has over 54,000 signatures as of April 11, the same day that the strike began.
Mattie Boyd, one of the organizers and participants of the strike, told Newsweek, "We're paying more, and we're not getting what we feel like we deserve."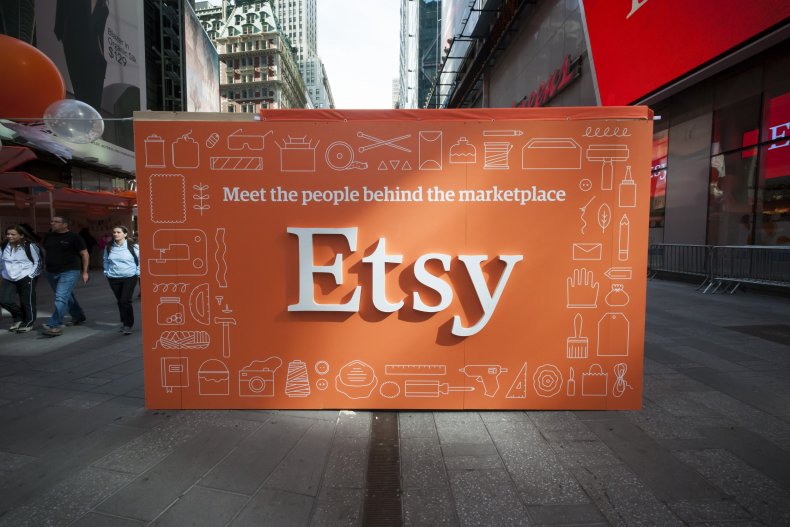 Boyd began their Etsy shop in 2019 selling self-designed and graphic T-shirts, making it their full-time job in 2020. Because of the increased fees, Boyd said, "I'm at a point now where I'm going to have to figure out whether I can, you know, make it work on Etsy [or] maybe get on some other platforms in addition, or put more into my own website or whatever."
"It's not for lack of money," Boyd added, "it's for lack of, I don't know, representation or lack of fairness. And that's something that I feel like we can do something about. I'm really reluctant to leave, but something does have to change. And that's what this strike is aimed at."
Long-time Etsy crafters Geoffrey and Valerie Franklin said that the increased fees hurt more than just the seller.
"It's just making the goods more expensive for the buyers, the customers, in an unfair way, and it's making our own goods less competitive with anyone doing something similar because we have to cover our costs," Valerie told Newsweek.
In addition to ending the raised fees, the petition asks that Etsy turns off its offsite ads, which Valerie said are now competing with their individual website.
"We have no ability to opt out of them," Valerie said. "So we're paying for ads that compete with us."
"We kind of felt like this was taking away our free speech," Valerie said. "Our stuff was being advertised on Facebook, we don't want it to be, but there's nothing we can do about it."
In 2020, big brands like Ford, Adidas and Best Buy temporarily suspended spending on advertisements on Facebook through a major boycott. The boycott prompted other social media sites to pause paid advertising as well.
Another major issue with the site, the sellers said, was its goal to evolve into an Amazon competitor.
"Etsy, or the corporate structure at Etsy, seems really kind of hell-bent on turning Etsy into an Amazon where there's not really any assurance of handmade or quality or anything like that," Boyd said. "Anybody can come in and sell basically whatever they want."
Boyd said that there is an increase of "resellers or drop shippers coming onto the platform and posing as a small handmade business when in reality, when you place an order from them, they are placing an order from you know, Alibaba or some offshore sweatshop factory."
Beyond the demands stated in the petition, Boyd said that they hope in the future, the petition and the strike can win small sellers on Etsy "a seat at the table" to be heard.
"I think we can make these places better and fairer places to do business through collective action like this," they said.
Raina Moskowitz, Etsy's chief operating officer, told Newsweek, "Our sellers' success is a top priority for Etsy. We are always receptive to seller feedback and, in fact, the new fee structure will enable us to increase our investments in areas outlined in the petition, including marketing, customer support, and removing listings that don't meet our policies. We are committed to providing great value for our 5.3 million sellers so they are able to grow their businesses while keeping Etsy a beloved, trusted, and thriving marketplace."