The Facebook advertising boycott has expanded to include more big-brands this week, with carmaker Ford, clothing giant Adidas, tech firm HP and U.S. retailer Best Buy each temporarily pausing spending on the social network.
While social media experts remain uncertain of the long-term damage of the ongoing campaign, one industry consultant told Newsweek it may "tarnish" the brand.
There are now over 200 companies involved in the "Stop Hate for Profit" campaign that calls on businesses to limit advertising on the Mark Zuckerberg-led platform due to its allegedly lax policies on hate speech, extremism and misinformation.
On a daily basis, more businesses announce measures to review deals in place on Facebook and Instagram, with Twitter also being caught in the crossfire.
This is despite attempts to calm the rising exodus by Zuckerberg last Friday, when he defended the website's abilities to catch hate speech but conceded it would now flag and label "newsworthy" posts that are found to break the rules.
The graphic below, provided by Statista, shows the scope of the Stop Hate for Profit advertising boycott on Facebook so far, based on the biggest spenders from 2018.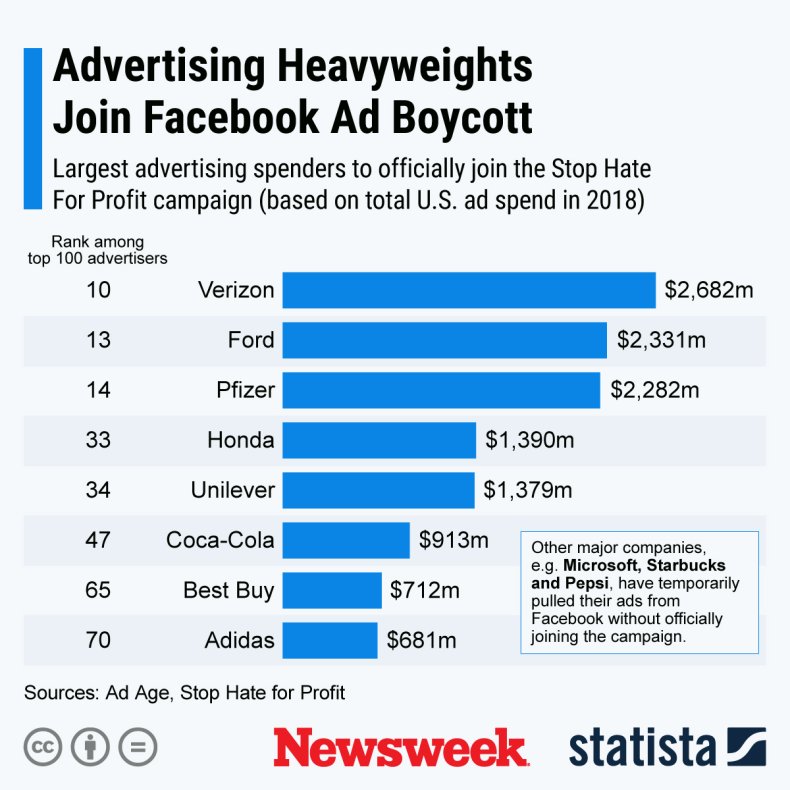 In a statement Monday, a Ford spokesperson said it was pausing national social media ads for the next 30 days to "re-evaluate" its presence on these platforms.
"The existence of content that includes hate speech, violence and racial injustice on social platforms needs to be eradicated," it said.
According to AdAge, citing analytics firm Pathmatics, Ford spent $57,000 on advertising in the past 30 days on Facebook, rising to roughly $2.9 million year to date.
Clothing giant Adidas said it and Reebok were pausing ads on Facebook and Instagram in July, noting it will use the time to "develop criteria to hold ourselves and every one of our partners accountable for creating and maintaining safe environments."
A Best Buy spokesperson told CNBC it will pause Facebook and Instagram ads through July, while HP said it's slashing U.S. Facebook ads until safeguards are in place.
On Monday, additional firms to get involved included fast food chain Denny's, clothing firm Puma, crowdfunding service Patreon and cleaning supply firm Clorox. They joined heavy-hitters such as Unilever, Verizon, Starbucks, Coca-Cola and Diageo.
Despite halting advertising and reviewing business deals, not every company has come out in explicit support of the official "Stop Hate for Profit" movement.
Axois reported that Microsoft paused its U.S. ad spend on Facebook and Instagram in May over concerns about where its ads was being shown on the website.
The tech firm's move came prior to the "Stop Hate for Profit" campaign, which started gaining traction amid the global anti-racism and Black Lives Matter protests, sparked by the killing of George Floyd by police in Minneapolis on May 25.
Facebook was widely criticized after declining to remove a post by president Trump that included the apparent threat "when the looting starts, the shooting starts."
In response, civil rights organizations appealed for businesses to hit Facebook where it hurts—the bottom line. Ads are the main money-maker for Facebook, accounting for roughly 98 percent of its $70 billion annual revenue, The Guardian reported.
Experts are mixed on whether "Stop Hate for Profit" will ultimately result in any lasting consequences for the biggest social networking company in the world.
Drew Benvie, social media lecturer, researcher and founder of consulting firm Battenhall, told Newsweek the boycott could "absolutely tarnish the Facebook brand, both in the public eye and financially," citing monetary damages already being felt.
As reported, Facebook's market value plunged by more than $50 billion last Friday as big brands announced plans to temporarily abandon the ad platform. Share prices dropped by about eight percent, negatively impacting Zuckerberg's net worth.
"The bigger picture is when the impact goes global," Benvie told Newsweek. "Facebook should see what's happening now as the tip of the iceberg, and take action fast. Consequences for Facebook should this boycott gather support globally will be more than just lost ad revenue, as social media users look for safer environments.
"The organizers of the boycott are asking for Facebook to take a stronger stance against content that causes radicalization or hate and for Facebook to implement 'common-sense changes to their policies that will help stem radicalization and hate on the platform.' This is not an unreasonable set of recommendations."
Mike Clauser, head of practice, data policy and trust at consultancy Access Partnership, said Facebook initially took a "principled stand in favor of free speech."
But he told Newsweek Zuckerberg's decision to reverse course on the labeling policy after the platform was threatened by the boycott "should remind everyone that social media networks are private property owned by profit-seeking corporations."
"Facebook knows that if they bend to... pressure campaigns from activist groups to limit speech, they will make the platform unwelcome to some users," he said.
"Consumers always vote with their feet. Data portability rules make that easier than ever. Most users don't perceive a change. Others will be directly affected. And those advocating for the change will never be happy and will want more."
Still, not everyone believes the ad boycott will inevitably hurt Facebook in the long-run, with social media industry commentator Matt Navarra previously telling Newsweek that the ongoing campaign is similar to the one against YouTube back in 2017.
At the time, the Google-owned video platform came under fire by companies after their ads were placed beside racist and homophobic content, The Verge reported.
Navarra said: "Advertisers smell blood in the water, and are going in for the kill right now. However, Facebook will likely only suffer superficial wounds and public shaming in the longer term. Facebook is the world's best targeted ad platform. Advertisers will miss using it long before Facebook feels any real pain."
In a statement to TechCrunch, Facebook said it invests billions of dollars every year to keep users safe. It said it would open itself up to a "civil rights audit" and has banned over 200 white supremacist organizations from Facebook and Instagram.
"I'm committed to making sure Facebook remains a place where people can use their voice to discuss important issues," Zuckerberg wrote last Friday. "But I also stand against hate, or anything that incites violence or suppresses voting, and we're committed to removing that no matter where it comes from."