EU Lawmaker in Taiwan Takes Aim at Xi Jinping's Attack 'Clowns'
A Lithuanian lawmaker pushed back against Chinese state media criticism this week after European delegates visiting Taiwan were likened to paid "political actors."
Lawmakers from the Baltic states of Lithuania, Latvia and Estonia met Taiwan's top leadership in Taipei on Monday as part of a week-long tour of the island. China's Foreign Ministry has led ongoing opposition to the visit, which it sees as elevating the status of Taiwan—a self-governing island claimed by the Chinese authorities.
None of the Baltic states has official diplomatic relations with Taipei, while all three have formal relations with the People's Republic of China in Beijing. The democratic countries say they have connected through universal values and shared opposition to authoritarianism.
After Taiwan's President Tsai Ing-wen tweeted a photo with the visiting delegation on Tuesday, it was seized upon by Hu Xijin, chief editor of the Chinese Communist Party-owned tabloid The Global Times.
"How much did you spend to invite these low-end European political actors? Poor Taiwan," Hu wrote. "Not sure if these people would buy some unsalable pineapples of the island with the money paid by Tsai," he said, referencing the Chinese government's March fruit ban over the alleged discovery of pests. Taiwan's immediate neighbor Japan was among the countries that bought up the excess pineapple supply within days.
"Xi is sending his clowns to attack us," said Matas Maldeikis, one of 10 European lawmakers, who replied to Hu with a clown face emoji on Tuesday. "We should call China 'The People's Republic of Comedy.'"
Maldeikis doubled down on his support for the island the next day, posing for a selfie with a locally produced pineapple. "The Editor of [The Global Times] says Lithuanians don't want Taiwan's pineapples. Fake news! I am Lithuanian, I am in Taiwan and I want a pineapple," he wrote.
The visiting Baltic delegation arrived on Sunday, shortly after the departure of a bipartisan group of U.S. lawmakers who also met with Taiwan's leadership despite Chinese protests. The European group will be among visiting officials scheduled to take part in the 2021 Open Parliament Forum on December 2 and 3.
Lithuania lawmaker Dovilė Šakalienė, who was sanctioned by China in March, is also among those in Taipei. She and others met Taiwan's recently blacklisted parliament speaker You Si-kun on Wednesday.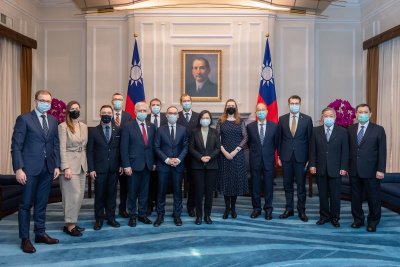 The ongoing spat between Beijing and Vilnius began this summer after the Lithuanian government announced the planned opening of a Taiwanese Representative Office in its capital. The unofficial mission is aimed at forging closer economic and cultural ties with Taiwan, but China protested the decision to allow the use of "Taiwan" in its name.
In August, the Chinese government withdrew its ambassador from Vilnius and expelled his Lithuanian counterpart in Beijing, Diana Mickevičienė. Last week, China downgraded its diplomatic representation in Lithuania following the official opening of Taiwan's de facto embassy in Vilnius.
China's criticism of Lithuania continued at the Foreign Ministry level on Monday and Tuesday. Observers say Beijing fears a snowball effect in Central and Eastern Europe, where China-skeptic capitals like Prague and Warsaw may grow closer to Taipei.
The Global Times on Monday said Lithuania would "pay a price" for its newfound friendship with Taiwan. More political and economic coercion is likely as China attempts to head off what it sees as a dangerous precedent.
Lithuania is set to open its own representative office in Taipei early next year.