'Euphoria' Season 2, Episode 7 Recap: Welcome to Lexi's World
It's Lexi's world and we are all living in it in Episode 7 of Euphoria Season 2. The opening night of Lexi's (played by Maude Apatow) play is finally here and if you did not think Season 2 was dramatic enough, grab your popcorn and settle down because Episode 7 will have you feeling all kinds of emotions. It's so complicated and good, you might want to watch it twice.
Episode 7 cleverly, if a little dizzyingly, flashes between the play, real-life moments that happened off stage in the present and in the past, and the audience's reaction to what they are watching. In one of those present-day moments, Fez (Angus Cloud) is preparing to head out to Lexi's play (wearing a suit with roses in hand) but doesn't quite make it. Well, as far as we know…
Newsweek has a full recap of Euphoria Season 2, Episode 7 (AKA Lexi's Episode) below.
'Euphoria' Season 2, Episode 7 Recap
Lexi
OK, so this isn't a performance of Oklahoma! at all. This is the story of Lexi Howard and her life.
Lexi's play begins by throwing some shade at her sister Cassie, pointing out their differences while also admitting how much she wanted to be just like her as a kid. The actress who plays Cassie on stage is hilarious and has got her impression down to a T.
As Cassie (Sydney Sweeney) looks on from the audience with tears in her eyes, the scene switches to the real-life conversations between Lexi and her older, "more attractive" sister.
Through Lexi's eyes, audiences learn their relationship changed after their dad left and Cassie became friends with Maddy (Alexa Demie). Their father's absence may also explain why Cassie needs validation from men, even if they treat her terribly.
One thing is clear: Lexi became sidelined as she and her sister hit their teens and, as a result, she tried to hold onto her friendship with Rue (Zendaya), which was slowly falling apart.
Rue
As Rue watches from the audience, she can't take her eyes off Jules (Hunter Schafer), who also keeps turning around to try to catch Rue staring. The pair haven't spoken since Jules attempted to stage an intervention, apart from an awkward encounter where Rue muttered a half-hearted "'sup?"
In her play, Lexi recalls the moment she walked in on Rue doing drugs after her father's funeral and the fragmentation of their friendship that resulted. The episode then shifts from Lexi's stage to show the real-life moment between the pair in Rue's bedroom that day, with Rue passed out on the bed and Lexi trying to recite a comforting poem.
In the present day and away from Lexi's play, Rue is hanging at home with her mom Leslie (Nika King), who blurts out her fear that Rue will end her own life. She also makes the heartbreaking admission that if she had to save one of her daughters, she would save Gia (Storm Reid)—a choice that Rue supports.
In the emotional scene, Leslie reveals that Gia has been struggling at school—skipping classes and landing in detention. Leslie also shares her concerns for Gia's mental and physical health in an angry response to Rue claiming her sister was "just fine."
The only good thing to take away from Rue's situation in Episode 7 is that she seemed genuinely healthy and happy, for the first time in a while. Let's hope it lasts.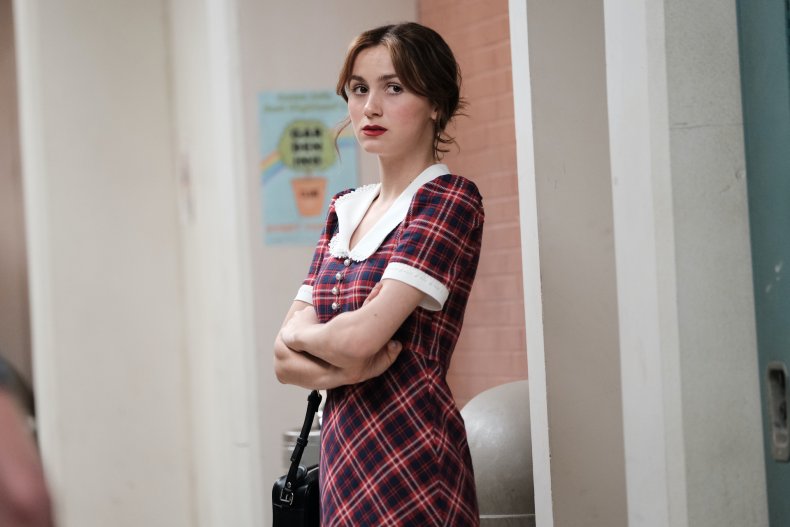 Fez
Away from Lexi's play, one of the big storylines to play out in real time is about Fez.
For weeks, Euphoria fans have been rooting for Fez and Lexi to get together and after the emotional "Stand By Me" singalong in Episode 6, things looked set to take a romantic turn.
In Episode 7, Fez is getting ready to go to Lexi's play. Dressed in a suit and carrying a bunch of roses, he asks Faye (Chloe Cherry) whether he should wear a tie or not. Things look so very wholesome, but Ash (Javon "Wanna" Walton) can sense something is off when Faye's on-off boyfriend Custer (Tyler Chase) shows up.
Moments before Fez calls Chloe into his bedroom to talk ties, Custer—who is cooperating with the police in the investigation into Mouse's (Meeko Gattuso) disappearance—arrives. It looks like he has placed his phone so he can record his conversations with Fez and Ash, especially after he encouraged Faye to "remain calm" and pushed her to bring Fez back into the living room.
Armed with a knife, Ash sits opposite Custer. He knows something is up and Fez, who is about to head out the door, can sense it too. Unfortunately, that's all the screen time Fez gets in Episode 7.
It looks like Fez did not make it to Lexi's play, but here's hoping that's not because the police have closed in on him.
As long as Ash does not use that knife, hopefully, things will be OK.
Cassie and Maddy
The next scene of Lexi's play explores the friendship between Maddy and Cassie and how the pair were once inseparable, flashing to a teary-eyed Maddy and Cassie in the crowd.
Finally, the moment Euphoria fans have been waiting for plays out on screen. Lexi's play suddenly cuts to the aftermath of Maddy finding out (thanks to Rue) about Cassie and Nate's secret relationship.
The last time we saw Maddy and Cassie together was Cassie, dressed in a baby pink hoodie, running up the stairs while Maddy chased her. It turns out Cassie locked herself in her own bathroom, with Maddy banging at the door, shouting at her to come out. You may have noticed it's the same scene of Maddy knocking on the bathroom door after Cassie slept with Nate at new year.
Unfortunately, the scene ends before Cassie comes out of the bathroom but on the other side of the door, Maddy breaks down in the arms of Kat (Barbie Ferreira), crying out in disbelief that her best friend would do that after all Nate had put her through.
Also in the present day—and sure to be explored further in next week's finale—Maddy receives an unexpected gift from her employer Samantha (Minka Kelly). In the bag is the purple dress that Samantha wore in Episode 1 of Season 2, the dress Maddy helped her take off. What sort of game is Samantha playing here or is she just trying to be nice?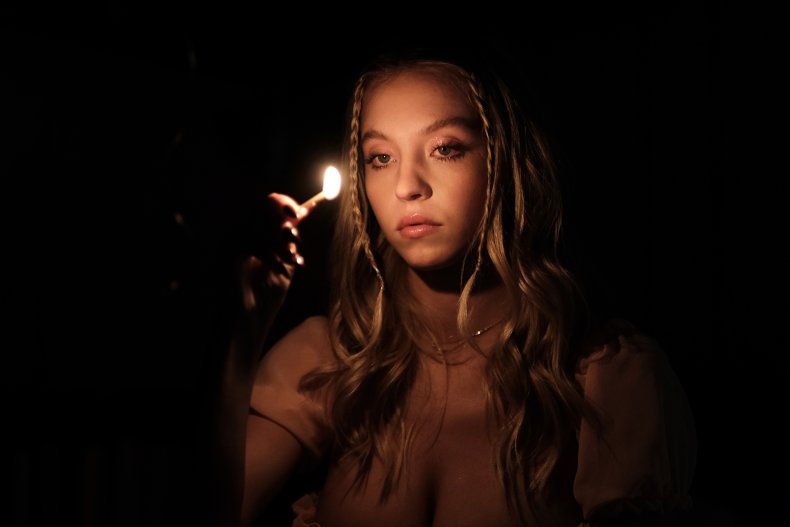 Nate
So, Nate (Jacob Elordi) and Cassie are together but if Episode 7 of Euphoria makes one thing clear, it is that Nate has absolutely no idea who he wants to be with. He has Cassie dressed in Maddy outfits, with Jules-style make-up and a little bit of Cassie shining through. This hot mess becomes all too apparent via Nate's nightmare, which includes visions of hugging Jules and his future with Cassie, flashbacks to his relationship with Maddy, Jules and his father's sexual encounter, and even having sex with his own father. Talk about Nate's head being totally messed up.
So far in the play, Nate has come off mostly unscathed, but that changes in the final moments of the episode. Lexi has staged a locker-room scene where a character who is most definitely inspired by him is working out before football practice. Next comes a homoerotic performance by the all-male football team to Bonnie Tyler's "Holding out for a Hero."
In the audience, Nate clenches his fist (a nod to his sexual frustration and the toxic masculinity he has struggled with) and Cassie attempts to calm him down. In the end, he storms out of the theater. Cassie runs after him, shouting that she did not know about the content of Lexi's play. Nate does not believe her for one second. "She's your sister," he cries furiously, telling her to move out of his home and that they are "over."
Episode 7 ends on a frustrating cliffhanger with a furious Cassie staring into the theater. As the screen fades to black, the words "To be continued" appear. Is Fez OK? What will Cassie do next? Where is Nate? All will be revealed in next week's finale.
The Euphoria Season 2 finale airs Sunday, February 27, on HBO Max.