'Euphoria' Season 2, Episode 8 Recap: Who Lived, Who Died and Who Barely Survived
The curtain has closed on Lexi's (played by Maude Apatow) play and for Euphoria Season 2. For the past eight episodes, audiences have watched on as Rue (Zendaya) continued to struggle with addiction, the Jacobs family fell apart, romance blossomed between Fez (Angus Cloud) and Lexi while Cassie (Sydney Sweeney) and Nate betrayed Maddy (Alexa Demie), the one person who really loved them.
The ramifications of Lexi's hard-hitting, truth-telling play are well and truly felt in the finale, with things picking up exactly where they left off in the gripping penultimate episode. Newsweek has everything you need to know about the finale of Euphoria Season 2, including who lived, who died, and who barely survived.
Euphoria Season 2, Episode 8 Recap
He's Just A Kid! Don't Shoot!
Thankfully, Euphoria Season 2, Episode 8 wasted no time in addressing the tension between Fez, Ashtray (Javon Walton), and Faye's (Chloe Cherry) boyfriend Custer (Tyler Chase) in Fez's home.
Moments before Fez was about to head out to Lexi's play in Episode 7, Fez realized something was not quite right with Custer. Audiences watching knew Custer was working with the police, and it looked like Ash and Fez may have finally clocked on.
Thankfully, Faye remained loyal to Fez and Ash despite fan speculation she would side with Custer and ultimately turn in Fez and Ash to the cops. She tried to salvage the situation by framing drug lord Laurie (Martha Kelly) for Mouse's murder, accusing Custer of working for her.
However, it was too late and within seconds, Ash, armed with a knife stabbed Custer in the neck. Quick to realize Custer had been recording the entire conversation via his phone on the table, Fez put his hand over Custer's mouth to silence his screams as he died on the couch.
As Fez processed what just happened in his own living room, his mind raced through all his sweet and innocent conversations with Lexi, about the futures they had planned. For Fez, it was three kids and a farm and for Lexi, it was all about balancing her career and being a mom.
Willing to turn his back on his future, Fez told Ash he would take the fall for Custer's death and begged Ash to take his stuff and run.
However, Ash refused and in fight-or-flight mode opted to arm himself with numerous weapons and lock himself in the bathroom, just moments before the armed police burst into the house.
Ash was not going down without a fight and a brutal shootout ensued between the police and Ash as Fez cried out: "He's just a kid, don't shoot!."
Despite putting up a good fight, Ash was killed by police and poor Fez, who had been injured by one of Ash's bullets, watched on.
Inevitably, Fez did not make it to Lexi's play and instead was led away in handcuffs alongside Faye. Unfortunately, this was the last audience saw of Fez in the season finale of Euphoria and so far, it seems like nobody else is aware of what went down at his home. Will Fez and Faye go to prison or will they frame Laurie instead? Expect to find out in Euphoria Season 3 in 2024.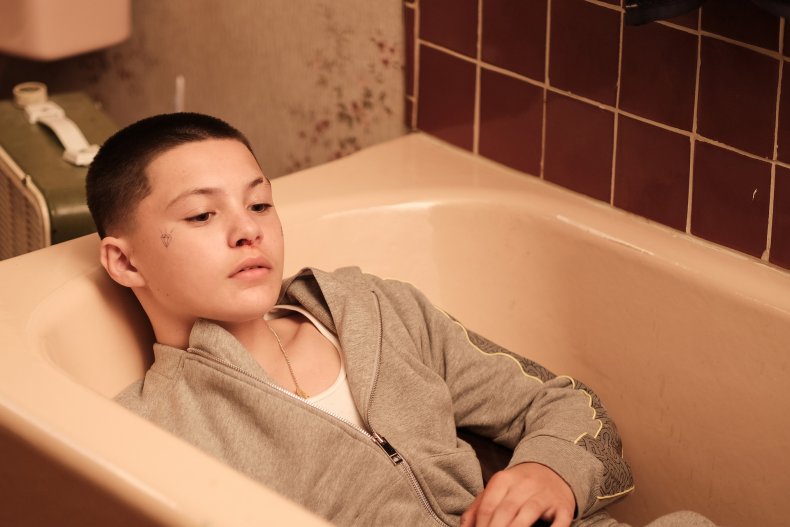 Cassie's Meltdown
Meanwhile, at Lexi's play, Cassie is furious at her sister's portrayal of her and her new boyfriend Nate on stage and ultimately, the consequences it has had on their relationship.
At the end of Episode 7, Nate walked out of the theater and broke up with Cassie, after a scene depicted Ethan (Austin Abrams) as Nate, taking part in a homoerotic performance to Bonnie Tyler's "Holding Out For A Hero."
Cassie returned to the auditorium and marched to the stage, disrupting the play to take aim at her sister. She slammed Lexi for "not living her life" and living in her "shadow." Cassie also admitted she was happy to play the villain in life and savagely accused Lexi of wanting to be the center of attention, not noticing that all (the wrong kind) of the attention was actually on her.
Cassie began to seriously spiral and asked: "Is this the part where I steal Jake from Marta," alluding to her relationship with Nate (Jake in the play), Martha's (Maddy) ex-boyfriend. However, that snippet of Cassie's life was not in the play at all, and she accidentally outed herself to the entire school.
Sitting in the audience was Maddy who decided now was her time to speak up. As Cassie lashed out on stage, Maddy decided to take matters into her own hands, leading to the moment Euphoria fans had been waiting for. Yes, Maddy really did slap Cassie, slam her into a wall, and break her own toe in the process.
In the bathroom after their fight, Cassie admitted Nate had broken up with her seconds before she went onto the stage, to which Maddy replied "Don't worry, this is just the beginning" freeing herself from Nate's grasp and Cassie's drama in the process.
Nate's Revenge
Now for a storyline in the finale nobody saw coming, the twisted and complicated Nate Jacobs got a redemption arc.
He paid his father Cal Jacobs (Eric Dane) a visit, who was living on his construction site's warehouse after walking out on his family. Armed with a gun, Nate walked in to see his father hanging out with a group of people, some younger, some older, and some of the same sex.
Nate told his father they have one thing in common and that was hurting other people, before telling Cal's guests he watched videos of his dad having sex with "hookers" when he was 11 years old. Nate did not stop there, he confessed to his father that ever since that night, he had nightmares of his father having sex with him.
"Did I ever tell you that Dad? I spent my entire life trying to protect you and instead of loving me, you hate me for it," Nate asserted.
Cal then tried to apologize to Nate, for everything wrong he had ever done but it was too late. Nate told Cal he did not want his apology, he wanted revenge and as he spoke, the blue lights of the police cars outside closed in on his father's building.
In his hand, Nate was holding a gun and a USB stick, containing all of the videos Cal ever recorded. As Cal begged for Nate to stop, Nate walked out and thanked the police officers as they arrested his father.
Rue's Alive
The good news is it looks like Rue's life is slowly getting back on track. She's still clean and is working through her big list of apologies in the season finale.
But first, she has two people to forgive and one person to thank.
She paid Elliot (Dominic Fike) a visit to let him know she had forgiven him for joining Jules (Hunter Schafer) for telling her mother she had been using again. "I think you may have accidentally saved my life," Rue admitted through tears.
Next, Rue headed for Lexi's home to thank her for including her story in her play, "I think your play was the first time I was able to look at my life and not hate myself," Rue admitted. Together, they then talked about grief, missing their father, and missing one another. Forget Rules and Fexi, Rexi is back on track.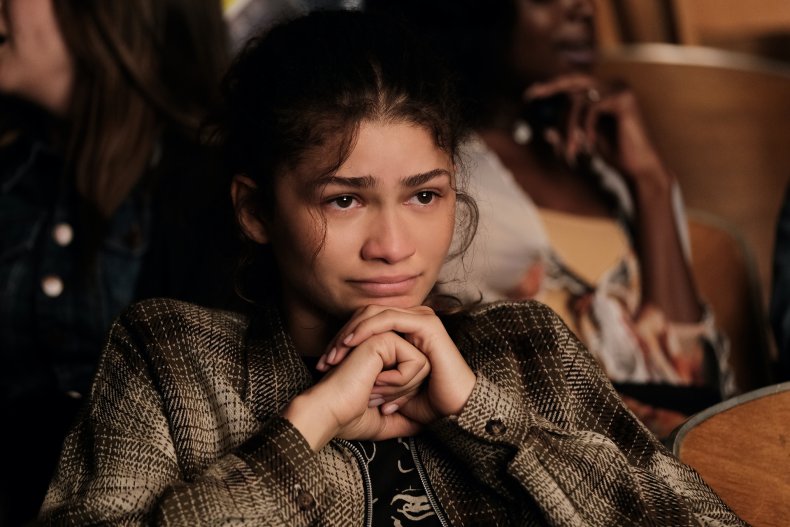 Finally, Rue had to face Jules after Jules approached her at the end of Lexi's play. Holding back tears, Jules told Rue she missed her and loved her but Rue remained silent. Instead, Rue kissed Jules on the forehead and walked out of the door, leaving Jules to break down in tears in the auditorium.
As Rue walked through the corridors of the school, she shared with audiences a little bit of what happened next and it seems, she stayed on her own path, without Jules, for a while.
"Jules was my first love and I like to remember it that way. I don't know if that's actually true though, I think I was high for too much of it, and I know it wasn't easy for her. I hope she forgives me," Rue narrated.
She continued as the episode came to a close: "I stayed clean for the rest of the school year. I wish I could say that was a decision I made. In some ways, it was just easier. I don't know if this feeling will last forever, but I am trying. I remember Ali (Colman Domingo) said 'the thought of being a good person keeps me trying to be a good person,' maybe there is something to that."
Thankfully, Euphoria Season 3 has already been given the green light so Rue's story, will continue.
Euphoria Season 1 and 2 are streaming on HBO Max now.