Euro Now Worth Same as U.S. Dollar, Hits Fresh 20-Year Low
The euro is now worth the same as the U.S. dollar as the currency used by many member states of the European Union (EU) hit a near 20-year low early on Tuesday morning.
The dollar and euro have reached parity over concerns that Russia could cut off gas supplies to the continent amid the ongoing war in Ukraine and severe sanctions imposed on President Vladimir Putin's government.
A loss of confidence by German investors also appears to be partly to blame for the decline in the euro on Tuesday as fears mount of a potential recession in the EU. Germany is the continent's largest economy.
Europe is heavily dependent on imports of Russian gas, which is used to heat homes and generate electricity among other uses. Investors are reportedly concerned that Russia will not turn the Nord Stream 1 gas pipeline back on following a shutdown for maintenance.
Investors have recently viewed the U.S. dollar as a safe haven as the Federal Reserve has raised interest rates as part of its efforts to fight high inflation.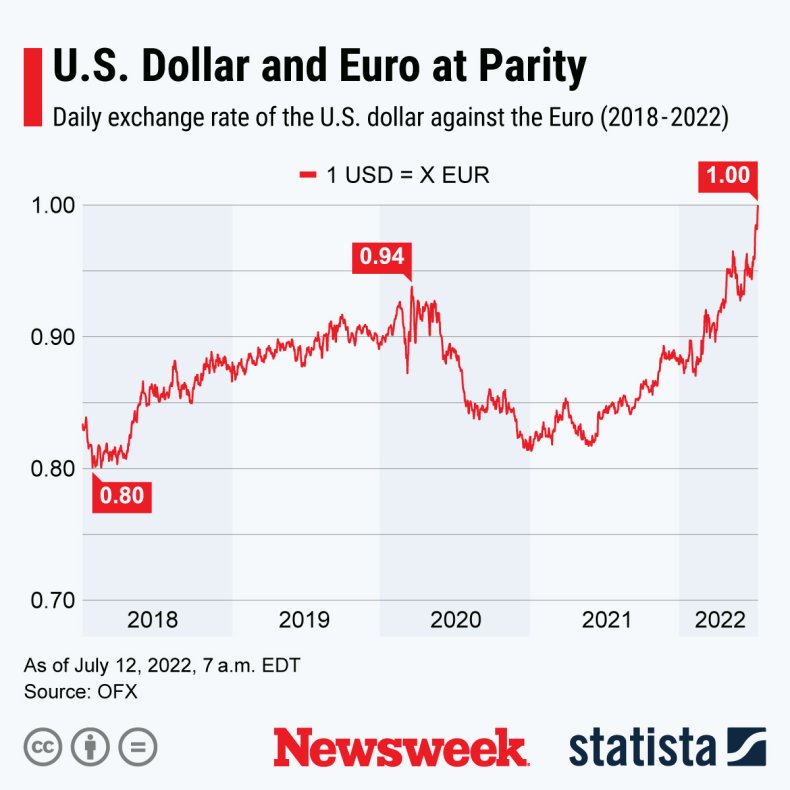 This chart, provided by Statista, shows the daily exchange rate of the U.S. dollar against the Euro between 2018 and 2022.
Further rises in U.S. interest rates are expected this year as U.S. inflation runs well ahead of the Fed's 2 percent target, with the latest inflation figures set to be published on Wednesday.
Parity with the euro means that vacations in Europe may be cheaper for Americans this summer but it will also add to inflationary pressures in the 19 countries that currently use the common currency.
Maintenance on the Nord Stream 1 pipeline is scheduled to end on July 21 but there are concerns that Russia may not restart the flow of gas—that would create even greater pressure on the euro.
German Economy Minister Robert Habeck warned that Russia cutting off gas supplies would be a "nightmare scenario" in comments on Saturday.
"Everything is possible, everything can happen," Habeck told German broadcaster Deutschlandfunk. "It could be that the gas flows again, maybe more than before. It can also be the case that nothing comes."
"We need to honestly prepare for the worst-case scenario and do our best to try to deal with the situation," the minister said.
Since the Russian invasion of Ukraine began on February 24, there have been major concerns that Putin's government could use energy supplies as a means to pressure European nations over their stance in support of Ukraine.
The end of Russian gas supplies could see fuel rationing this winter in EU countries including Germany, which could lead to businesses reducing output and people struggling to heat their homes. That would in turn have a negative effect on the economy and have an impact on the value of the euro.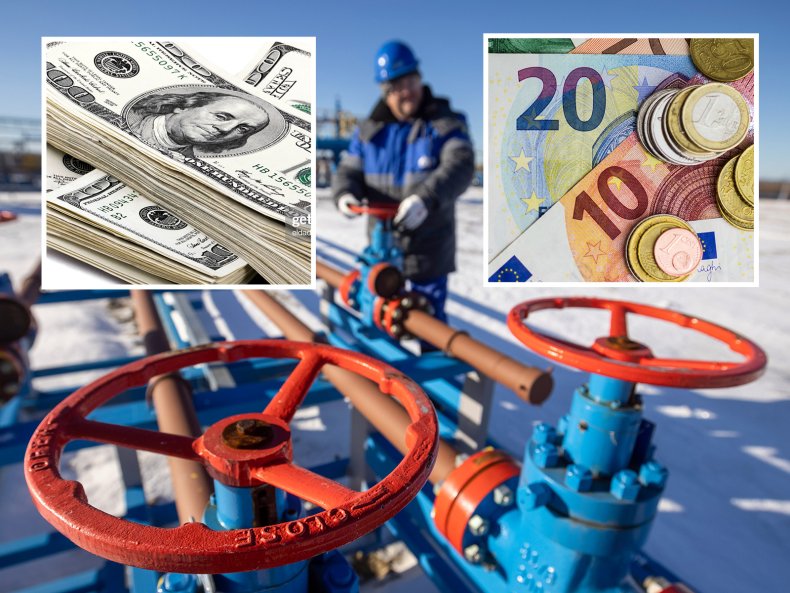 Update 7/12/22 7:10 a.m. EDT: This article was updated with additional comment and context.