Commentators on Russian state TV said they believe that Americans will rise up and overthrow the U.S. government in response to rising inflation.
A group of guests briefly discussed America's rising costs during a recent show hosted by Vladimir Solovyov, whom the U.S. State Department has called a Kremlin propagandist.
"Our figures are in place," said professor Maxim Bratersky, according to a video and English translation provided by Julia Davis, a columnist for The Daily Beast. "We're waiting for the time when the rising prices, failing industries in Europe and America, declining standards of living will force local citizens to take to the streets and overthrow their governments."
Davis shared the video on July 7, but Newsweek wasn't able to verify the exact date of the show's broadcast.
Bratersky also said that it was "quite clear" that the overthrowing of the government would happen in November, adding that "[we'll] "see about Europe," seemingly referring to when governments on the Continent would purportedly be toppled by a citizen uprising. He did not specify which European governments he believed would be overthrown.
In response to Bratersky, State Duma member Konstantin Zatulin said: "In the beginning, you said we should wait, that they will have a crisis and masses will rise up. Instead of waiting, we should be provoking this."
While such discussions of a U.S. uprising in response to inflation may be limited to Russian state TV, the White House has been facing frustration and pressure to act over the sharp rise in costs to consumers. Inflation hit a 40-year high in May, and President Joe Biden's approval ratings have been falling as a result of that issue and others, with criticism coming from members of his own party.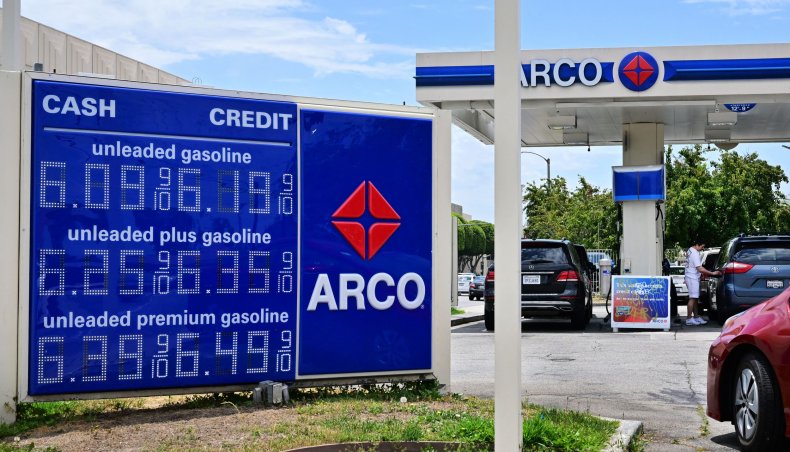 "There is no patience for incrementalism or political spin about economic numbers in these times," Democratic Representative Ro Khanna wrote in an opinion piece, "There Is Way More Biden Can Do to Lower Prices," published by The New York Times last month.
"Democrats can't just blame the Republicans for lacking a plan. People elected us to solve problems. We told them that government could improve their lives and they want to see tangible action, movement and energy out of Washington," Khanna said.
Even Biden's attempts to blame Russian President Vladimir Putin's invasion of Ukraine for high costs at the gas pump and elsewhere have not been well received in polls.
Before the Russian state TV commentators spoke about anticipating an inflation-driven revolution in the U.S., they criticized Biden and lauded his predecessor, Donald Trump.
Solovyov said that Russia does not currently want to talk with the U.S. and will "wait for Trump."
"Of course, Trump is a beaut. I also have to say I'm deeply convinced that if Trump was around, there wouldn't be a February 24," he said, referring to the start of Russia's Ukraine invasion.
"No, Biden is fundamentally different than Trump," Solovyov added. "Trump even said, 'I don't need NATO.' Trump hates Ukraine because Ukraine was trying to do everything possible for Trump not to get elected."
Dmitry Drobnitsky, identified as an "Americanist," chimed in to say that Trump is "the most adequate politician in today's world."
Newsweek reached out to Russia's Foreign Ministry and the U.S. State Department for comment.