Majority of Democrats Blame Joe Biden for Soaring Inflation: Poll
While many Republicans have attributed soaring prices in the U.S. to Joe Biden, a new poll shows that the president is also facing blame from members of his own party.
June's edition of I&I/TIPP's monthly survey found that a majority of Democrats, 53 percent, believe Biden's policies are to blame for inflation, while 39 percent said that they weren't to blame. Overall, 64 percent of the poll's 1,310 adult respondents said that they believed Biden's policies were either "responsible" or "very responsible" for the rising prices.
Last month, inflation hit a 40-year high. The current inflation rate isn't as high as a historical peak in the 1970s and early 1980s, according to CNN, but the Labor Department said it is the highest since December of 1981.
Americans viewed inflation as the top problem facing the U.S. in a separate survey from the Pew Research Center released in mid-May. But even though Biden's approval rating has taken a hit in recent months, the president has at times refused to admit any responsibility for inflation and blamed other factors like Russia's war in Ukraine for the rising prices.
Aside from the 64 percent who said in the I&I/TIPP poll that Biden's policies were to blame for inflation, just 25 percent responded that he was "not responsible" for the rise. Within that 25 percent, 17 percent said that his policies were "not very responsible," while 8 percent said that they were "not at all responsible."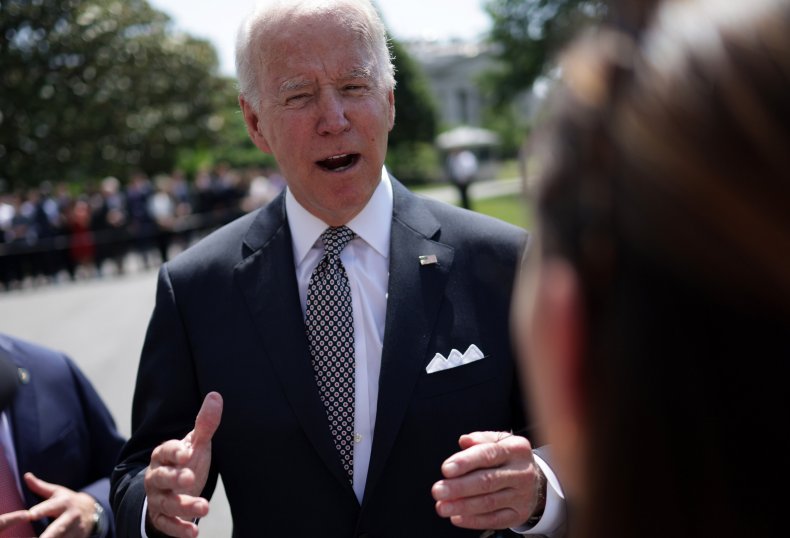 Just one grouping in the survey, self-described "liberals," saw less than 50 percent respond that they believed Biden's policies were to blame for inflation. A majority of all demographic groups included the separate divisions of men, women, Black people, Hispanic people, education level and age, all said that they believed his policies were behind the high prices.
Overall, two-thirds of respondents, 66 percent, said that they believed too much federal spending worsened inflation. Again, a majority of Democratic respondents, 52 percent, gave the same answer.
In an interview with the Associated Press published last week, Biden rejected the notion that his $1.9 trillion COVID-19 relief package caused inflation to worsen.
"Zero evidence of that. Zero evidence of that," Biden said, referencing reductions in the U.S. federal deficit.
As U.S. prices have been on the rise, some experts have recently warned that an economic collapse could be on the horizon. Peter Schiff, the chief economist and global strategist at Euro Pacific Capital, said last week that a massive economic "crash" was inevitable.
"Many people have finally [given up] on the idea of a soft landing, and now expect a hard landing," he tweeted. "But they still don't get it. The only landing possible is a crash, where everyone on board dies. That's why the #Fed won't even attempt to land and give up its pretend #inflation fight."
Cryptocurrency investor Michael Novogratz also told MarketWatch in an interview last week that the U.S. economy "is going to collapse" and is headed for a "really fast recession."
In the same AP interview, as well as while speaking to reporters in Delaware on Monday, Biden insisted that a U.S. recession is not "inevitable." He told the AP that the U.S. is "in a stronger position than any nation in the world to overcome this inflation."
Newsweek reached out to the White House for comment.