Joe Biden Eyes Green Energy Shift as Bright Side of Difficult Economy
President Joe Biden suggested Monday that the U.S. has a chance to make a "fundamental turn" toward green energy, even as some experts warn that the economy is headed toward a recession.
Shortly after speaking about his skepticism regarding an economic downturn, Biden told reporters in Rehoboth Beach, Delaware, that his mother had an expression: "Out of everything lousy, something good will happen if you look hard enough for it."
"We have a chance here to make a fundamental turn toward renewable energy, electric vehicles, and not just electric vehicles but across the board," the president said.
Biden added that his team would be sitting down with the CEOs of major oil companies this week to try to "get an explanation of how they justify making $35 billion in the first quarter."
Even before he was elected in 2020, Biden specified an "equitable clean-energy future" as one of his goals as president. His comments in Delaware on Monday indicate that he has not put those plans aside and even believes he can further his energy goals while dealing with economic problems in the U.S. Last week, White House press secretary Karine Jean-Pierre insisted that the administration could prioritize both his clean energy plan and lowering surging gas prices at the same time.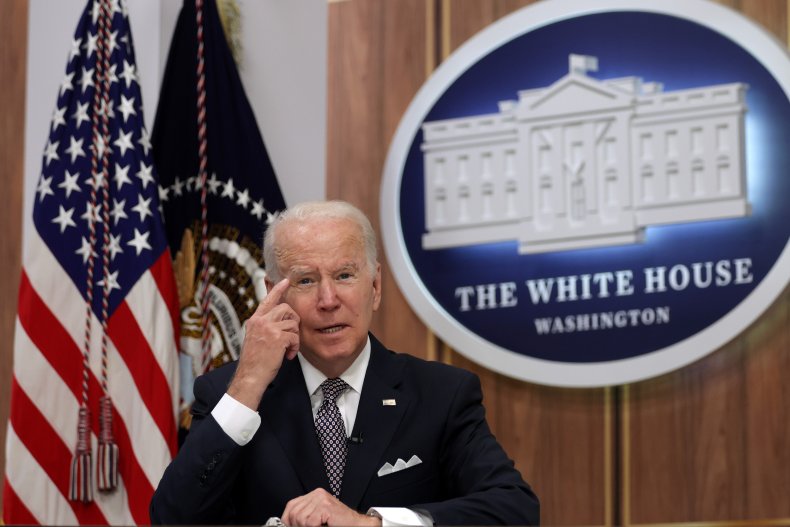 But to Biden, even a concerning economic situation is not the same as a doomed one. When one reporter said on Monday that "economists are saying the recession is even more likely than ever," Biden quickly refuted that prediction.
"No, the majority of them aren't saying that. Come on, don't make things up, OK?" he said. He also joked that the reporter was sounding "like a Republican politician."
"But all kidding aside, no, I don't think it is [more likely than ever]. I was talking to Larry Summers this morning and there's nothing inevitable about a recession," Biden said, referring to the former U.S. treasury secretary.
Still, some economic experts have offered different assessments. Peter Schiff, the chief economist and global strategist at Euro Pacific Capital, said last week that a massive economic "crash" was inevitable.
"Many people have finally [given up] on the idea of a soft landing, and now expect a hard landing," he tweeted. "But they still don't get it. The only landing possible is a crash, where everyone on board dies. That's why the #Fed won't even attempt to land and give up its pretend #inflation fight."
Cryptocurrency investor Michael Novogratz told MarketWatch in an interview last week that the U.S. economy "is going to collapse."
"We are going to go into a really fast recession, and you can see that in lots of ways," he added.
Newsweek reached out to the White House for further comment.