Europe's ESA Confirms Mars Talks With Russia Despite Ukraine Sanctions
The European Space Agency (ESA) has resumed talks with Russia to cooperate on a Mars mission that had previously been put on hold, the space agency has confirmed.
Dmitry Rogozin, head of Russia's Roscosmos space agency, said on Sunday that negotiations on the ExoMars mission had been resumed and that there was a potential for launch in 2024.
When contacted for comment, an ESA spokesperson told Newsweek: "We confirm that the discussion regarding ExoMars has taken place. Further updates might follow after the ESA Council this Wednesday. We will issue a press release."
ESA had previously said that plans for the upcoming ExoMars mission—which will see a rover being placed on the surface of the Red Planet with the purpose of searching for evidence of past life—had been suspended due to Russia's widely condemned invasion of Ukraine.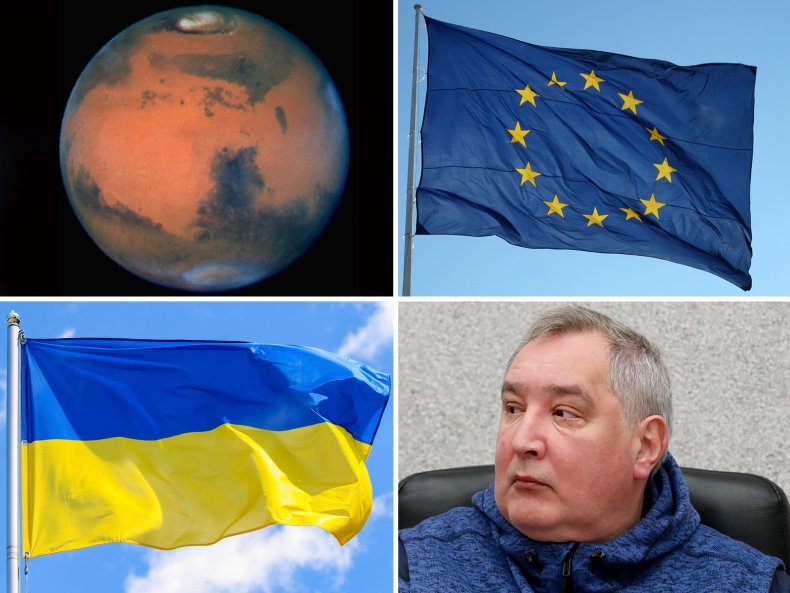 The space agency said on March 17 that "we deeply deplore the human casualties and tragic consequences" of the invasion and that it supported sanctions imposed upon Russia by EU member states in response.
It also said there was a "present impossibility" of working on the ExoMars project with Russia and that it was assessing whether there were other ways forward with the mission.
However, speaking to Russian state news agency TASS on Sunday, Rogozin said that ESA officials had said they would make requests to ESA member states and that the mission could still go ahead "if they cooperate and give their consent."
Roscosmos is reported to be expecting a response in late June.
The whole ExoMars project is a joint effort between Roscosmos and ESA and the first part of the mission, a Mars orbiter, was launched back in 2016. Before Russia's invasion of Ukraine, the ExoMars rover was set to be launched later this year.
After ESA suspended plans for the mission, Rogozin suggested that Russia could carry it out alone "without inviting any 'European friends' who prefer to keep their tails between their legs the moment they hear their American master's angry voice," according to a message posted on his Telegram channel, per TASS—though doubt was cast on whether Russia would be able to do this. Rogozin also acknowledged that the mission would be delayed by "several years" in this case.
Rogozin is known for his outspoken support of President Vladimir Putin and of Russia's military assault which has killed 4,395 civilians in Ukraine including 102 girls, 105 boys, and 68 children whose sex was not yet known between the start of the invasion on February 24 and June 12, according to the Office of the U.N. High Commissioner for Human Rights (OHCHR).