Evangelical Leader Says 'Christianity Today' Editor Opposed to Trump Would Call Jesus a 'Smelly Walmart Shopper'
Evangelical leader Jerry Falwell Jr., the president of Liberty University, dismissed Christianity Today's editor-in-chief Mark Galli, who published an editorial last week supporting President Donald Trump's removal from office, as an elitist who would say Jesus was a "smelly Walmart shopper."
Galli's editorial has drawn condemnation from many evangelical Christian leaders, who expressed shock that the mainstream evangelical magazine would take a stand against Trump. In the editorial, which published on Thursday after the House vote to impeach the president on Wednesday, Galli noted that his publication had penned similar articles regarding the impeachments of former Presidents Richard Nixon and Bill Clinton, arguing that Trump was a "near perfect example of a human being who is morally lost and confused."
"They think they are more moral and smarter than the rest of us," Falwell complained, referring to Galli's article and Christians who oppose Trump, during an interview with Fox News morning show Fox & Friends on Tuesday.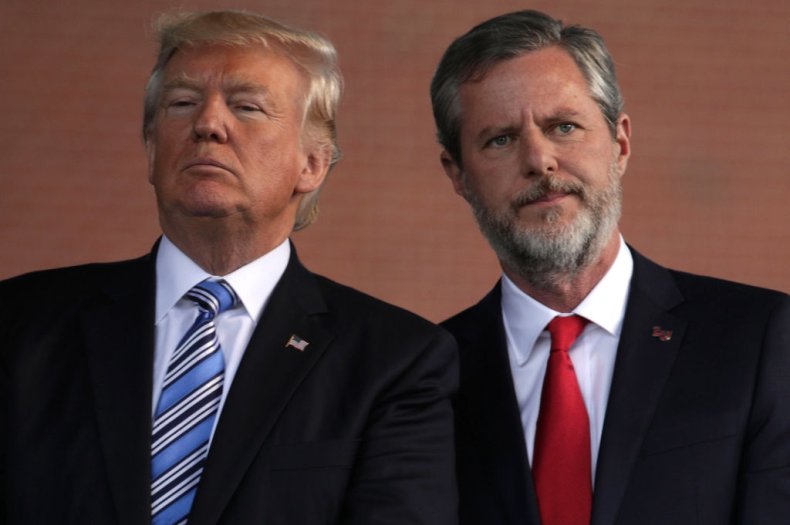 "I think if Jesus lived today on the Earth, they would call him a smelly Walmart shopper," Falwell continued, "just like the Pharisees did 2,000 years ago. They said he [Jesus] was a friend of publicans and sinners, they made fun of him." The evangelical leader argued that there was now a divide in the church between Trump supporters and an "elite establishment" aligned with Democrats.
"Jesus saved his harshest criticism for the religious elite of the day," he added, suggesting that the Christian messiah would do the same today.
Many other prominent, and often wealthy, evangelical leaders across the U.S. have ardently supported Trump throughout his campaign and presidency. Nearly 180 leaders from the religious community signed an open letter to Christianity Today's president condemning Galli's editorial on Sunday. White evangelicals have been a key base of support for Trump, with polls showing he won about 80 percent of the demographic's votes in 2016.
"This progressive rag is so out of step with people of faith in God and those who believe in the president's pro-faith agenda that it would be more appropriately titled 'Religion Today,'" Falwell wrote in a separate editorial published by Fox News on Tuesday morning. He also argued that Trump did not need "forgiveness," because the president had not done anything "wrong" in his actions towards Ukraine–which inevitably led to his impeachment.
On Monday, Christianity Today's president Timothy Dalrymple responded to the criticism by defending Galli and reiterating many of the editor-in-chief's arguments in a new editorial. He warned members of his religious community against aligning themselves with Trump's "rampant immorality, greed, and corruption; his divisiveness and race-baiting; his cruelty and hostility to immigrants and refugees."
"With profound love and respect," Dalrymple wrote, "we ask our brothers and sisters in Christ to consider whether they have given to Caesar what belongs only to God: their unconditional loyalty."
Galli and Dalrymple both noted that they, and the magazine, support many of Trump's policies, such as the president's stance against abortion and his successful efforts to appoint many conservative justices to lifetime posts. However, they said that Christians could no longer use this as a trade off to defend against the president's "immoral" actions.
"A president has certain responsibilities as a public figure to display a certain level of public character and public morality," Galli said during an interview with CBS News' Face the Nation on Sunday. "The point of my argument is not to judge him as a person in the eyes of God, that's not my job, but to judge his public moral character and ask, 'Has he gone so far that the evangelical constituency that we represent, can we in good conscience do the the trade-off anymore?'"
Franklin Graham, the son of the magazine's founder Billy Graham, posted to Facebook on Friday to say that Christianity Today's decision was "unfathomable."
"Why would Christianity Today choose to take the side of the Democrat left whose only goal is to discredit and smear the name of a sitting president?" Graham, who also signed the letter with other evangelical leaders, wrote in the post. "It's obvious that Christianity Today has moved to the left and is representing the elitist liberal wing of evangelicalism."