Evangelical Theologian Russell Moore Says QAnon Has 'All of the Characteristics of a Cult'
Evangelical Christian theologian Russell Moore warned that the QAnon conspiracy theory has "all of the characteristics of a cult," as polling has shown that evangelical Christians are particularly likely to believe in the conspiracy's baseless claims.
Adherents to QAnon believe that the U.S.and its institutions are largely controlled by a Satanic cult of Democratic politicians and Hollywood elites that traffic children for sex and ritual sacrifices. They also believe that former President Donald Trump was somehow combatting this Satan-worshipping group during his tenure in the White House. Recent polling has shown that evangelical Christians, and particularly white evangelicals, are more susceptible to believing in the conspiracy theory.
Moore, who serves as public theologian and director of the Public Theology Project at Christianity Today, told Axios that QAnon is "taking on all of the characteristics of a cult, from authoritarian gurus ... to predictions that don't come true."
QAnon followers have put forward multiple predictions about Trump returning to power, believing that he would successfully overturn President Joe Biden's election victory. When these dates have not panned out, the believers tend to simply move the goal post and pick new dates.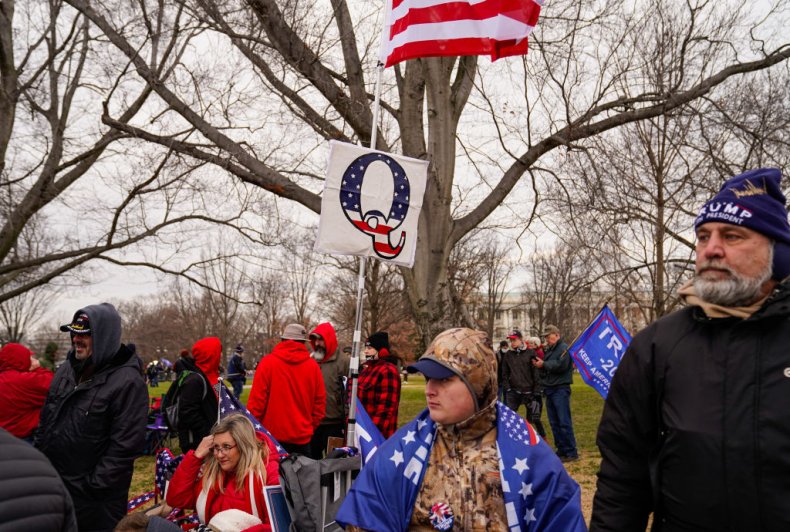 The theologian explained to Axios that he is "talking literally every day to pastors, of virtually every denomination, who are exhausted by these theories blowing through their churches or communities." Moore said that "several pastors told me that they once had to talk to parents dismayed about the un-Christian beliefs of their grown children" but now the situation has reversed.
Polling released last week by the Public Religion Research Institute found that 15 percent of Americans believe that "the government, media, and financial worlds in the U.S. are controlled by a group of Satan-worshipping pedophiles who run a global child sex trafficking operation." Belief was even higher among white evangelicals and Hispanic Protestants. Within both demographics, about a quarter said they agreed with QAnon beliefs.
Conservative evangelical Christians—and particularly white evangelicals—have long been closely aligned with the Republican Party. This was especially true with Trump, as evangelicals were politically animated by their opposition to women's reproductive rights, LGBTQ rights and protections for the transgender community.
In 2016 and again in 2020, exit polling showed that about eight in 10 white evangelicals cast their ballots for Trump. Polls have suggested that the religious community is also more likely than others to believe Trump's false claims that the 2020 election was "stolen" by Biden and the Democrats.
"This isn't just a problem for faith communities, of course," Kristin Du Mez, a Calvin University professor of history, gender, faith and politics, told Axios. "It is deeply troubling in terms of the health of our democracy."
Newsweek reached out to Moore for further comment but did not immediately receive a response.